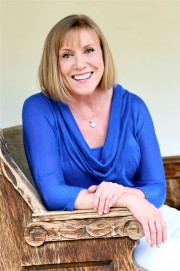 Ginger Silverman '77 has a richly detailed resume that reads a bit like a novella, touching a range of industries and roles, from e-commerce to in-store merchandising, public relations to management training.
The building blocks of her success first took shape in college. Leadership skills that crossed disciplines as well as an attention to detail helped earn the English major the Cheverton Award, capping her undergraduate career at Chapman University.
More recently, Silverman was appointed president of Golden Communications Inc. in Newport Beach. A self-proclaimed "culture catalyst," she leads the Golden Comm team developing digital marketing strategies for a host of clients.
She also has long enjoyed sharing her knowledge as an instructor, previously in Chapman's English and communications departments and now in her seventh year at Brandman University.
"In teaching, I can see a direct impact as a return on investment," Silverman says. At the same time, she's working with Dean Patrick Fuery of Wilkinson College of Humanities and Social Sciences to develop a new minor for Chapman called creative industries.
"It's a hybrid, much like my career," Silverman says. "Anyone who is going into marketing, advertising, public relations or promotions needs to have a cross-exposure to many different disciplines."