With The Barber set to hit theatres this spring, Chapman Filmed Entertainment ventures into trailblazing territory.
Producer Travis Knox '93 could have used a dozen different metaphors to describe the challenges facing young filmmakers as they strive to advance in a hypercompetitive industry. He chose a ladder. A very tall, very steep ladder.
"We want to help Chapman alumni climb a few rungs," Knox said.
No wonder Knox is so excited about the upcoming theatrical release of
The Barber
, the first project green-lighted by
Chapman Filmed Entertainment
. The feature's credits are dominated by graduates of Chapman's Dodge College of Film and Media Arts, including producer Knox, director Basel Owies '10, cinematographer Allen Liu '10, production designer Brendan O'Connor '12 and editor Nader Owies '12.
"Three years ago, (Dodge College Dean) Bob Bassett had the idea for a fully functioning independent film production company run through the college, and it started with two goals: to further the brand of the school, and to accelerate the careers of our graduates," said Knox, vice president of production and development for the venture. "Other schools have tried variations, but nothing quite like this."
The Barber
is a character-driven thriller starring Scott Glenn (Silence of the Lambs, The Right Stuff) that exemplifies the kind of micro-budget features Chapman Filmed Entertainment eventually plans to release three to four times a year. Arc Entertainment recently acquired the U.S. distribution rights to
The Barber
, which is scheduled for a late-March opening in selected theatres. The deal includes a mid-six-figure budget to market the film.
The Hollywood Reporter
said in praising
The Barber
, "If this notable feature is any indication of what to expect from the new initiative, Chapman may have hit on a winning formula."
Glenn agrees.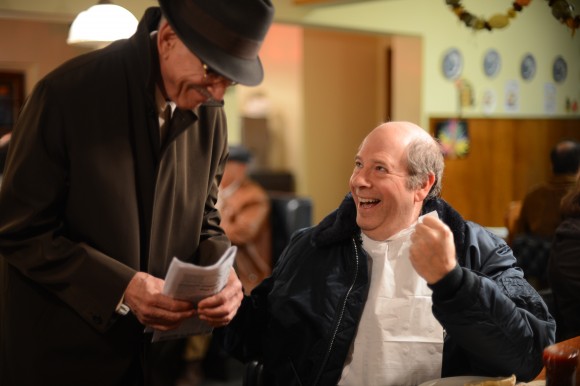 "This has been maybe the most fun I've had on a movie in 15 years, maybe 20," said the veteran of more than three dozen films, including recent successes such as The Bourne Legacy. "The kids who have been doing this — and at my age, I can call you a kid — I love that. I love being around the energy of people who really want to make a good film and are not afraid to push the boundaries."
Another star of the film, Stephen Tobolowsky (Groundhog Day), also enjoyed the experience. "I think what Chapman is doing is brilliant," he said.
Watch the trailer for The Barber.
Even before Chapman Filmed Entertainment's first feature hits theatres, the investment in Dodge alumni is paying off, Knox said. The school's brand has appreciated, as evidenced by a number of measures, including
The Hollywood Reporter's
list of the best U.S. film schools. In two years, Dodge has jumped from No. 23 to No. 7, and Chapman's homegrown production company is one of the reasons cited. How about the goal of aiding the careers of graduates?
"Our director is talking with several managers and agencies about representation, and our cinematographer has been put up for an award," Knox said of
The Barber
. "Plus, our production designer has designed two more features."
The company's first film provided professional lessons for everyone involved, said Knox, whose producing credits include
The Bucket List,
starring Jack Nicholson and Morgan Freeman. It also strengthened connections to the Chapman Family in ways he couldn't have imagined. For instance, legendary stunt man and stunt coordinator Buddy Joe Hooker and his wife, Gayle, agreed to serve as stunt coordinators on
The Barber
. The couple's twin sons, Houston and Kanan, started their own stunt careers at age 6 on the film
Spy Kids
and are now Dodge College students.
"It shows how people have come together to share their passions and help us succeed," Knox said.
Knox and others at Chapman Filmed Entertainment are now considering what comes next. They've optioned three scripts — a supernatural horror film, a dark comedy and a romantic comedy — any one of which could move into production this spring, depending on variables such as the outcome of rewrites and the availability of targeted talent.
"All of the projects we consider must have commercial appeal; we're not looking to do experimental or arthouse projects," Knox said. "We want to prepare our students and alumni to succeed in the marketplace, and since all our films are fully funded by outside investors, we want to give them a return on their dollar."
Before signing on with Chapman Filmed Entertainment, Knox was an independent producer, and he wasn't sure he wanted to go back to working for someone else. "But this was such an ambitious idea. Seeing what Bob and everyone else at Dodge had done to create this great school, I had confidence this was something I should explore," Knox said. "It felt right because everyone was doing it for all the right reasons."