Camille Hyde '15 knows well how busy the senior year can be. The environmental science and policy major is getting ready to finish up those final classes. She's training the next slate of officers for a beloved equestrian club team she started. Oh, and she has to battle an intergalactic bounty hunter determined to destroy the planet and rule the whole darn universe.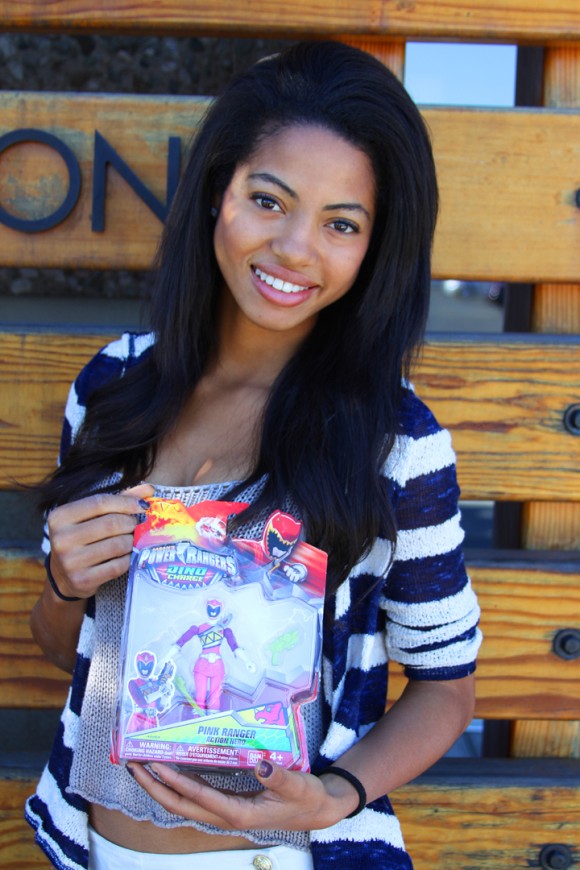 Such is the life of a Power Ranger. Hyde is part of the new cast of teen super heroes featured in Saban Brands and Nickelodeon's latest Power Rangers franchise, Power Rangers Dino Charge, the 22nd season of the children's action show which debuts Saturday, Feb. 7, on Nickelodeon.
"I was a Power Ranger!"
When she won the role last summer she remembers returning to her car in the parking garage and sitting there crying for joy as she tried to reach her parents by cell phone. At 21 she is one year younger than the series is old. It was, naturally, a powerful moment.
"I was a Power Ranger. I was so ecstatically happy," says the Washington, D.C., native.
Hyde plays Shelby, the Pink Ranger. She is the first African-American to play Pink Ranger, but says race was not included in the audition profile. More than 2,000 women of all races auditioned for the role. Hyde attributes her success to acting courses she took at Chapman and her determination to stay focused in the initial and call-back auditions.
"You leave it all in there and then you forget about it. If you get hung up on it, you're not going to keep it up because you get more noes than yeses," she says.
But the yes came. Followed by months in New Zealand, where the series is shot, martial arts training and long work days spent in a stretchy pink body suit, and matching helmet portraying Shelby, one of the seemingly ordinary teens who possess amazing powers that come in handy when battling an evil alien named Sledge.
Morphin' Time
And no small task it is. Sledge is bent on finding a slew of Energems that control space and time. It seems the dinosaurs entrusted with the Energems a very long time ago had the nerve to go extinct, so the Energems are in danger of falling into the foul hands of Sledge. Thankfully the new Power Rangers are on the job and still have that trademark "Morphin' Power" that generations of fans know and love – and probably spent a fair share of their young childhoods emulating.
"When monsters present themselves and present harm to the public, we can morph and kick butt," Hyde explains with a smile.
Perhaps the mightiest challenge for this Power Ranger will be a little more mundane, though. Hyde is back in New Zealand, finishing the series this semester. But thanks to summer school and some online courses, she will still walk with her graduating class on May 23. Even as she pursued acting, earning her degree in environmental science and policy was always her main goal and she remains committed to environmentalism. So the production team has promised to get her home on time.
"They know how much I love Chapman and love my school. It's my family, it's my home. I really want to be here to graduate with my class," she says. "Let's hope a monster doesn't come out of nowhere and keep me from getting to where I need to be."
Sledge, consider yourself warned.