Alumnus David Armendariz (MA '03) thought he wouldn't cry.

"Everyone said, 'Oh, David, when you go to the Special Olympics Summer Games you're going to cry,'" says Armendariz, director of the Orange County Region of Special Olympics Southern California.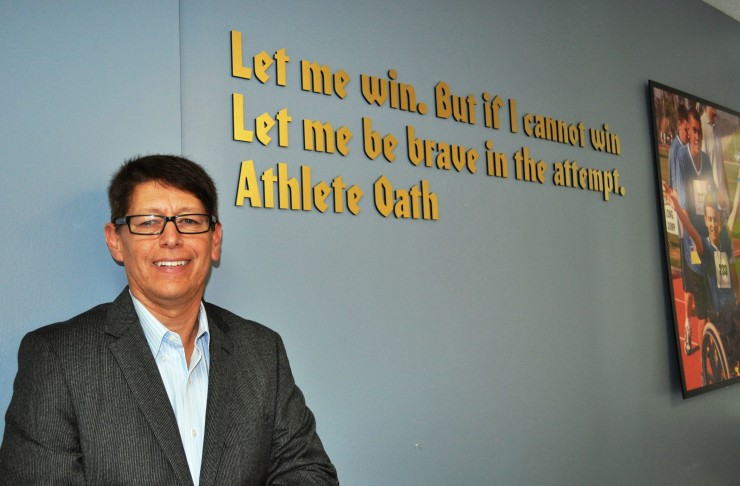 But he shook his head. Nah, not him. Then soon after starting with the organization that offers Olympic-style athletic training and competition for children and adults with intellectual disabilities, he went to the opening ceremonies for his first summer games. He cried.

"I'm watching the ceremonies like this," he recalls, bringing his hands to his eyes, sweeping away an imaginary waterworks. "I can't tell you how many times I've been moved to tears watching the competitions."

Now Armendariz is looking forward to sharing many such experiences with more people than ever when
Special Olympics World Games Los Angeles
opens in July. Armendariz and his team are an integral part of the massive event, helping to establish Host Towns where the 7,000 athletes will be housed during the games. Among them will be the
City of Orange
, in partnership with Chapman University.

The outreach into communities has been a boon for the program, says Armendariz, who earned his master's in Organizational Leadership, now called
Leadership Development
.

"We're meeting all kinds of new leadership. It's been a wonderful way to engage more people in our movement," Armendariz.

It's exactly the sort of work he says his graduate program at Chapman prepared him for. From the early days in class, he says he was able to promptly implement course material into his job, then with the AIDS Services Foundation of Orange County.

"I found it had immediate value. I loved the program," he says.

One of the first lessons he applied was a 360 review, a process that invites employees to offer feedback on the boss. It was "a little scary" but valuable. His employees told him they wanted him to take a stronger hand in resolving day-to-day office challenges. He had mistakenly thought they appreciated a more hands-off manager.




Today he applies his leadership skills with Special Olympics. He and his team have grown an Orange County program that serves 1,800 local athletes with year-round training programs and 15 different competitions. Through the discipline of sport, the athletes learn teamwork and responsibility. Special Olympics athletes are five time more likely to have a job than their peers who don't participate in competitions, Armendariz says.

"A lot of people have misconceptions about Special Olympics. They think we're a fun recreation program. We're really about life training for athletes through sports," he says. "I like to think of our competitions as final exams."

The World Games are the signature event, but those local competitions are often just as memorable.

By example, Armendariz shares story after story of athletes finding a unique brand of joy in competition. A favorite is that of an entire basketball team running on offense suddenly falling into a defensive formation so that their shortest player, a tiny young man, could barrel through the tunnel they created and get a clear shot on goal.

"It was the most amazing commitment to a teammate you could ever hope to see," he says. "It was phenomenal."

And, he says, there wasn't a dry eye in the stands. His included.
The Special Olympics were founded in 1968 by Eunice Kennedy Shriver as a means to advance the values of respect, inclusion and opportunity for the 200 million people around the world with intellectual disabilities. Community volunteers have always played a key role in the programs. To learn more, visit www.la2015.org.