For the fourth consecutive year, Chapman University
Dale E. Fowler School of Law
alumni have exceeded the California American Bar Association (ABA) accredited law school pass rate. The summer bar exam pass rate for Fowler alumni was 75 percent, six points ahead of the state average.

Tom Campbell, dean of Fowler Law placed much of the credit on the shoulders of the school's dynamic students and alumni.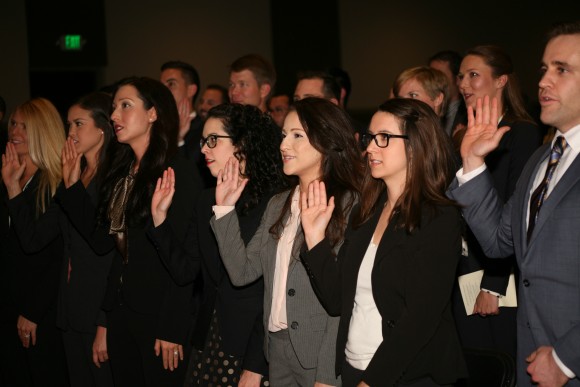 "Fowler Law students at Chapman are awesome! They study hard, stay focused, and consistently outperform the California state average. They help each other — virtually 100 percent of our graduating class takes the optional bar preparation course we offer immediately after graduation free of charge, and each student is part of a support-network for the others," Campbell said. "I also believe we have the best bar preparation teachers in the country, headed up by Professor Mario Mainero."

Mainero said it takes a team effort to prepare students for the arduous three-day test.

"The administration, faculty and students work very hard, and these consistently good results are a testament to their dedication and to their work ethic. The law school continues to prove its excellence under the leadership of the administration and faculty of the Chapman University Fowler School of Law."

The successful graduates who passed the Bar returned to campus in December to be formally sworn into the California State Bar as family and friends looked on.