Students at the Chinese table loved the Jell-O. The eggs Benedict were a hit among those at the American Sign Language table. And the folks bravely studying good old Latin were digging into – we kid you not – Caesar salads.
And just as eclectic as the food one recent afternoon at the Randall Dining Commons was the diversity of languages spoken among the diners, from Portuguese and French to German and Italian.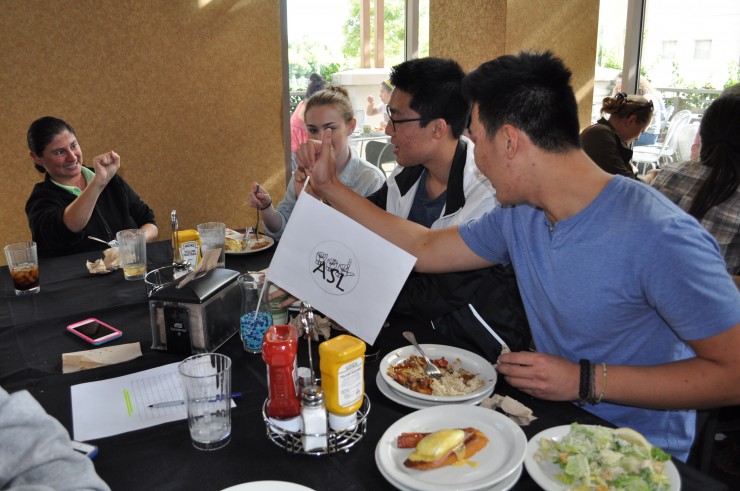 Welcome to Language Tables, a program that brings faculty and students together to break bread and polish up their skills in world languages.
"Food is culture, culture is language. What better way to brush up your conversation skills than to do it over a meal with a professor," says  John Boitano, Ph.D., associate professor and chair of the
Department of World Languages and Cultures.
The program is organized by Boitano's department and hosted in the Randall Dining Commons with support from the Office of Housing and Residence Life and the Student Government Association. Twice a month – one lunch and one dinner – several tables along the south side of the dining hall are set aside for language students and faculty to enjoy a meal and casual conversation. At each gathering, meals for faculty and up to 10 students who don't have dining plans are covered by Housing and Residence Life.
The only obligation is that they converse in the language they teach and study. And the program has been a hit since it launched last spring, says Boitano. Students enjoy the opportunity to interact with faculty in a casual setting and the boost of table talk. It's a small taste of the language immersion they would experience in a foreign setting, he says.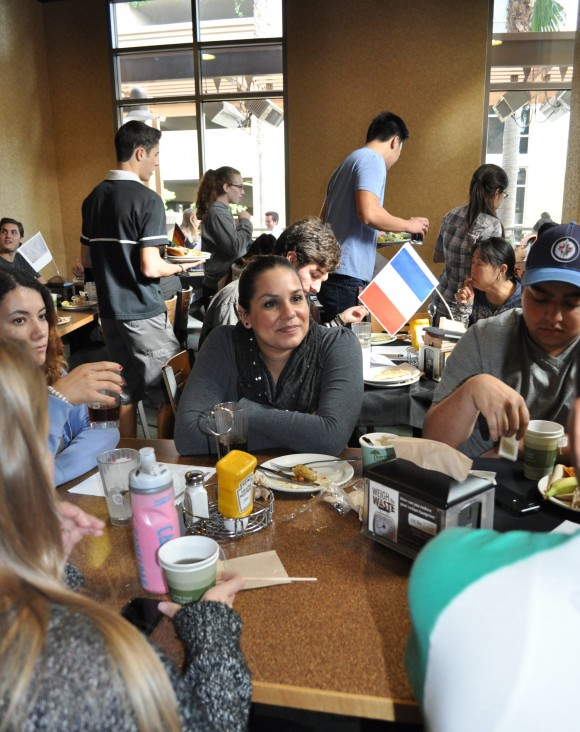 "It's the best way to learn a language. This makes people less nervous, less apprehensive and more willing and able to converse in the target language," Boitano says.
And there's nothing like informal conversations to spark the need for vocabulary words that don't typically come up. Like canneberge, the French word for cranberry, which Boitano's students asked about during the pre-Thanksgiving Language Table.
"It's not widely known in France," he said with a laugh.
A few students sign on for the lunches for other reasons. Digital arts major Elizabeth Wang '17 grew up speaking Chinese but joined the Chinese table during a recent lunch because she wants to develop more vocabulary. Biological sciences major Aneli Whitford '17 grew up in Germany and didn't need to brush up on her German but joined Walter Tschacher, Ph.D., professor of German, for a recent lunch.
"I just want to hear the language again," Whitford says. "I miss it."
Watch Dean Price's announcements for the 2015 Language Tables schedule.