At 4 p.m. on Tuesday, Dec. 9, Connor Traut '16 will be sworn in as one of the newly elected members of the board of trustees for the Centralia Elementary School District.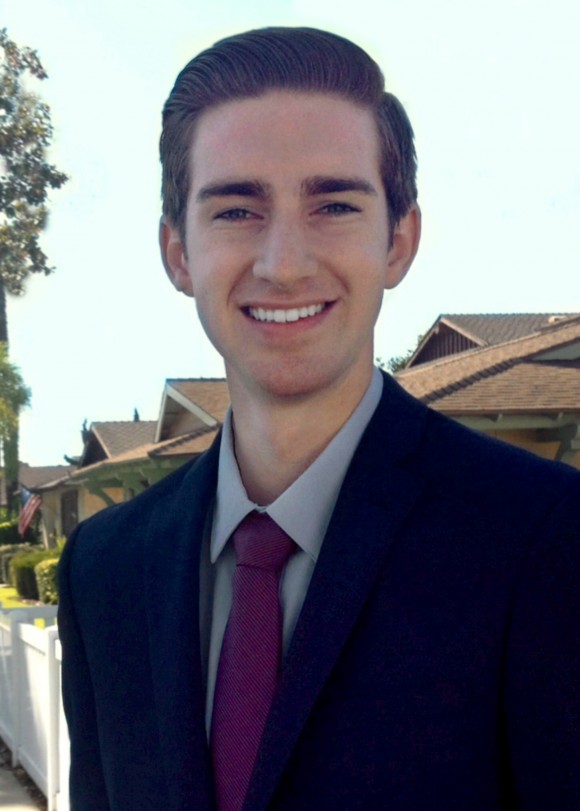 And one of the first changes Traut hopes to make as a fledgling school board member is to change that 4 p.m. start time for future board meetings. Out of consideration for the working parents of his constituency, he will argue for a 6 p.m. start time for the public business sessions.
Small stuff to fret about when so many hotter issues are begging for school leaders' attentions these days? No way, says Traut.
"We're lacking that connection with our parents. By having the meetings at 4 (in the afternoon), we're essentially cutting off their voice," says Traut, a double major in political science and economics at Chapman University.
Helping parents have a stronger voice in the affairs of the district was just one of several key issues Trout campaigned on for a seat on the Centralia board. He also pledged to help the district find new ways to keep at-risk youngsters stay on track and better coordinate its curriculum with the middle and senior high schools its students will attend. Centralia serves some 4,500 students at eight elementary schools located in Buena Park, Anaheim and La Palma.
That brand of passion is why Steve Harris, a member and clerk of the Centralia Board of Trustees, supported Traut's candidacy.
"Connor has shown, as a candidate and an incoming board trustee, that he is truly focused on the needs of every student in our district. That is the reason I supported his campaign," Harris says.
Traut says he was motivated to run for school board because youth issues and education are causes that inspire him. Last year he was appointed to the Orange County Juvenile Justice Commission and serves on the boards of several non-profit groups dedicated to children and youth, including Cops for Kids.
He says he grew to appreciate the ethos of public service while taking the course Local Politics with Fred Smoller, Ph.D., associate professor, Department of Political Science.
"Something that I really like about public service is that the decisions you make affect so many people's lives and you have the opportunity to impact their lives," he says.
Even if it means just starting with a new meeting time.