Chapman University will serve as the host venue — and the City of Orange as the official Host Town — for more than 200 international athletes and coaches competing in Special Olympics World Games Los Angeles in July 2015.
You're cordially invited to attend the Orange Host Town announcement event on Thursday, Dec. 11, 10 a.m. in Attallah Piazza to find out all the exciting details – and how you can help! 
Students, faculty and staff will have many opportunities to pitch in and help the cause between now and next July, from volunteering to holding fund-raisers, as the World Games approach. President Doti, Chancellor Struppa, Orange Mayor Tita Smith and representatives from Special Olympics will speak at Thursday's event, so please stop by and find out more.

Before the Special Olympics World Games begin (the Games run from July 25-August 2, 2015), more than 7,000 athletes from 177 countries will be welcomed to Southern California through the Host Town program. As many as 100 communities, from San Luis Obispo to San Diego, will have the honor of being selected as an official Host Town.

"We are proud and honored that Chapman University will be part of the Special Olympics World Games in such a meaningful way," said President Doti. "We know the members of the Chapman community will welcome these world-class international athletes and coaches and make them feel right at home on our campus, as they prepare and train for the World Games."

"The Host Town program is an exciting way for Southern California locals to open our doors and show the athletes and coaches from around the world our hospitality and our culture," said Patrick McClenahan, President and Chief Executive officer of LA2015, the Games Organizing Committee. "This is an important part of the World Games experience and a truly meaningful way for different communities to be part of the Games and create lasting memories for our visiting athletes."

As a Host Town, Orange and Chapman are committed to providing athletes from around the globe with three amazing and memorable days as they get ready for the World Games. As part of the program, Chapman will provide accommodations and training facilities for 200 athletes and coaches.  An Orange Host Town Committee has been formed and is planning activities and outings for the visiting delegations.  The City of Orange has not yet learned which country's delegation it will be hosting; officials said it could be several countries.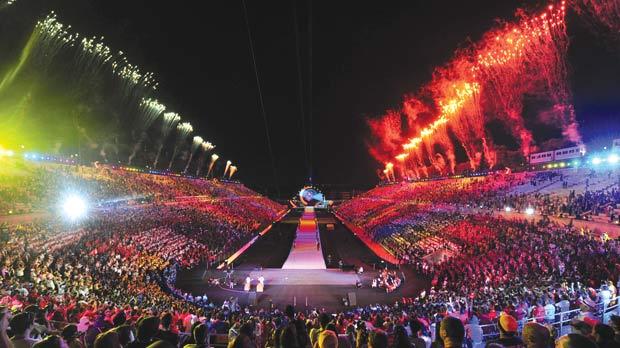 The Host Town program has been an important element of Special Olympics World Games since 1995, and the experience has left a lasting impression on the local communities in Ireland, Japan, China, Greece, South Korea and the United States, all of which have previously organized Host Town programs as part of the Special Olympics World Games.

LA2015 is actively identifying potential Host Town candidates to be considered for the program. Communities are evaluated on the availability of lodging accommodations, sports practice facilities and recreation/entertainment offerings for the athletes, among other criteria. Host Towns are also responsible for planning activities for the athletes to introduce them to the community and help spread the word about the Games.

Orange joins the growing list of officially proclaimed Host Towns, which includes Long Beach, Thousand Oaks, Calabasas, Studio City, Manhattan Beach, West Covina, Arcadia, Burbank, Santa Clarita, Palmdale, La Mirada, Glendale, Palm Springs, Santa Maria, Santa Barbara, Irvine, Downey, Whittier, Simi Valley, Fountain Valley, Pasadena, Huntington Beach, Fullerton, Solvang, Oxnard, San Diego North County (which includes Del Mar, Encinitas, and Solana Beach), Corona, Lake Arrowhead, Inglewood, San Pedro, and Poway. More Host Town selections will be announced in the coming weeks.

Communities interested in serving as Host Towns can learn more by visiting the World Games website at
www.LA2015.org/host-town
.

About the Special Olympics World Games Los Angeles 2015




With 7,000 athletes and 3,000 coaches representing 177 countries, along with 30,000 volunteers and an anticipated 500,000 spectators, the 2015 Special Olympics World Games – being staged in Los Angeles July 25 – August 2, 2015 – will be the largest sports and humanitarian event anywhere in the world in 2015, and the single biggest event in Los Angeles since the 1984 Olympic Games. The 2015 Special Olympics World Games, with the unparalleled spirit, enthusiasm, teamwork, joy and displays of courage and skill that are hallmarks of all Special Olympics events, will feature 25 Olympic-style sports in venues throughout the Los Angeles region. The Opening Ceremony, to be held July 25, 2015 in the historic Los Angeles Memorial Coliseum, site of the 1932 and 1984 Olympic Games, is expected to attract 80,000 spectators. On April 30, 2014, LA2015 and ESPN announced a global programming deal that will see ESPN bring coverage of World Games to millions of fans around the world. Honorary Chairs of the Games are President Barack Obama and First Lady Michelle Obama, with Los Angeles Mayor Eric Garcetti and California Governor Jerry Brown serving as Honorary Hosts. Current Founding Champions and sponsors include The Coca-Cola Company, Mattel, Deloitte, Toyota, Bank of America, OUE, Kaiser Permanente, Davis Elen Advertising, Microsoft, AEG, David Geffen, Steven Spielberg and his wife Kate Capshaw, The Walt Disney Company, Panda Express, and Knights of Columbus. LA2015, the Games Organizing Committee, is a recognized 501(c)(3) non-profit organization. For more information on the 2015 Special Olympics World Games, including volunteer and sponsorship opportunities, visit
www.LA2015.org
and on social with #TheWorldisComing on
Facebook
,
Twitter
and
Instagram
.

About Special Olympics

Special Olympics is a global movement that unleashes the human spirit through the transformative power and joy of sports, every day around the world. We empower people with intellectual disabilities to become accepted and valued members of their communities, which leads to a more respectful and inclusive society for all. Using sports as the catalyst and programming around health and education, Special Olympics is fighting inactivity, injustice and intolerance. Founded in 1968 by Eunice Kennedy Shriver, the Special Olympics movement has grown to more than 4.4 million athletes in 170 countries. With the support of more than 1.3 million coaches and volunteers, Special Olympics delivers 32 Olympic-type sports and more than 81,000 games and competitions throughout the year. Special Olympics is supported by individuals, foundations and partners, including the Christmas Records Trust, the Law Enforcement Torch Run for Special Olympics®, The Coca-Cola Company, The Walt Disney Company and ESPN, Lions Clubs International, Mattel, P&G, Bank of America, Essilor Vision Foundation, the B. Thomas Golisano Foundation, Finish Line, The Safeway Foundation, and Safilo Group. Visit Special Olympics at
www.specialolympics.org
. Engage with us on:
twitter@specialolympics
,
fb.com/specialolympics
,
youtube.com/specialolympicshq
,
instagram.com/specialolympics
and
specialolympicsblog.wordpress.com
.