A cornucopia of Sikh films, music, food, dancing and art is planned for the annual three-day Sikhlens Arts and Film Festival opening this week at Chapman University's Dodge College of Film and Media Arts. And as is tradition, Sikhs from around the world will attend the festival, now in its 13
th
year.

But one more thing is needed to make it perfect, say Sikhlens organizers – attendees from outside the Sikh community. Because the driving motivation for the festival is not just to celebrate Sikh arts, but to educate the public about this oft-misunderstood group that has been part of the American landscape since the 19
th
century.




Chapman University parent and
Sikhlens
founder Bicky Singh of Orange, Calif., says he hopes festival attendees will be entertained, but also come away with a better understanding of Sikh ethos and values.

"We are as American as anybody else. Sure, physically, I look different in appearance. I have a turban and beard," Singh says. "But we are hard-core Americans. The value system is the same. Work hard. Share. That's what Sikhs are."

One festival film even explores the trouble Sikhs encounter when they enter one of the most American of endeavors – military service.
The Struggle to Serve
is a documentary chronicling the obstacles three Sikh servicemen face because of their traditional turbans and beards. Other films are more lighthearted, including one profiling a Comic-Con-loving Sikh who dresses as Captain America.
Sikhlens opens Friday, Nov. 21, and continues through Sunday, Nov. 23. Ticket information and a detailed schedule are available at the Sikhlens website.

The festival had its beginnings in the wake of Sept. 11, when many Sikhs were harassed and mistaken for Muslims and Hindus. Now Sikhlens hosts festivals throughout the country. But for its flagship Southern California festival, organizers decided to move it from Hollywood to a university setting because they were eager to provide backing and scholarships to film students interested in telling Sikh stories. Chapman, with its Dodge College of Film and Media Arts, was a natural choice, Singh says.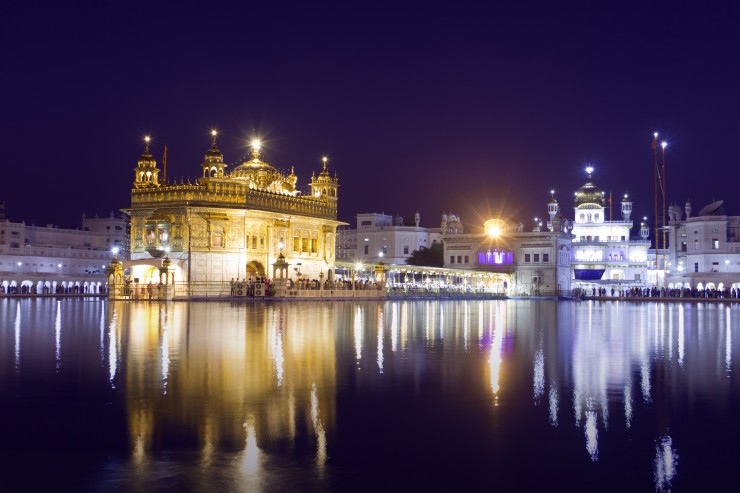 "Our stories were not being told in the mainstream," he says.

In recent years Sikhlens and Singh have expanded on its philosophy of giving, sponsoring cultural and interfaith programs at Leatherby Libraries and the Fish Interfaith Center, as well as supporting the work of students in the documentary film programs.

One such program at Leatherby Libraries is a key component of this year's festival.
1984: Not Forgotten
is a photographic and visual-art display about the near-destruction of the Sikhs' holiest 16th-century shrine, the Golden Temple in Amritsar, during
anti-Sikh riots in 1984
. The exhibition features letters, testimonials and Singh's own collection of historic news photographs and articles from the time of the riots following Indira Gandhi's assassination. Displayed in tandem with the news media elements will be a series of related interpretative paintings commissioned for the exhibition.

"Our goal and objective through this kind of exhibition is that these types of things should not happen on any kind of minority community," Singh says. "I think the world steps up to these things through the young people. So this is a great place to foster these types of things."
1984: Not Forgotten will be on display in the Doy and Dee Henley Reading Room of Leatherby Libraries from Friday, Nov. 21, through Feb. 15, 2015. More information is available at the Leatherby Libraries event page.