A quintessentially California setting was the site for Chapman University's announcement of a $7 million gift of world-class California art and an additional $3 million to help establish a campus museum to display the collection.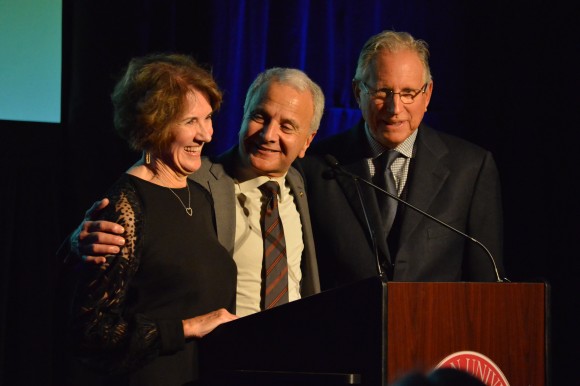 At a reception held in the former Villa Park Orchards Packing House, President Jim Doti dedicated the gift of more than 1,000 California Scene paintings from noted collectors Mark and Janet Hilbert of Newport Coast, saying great art collections are integral to great universities.

"It's all about building the most exciting, vibrant, dynamic intellectual environment you can. That involves the search for truth and beauty. And when you think about beauty you think about music, dance, and you certainly think about art," Doti said. "An institution that's willing to dedicate the space, resources and time to carefully curate a magnificent collection means they believe in art. It's in the DNA of the university."

The Hilbert Collection consists mostly of works in oil and watercolor created between the 1930s and the 1970s by such icons of the California Scene movement as Millard Sheets, Emil Kosa Jr., Phil Dike, Milford Zornes and Rex Brandt, among others. The artists focused on scenes of everyday life in California, and typically included people or man-made objects – such as automobiles, trucks, buildings, freeways, trains, piers or factories.




The collection is profound, said Jean Stern, director of the Irvine Museum, who delivered remarks and an art lecture at the celebration.

"Mark and Jan Hilbert are remarkable people. They pursue their art with passion and fervor, and they are very selective about what they put in their collection. They have built one of the most important collections of California Scene paintings that there is. It's an impressive collection that needs to be seen," Stern said.

And it will be. A portion of the Hilberts' collection of more than 1,000 paintings will be displayed at first in a temporary museum Chapman will create in a renovated building owned by the University at 166 N. Cypress St. in Orange. The temporary museum is scheduled to open in fall 2015.

Later, a larger segment of the collection, plus rotating exhibitions, will be displayed in the permanent
Hilbert Museum of California Art
, planned to be constructed inside the renovated Villa Park Orchards Packing House on the corner of Cypress Street and Palm Avenue. That building is also tentatively scheduled to open as a multi-use facility – including the museum, dining spaces and academic areas – as soon as fall 2017.