When you teach life and environmental science to seventh and eighth graders, not much can phase you. Unless you happen to be a reluctant bicycle rider and you're attending a workshop where bicycles are used to demonstrate the principles of physics and aerodynamics. And you've been asked to suit up and start cycling.
"I'm actually nervous," said Jamie Clapper, who teaches at South Junior High School in Anaheim. "I am not a great cyclist. I didn't learn to ride a bike as a kid. I learned as an adult."
But the award-winning teacher smiled and gamely strapped on a helmet, ready to pedal around Chapman University's campus in the name of science.
Clapper was among 50 local teachers at Chapman this month as part of a 10-day summer intensive workshop to help local science teachers build on their skills and knowledge.
The Chapman Anaheim Science Partnership (CASP) is a collaborative effort between the University and the Anaheim Union High School District. Funded by a grant from the California Department of Education, the partnership aims to enrich science instruction by helping teachers learn how to bring more hands-on and project-based activities to their classrooms.
Such strategies support the new standards outlined in Common Core and enrich the teaching of science, technology, engineering and math (STEM), says Chapman Professor Frank Frisch, Ph.D., who is directing the collaborative program. Nothing could be more important, said Frisch, who teaches in the
Crean College of Health and Behavioral Sciences.
"For me it comes down to stewardship of civilization," he said. "We like to think of ourselves as a civilized and literate people, and the only way to do that is through our teachers."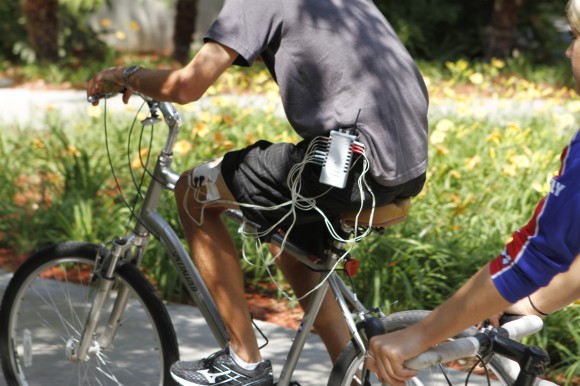 Clay Elliott, the science curriculum specialist for Anaheim Union, said the three-year program will be a boon to his district's science teachers as they nurture their students' innovative skills.
"That's a very exciting motivation, to think that we as teachers can shape these kids to be one step ahead and ready for the next opportunities," Elliott said.
The "Tour de Science," as the morning bike ride was dubbed, was just one of several activities offered during the project's first year. To launch the program, Frisch designed a curriculum that uses cycling to explore physics, aerodynamics, physiology and flow dynamics. A few teachers were even outfitted with electrodes to measure their muscle exertion. Results were analyzed in afternoon labs. Other activities included a challenge to build a faster pinewood derby car by crafting aerodynamic sails.
It was all good, said Clapper, despite her cycling jitters. "Our new standards really integrate hands-on learning and engineering into teaching," she said. "So this is important."