A peppy mobile app game that started as an undergraduate project for a group of Chapman University computer science and digital arts students has been nominated for a 2014 Geekie Award – and all before the game has even officially launched.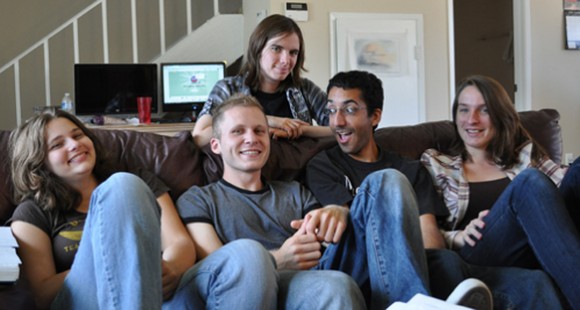 Building on success
Axle, which won first place at the 2012 IEEE Intercollegiate Computer Game Showcase, is nominated in the video games category of The Geekie Awards, which strives to honor "true geek culture" by celebrating the independent creators of everything from comic books to films. The award ceremony will be held Sunday, Aug. 17, at The Avalon Hollywood, just one day after the Chapman alumni will launch Axle in the Google store for $1.99.
Liz Fiacco '12 says the Axle team members are thrilled to be among the other nominees, all of whom hail from well-established independent studios.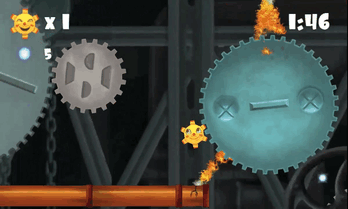 "The other nominees are all big names, so it was quite a shock. They're the pillars of independent game developers. It's exciting," says Fiacco, the Axle game designer. Other Axle team members include Lauren Gragg '12 , Jessica Kernan '12, Alex Solano '12 and Bryson Thill '12.
Axle features a perky little yellow gear by the same name in what gamers know as a platform game, which typically requires the player to jump to and from a series of platforms to collect points, elude an enemy or win a race. In this case, Axle navigates a steamy, grinding and gear-crushing toy factory. Its color palette and artwork suggests a gentle Steampunk-like world.
Power of the team
Like the determined little gear, the Chapman crew has been dogged in its efforts to fine tune Axle and prepare it for launch as the first release from their fledgling Fallstreak Studio.

Since graduation, the team enhanced the game's systems, squeezing in work sessions on weekends and in the evenings after regular jobs. And as one of the startups accepted into the Argyros School of Business and Economics' eVillage incubator program, they received mentoring on the business aspects of launching a product.
"They definitely helped us get our grounding in the business side of it. I don't think we would have been able to get our Kickstarter campaign going without eVillage," she said.
That brand of interdisciplinary spirit helped get Axle rolling from the very start, says Michael A. Fahy, Ph.D., professor of mathematics and associate dean of Schmid College of Science and Technology.
"In the best Chapman spirit, the Axle team is truly interdisciplinary featuring designers and artists from Dodge College of Film and Media Arts as well as software engineers form the Schmid College of Science and Technology," Fahy said.
'Not just another cog'
And abiding at every step in the process was the imagination that brought a bouncy little axle to life.
"The characters, the fun, the look – all that stuff stayed intact, because people liked it," Fiacco says.
After all, it's hard to resist a little guy described by its creators as "not just another cog in a machine."
8/17 Update: The Axle game is now available at the Google play store.
Learn more about the Geekie Awards and ticket information at thegeekieawards.com.