This story appeared in the spring 2014 issue of Chapman Magazine.
March 1 was a landmark day for the Chapman University basketball programs, still in their infancy in terms of SCIAC membership. Thanks to the women's basketball team's co-conference championship — the first SCIAC title for any Chapman team in school history — and a surprise upset by the men's basketball team in the conference tournament semifinals, the Hutton Center hosted not one, but two tournament championship games on the same day.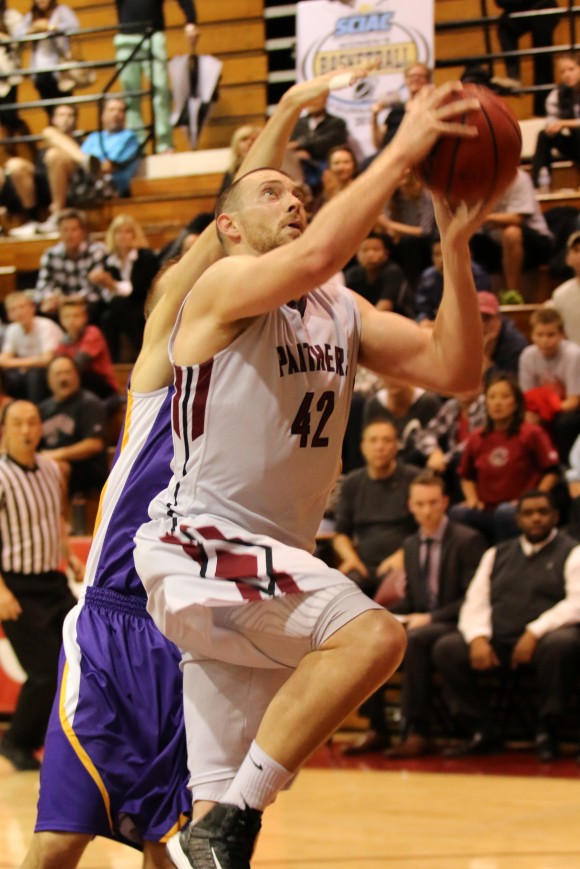 The women, on the strength of an outstanding regular season and 20–5 overall record, earned the Southern California Intercollegiate Athletic Conference's No. 1 seed and home court advantage throughout the conference playoffs. They defeated Cal Lutheran in the semifinals and hosted co-regular-season champion Claremont in the finals.
Meanwhile, the men peaked as the season culminated, winning five straight games and seven of their last nine to earn the No. 3 seed. They had to go on the road to Pomona-Pitzer in the semifinals. The Panthers upset the Sagehens while Cal Lutheran was knocking off top-seeded Claremont, giving Chapman the right to host the finals.
Championship Saturday and the excitement that came with it did not disappoint, as Panther fans packed the Hutton Center. Although the women fell short in the finals against Claremont, they earned an at-large berth into the NCAA Tournament. In the nightcap, the Chapman men defeated Cal Lutheran, 79–51, to earn the automatic berth into the NCAA Tournament for the first time in school history.
This marked the second time in four years that both basketball programs reached the NCAA playoffs.
Senior guard Kimi Takaoka '14 concluded a phenomenal career with some prestigious honors. Along with earning All-America honors and being named SCIAC Player of the Year, she was one of 10 national finalists for the Jostens Trophy, awarded to the most outstanding male and female NCAA Division III basketball players who excel on the floor, in the classroom and in the community.