A high-flying offense powers the Panthers during a wildly successful football season.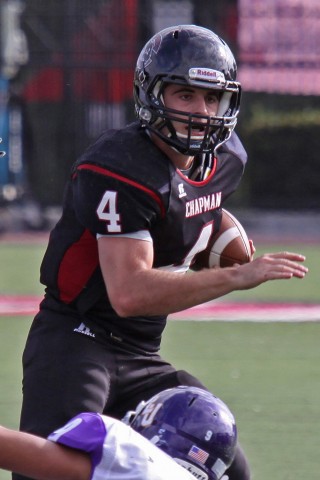 Four points. Just four points separated the 2013 Chapman University football team from its first conference championship and berth in the NCAA playoffs. The Panthers' 21-17 loss to the University of Redlands in October was the only blemish during an otherwise memorable and wildly successful season.
Chapman tied a school record with an 8-1 mark and ranked in the top 20 in the nation in 11 different offensive categories, including total offense and scoring.
The Panthers averaged 45 points per game, guided by quarterback Michael Lahey '15, who led the nation in completion percentage and ranked fifth in passing efficiency (180.7 rating). As a result, Lahey was named the SCIAC's Offensive Player of the Year to headline a collection of 11 Panthers who earned All-SCIAC first or second team honors.
Chapman, which is now 14-4 in the past two seasons, placed second in the SCIAC standings to Redlands, a team Chapman led in the fourth quarter before falling. Redlands finished the Southern California Intercollegiate Athletic Conference schedule unbeaten and earned an automatic berth into the NCAA's 32-team postseason field. Due to the small number of at-large berths, Chapman was left out.
"Our goal has been simple from Day 1," Chapman Coach Bob Owens said of the program's upward trajectory. "We built a solid foundation rooted in education. We've had success recruiting solid student-athletes, and we've been able to consistently compete and win games. And so now we've risen to the upper echelon of the SCIAC, where we hope to win a conference championship and compete at a national level."
One of the many highlights this season came Oct. 5 with Chapman's 72-40 Homecoming victory over Whittier College on Holly and David Wilson Field in front of a record-breaking sellout crowd of 5,430 at Ernie Chapman Stadium. It is the second-most points the Panthers have ever scored in a contest and the most in nearly 18 years.
>>MORE: Watch highlights from 2012.