Everyone loves inspirational stories of hardships overcome — those comeback tales that leave disease, adversity or bum luck in the dust and the victor on top of the world.
Wilson Parnell '17 knows some people see his life story in that light. The Chapman University water polo player was born without a fibular bone in his left leg, which led to its amputation below the knee when he was 16 months old. Several complicated surgeries followed until age 7, when his leg and knee were rectified to the point where he could play sports.
And play he did. Basketball first, then water polo after a meniscus tear ruled out a hoops career. Now in water polo he plays the set position, or the equivalent of a center, an important offensive position where the fierce hooking, kicking and pushing that unfolds underwater is as important as what happens above the surface. If his success in overcoming physical challenges inspires people, that's OK with Parnell, who played varsity water polo his four years of high school and helped lead his team to a California Interscholastic Federation division championship. But his eyes crinkle as he smiles and describes his real objective.
"By the end of the game I'm definitely getting my opponent's best effort, which is my goal," he says. "I don't want you to take it easy on me."
There's no reason anyone should. Eric Ploessel, head water polo coach at Chapman, recruited Parnell for his strength, size and skill. At 6-foot-3, 200 pounds, he is a formidable opponent. Ploessel expects the player teammates have nicknamed "Hoppy" to be a major contributor in every game this season.
"He's really, really strong. That's what we need – size and strength," Ploessel says.
He even performs the dry-land conditioning runs with the team and holds his own during a drill that requires players to hold a 40-pound jug aloft while treading water. And the right-hander's ability to fire off goals with his left hand has also impressed the 13-year coach.
"Some of those goals, it's just 'Whoa!' It's not even about his leg," Ploessel says.
Except when it is. In certain moments of his underwater grappling for position, the short leg can be an advantage, Parnell says with a grin. "It gives me an easy way to kick off people and get that little stump in there and work it," he says. "There's a move where you turn somebody, but instead of turning with my left hand or left arm, I use my leg sometimes. It's a different way and it catches the defender off guard. It doesn't always work, but sometimes it does."
Ploessel says it makes for a unique style of play.
"Some of the stuff that he can do underwater against somebody else is definitely different," he says.
The combination of skill and physicality is what Parnell says he loves about water polo. Parnell was delighted that Ploessel's freshman-year offer to play at Chapman was still good after Parnell tried a year as a non-athlete at Loyola Marymount University and realized he missed the game.
Away from the pool, Parnell is busy in the Argyros School of Business and Economics studying business administration with a management emphasis — "I like being in charge," he says — and he ambles around campus on one of several custom prosthetic legs. One bears the Argentine flag, a reflection of his family heritage, while a glossy wood one is reminiscent of a gym floor. His tie-dyed leg is a fashion statement that resulted from a poll he took of his friends back in high school.
And he has plans to try out for the swim team in the spring and train for international swim meets, at which he hopes to set a time in the 500-meter freestyle or 100 or 200 butterfly that will qualify him for the 2016 Paralympic Games in Rio de Janeiro.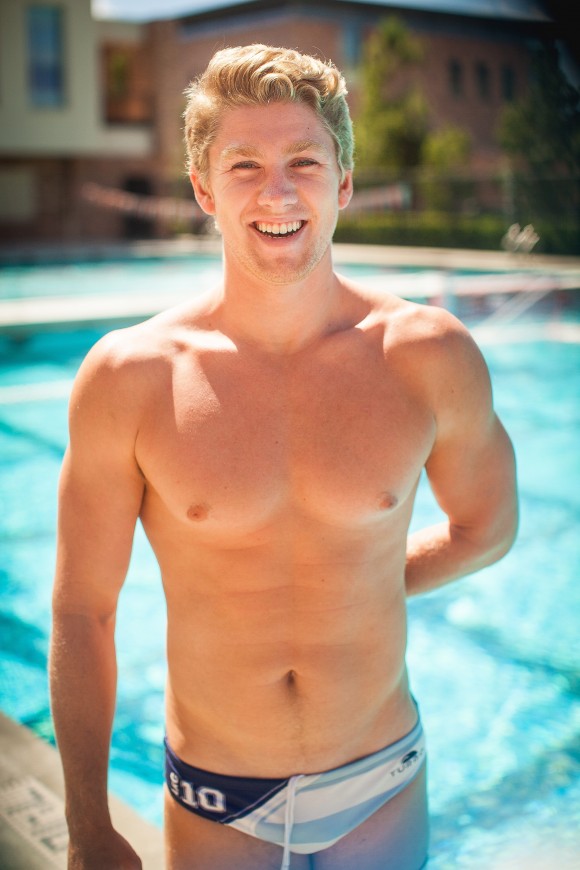 If others are inspired by all that, then he's pleased. He hopes it's less about sports, though. Personally, he says he never worried about his leg holding him back athletically, but he did have occasional qualms about social situations or making people feel uncomfortable about his leg.
"Sometimes I'd worry — Is a girl going to like me?" he says.
He decided to plunge ahead by embracing the leg as just one part of who he is and to put it out there for everyone to see, tie-dyed whimsy and all.
"I like being unique," he says.
And he hopes amputees, including military veterans or anyone shy about showing off a prosthetic limb, will draw a little more nerve from someone who can't remember any other way of being.
"Don't stop. Just keep going on with life," he says. "Get a tie-dyed leg."

Photos by Nathan Worden '13 (MBA '15).