This story appeared in the winter 2014 issue of
Chapman Magazine.
Renowned musician Henri Temianka blazed a musical trail, and now his legacy lives on at Chapman.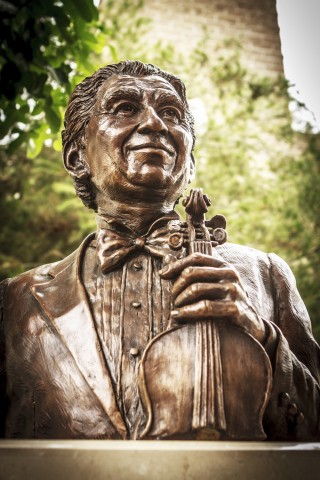 In 1941, having secured — through his various highlevel contacts in the arts world — the release of his parents from a Nazi concentration camp in France, Henri Temianka learned they had been imprisoned again, this time by Franco's troops, on their flight into Spain. The famed violinist went to work to try to free them once more. This time, he recalled a well-connected Spanish aristocrat who had enjoyed one of his concerts during earlier, happier years in Spain, and sought help from him. Count Ignacio de Gortazar y Manso de Velasco went to the prison, freed Temianka's mother and father, and personally escorted them to his mansion, later arranging for their passage to Cuba and thence to the United States.
That desperate adventure, which easily could have tipped into tragedy, was just one striking episode in the life of Henri Temianka (1906–1992), a globetrotting virtuoso who knew nearly everyone who was anyone in the arts, and whose effect on classical music reverberated from the 1920s in Europe through his long reign as a music icon in Los Angeles. Now this indefatigable artist has been honored with a $2.25 million endowed music professorship and scholarship in his name, gifted to Chapman University by his son, Daniel Temianka, and daughter-in-law, Zeinab Dabbah, M.D. (J.D. '12) of Pasadena. Dr. Dabbah, a graduate of Chapman's Dale E. Fowler School of Law, was appointed to the university's Board of Trustees in 2013.
"The Temianka endowments will make Chapman's Hall-Musco Conservatory of Music program even more highly competitive by attracting world-class professors and bringing the most promising students to our university," said Dale Merrill, dean of the College of Performing Arts. The first two students to benefit from the endowed scholarship are violinist Emily Uematsu '13 and violinist/violist Macie Slick '14. String faculty member William Fitzpatrick has been appointed to the post of Temianka Endowed Professor. A bronze portrait bust of Henri Temianka was dedicated at Chapman in 2013, and will be placed in the Bette and Wylie Aitken Arts Plaza, between the busts of Mozart and Puccini, when the 1,050-seat Marybelle and Sebastian P. Musco Center for the Arts is completed in late 2015.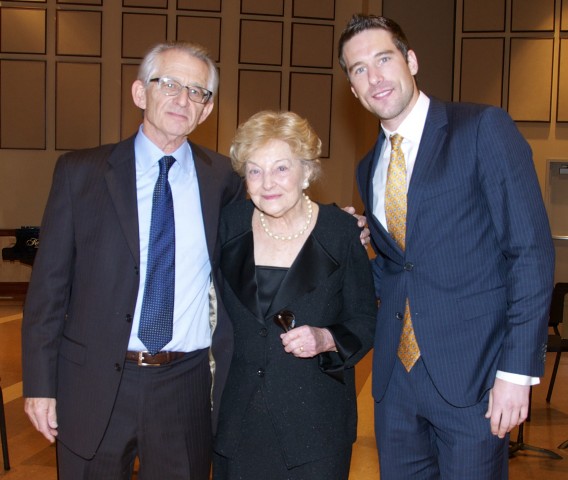 Henri Temianka was a signal figure in classical music throughout nearly the entire run of the 20th century. One of the era's foremost concert violinists — who performed more than 4,000 concerts during his long career, and whose talents made him a global favorite as well as a hero of the Southern California music scene — Temianka was also a prominent conductor, educator and author, and founder of the renowned Paganini Quartet and California Chamber Symphony.
Born in Scotland to Polish-Jewish parents, Temianka studied at the national conservatories of Berlin and Paris and at the Curtis Institute in Philadelphia (earning his way by playing violin in restaurants and circuses) before gaining international recognition in 1935 by winning the first Wieniawski Violin Competition in Warsaw. He was fluent in five languages and became, in the words of the
Los Angeles Times
, a "moving force among those who had fled the Nazis before World War II."
After working to free his parents and bring them to America, Temianka arrived in Los Angeles in the early 1940s, and in 1946 founded the Paganini Quartet. That famed ensemble — in which he played as first violinist — toured the world for many years and made award-winning recordings for RCA Victor. In 1960, Temianka founded the California Chamber Symphony — the first true chamber orchestra in Los Angeles — and led its subscription concerts in UCLA's Royce Hall for more than 25 years. He was one of the first to break tradition by speaking to his audiences from the stage about the music they were hearing. Temianka also directed the popular "Croissants and Chamber Music" series on Sunday mornings on the patio of the L.A. Music Center, and conducted 10 seasons of summer chamber music at the Getty Museum in Malibu.
Temianka also made several music-education films, including From
Bach to Rock
, which featured, among others, Ray Manzarek of the Doors and jazz drummer Shelly Manne. He authored dozens of publications, including more than 100 articles, and his autobiography,
Facing the Music
, was published in 1973.
We are very grateful to Daniel and Zeinab for honoring Daniel's distinguished father in this vital and important way," said Chapman President Jim Doti. "I can't think of a better way to remember a man and a musician who meant so much to California and to the world."