Inspired by Semester at Sea, Karyn Planett '70 makes a career of exploring exotic cultures as she feeds her unwavering wanderlust.
This story appeared in the winter 2014 issue of Chapman Magazine. On the cover: a lonely boat seems tethered to history as it rests along the shoreline in the Russian Arctic. The photo was captured by Karyn Planett '70, who has made a career of sharing unique destinations with adventurous travelers. These days, she and her husband live on a ship that perpetually circles the globe. We aren't even trying to hide our envy.
The tally is in the range of 210, maybe 211, she allows. Some countries no longer exist, and others have divided into multiples, so it all gets kind of tricky. But the truth is that Karyn Planett '70 has never been too concerned with adding up all the nations to which she has journeyed during her decades of international travel. Because for her, it has always been less about counting the countries of her visits and more about making her visits to the countries count.
To that point, a leisurely journey through her array of photos unleashes a flurry of wonderful stories.
Like the night she and her husband of 35 years, Geoff Thompson, traversed a narrow gorge called The Siq that is the main entrance to the ancient city of Petra in southern Jordan. Aided only by the warm glow of candles, they reached the site of a concert, which they enjoyed bathed in ethereal moonlight. "It was magical," she said.
Or the misty night in the Papua New Guinea province of East New Britain, where Planett lay flat in the mud for hours to capture images of ceremonial fire dancers, whose barefoot kicks into the flaming coals sent sparks all around her. She still doesn't know how everyone avoided burns.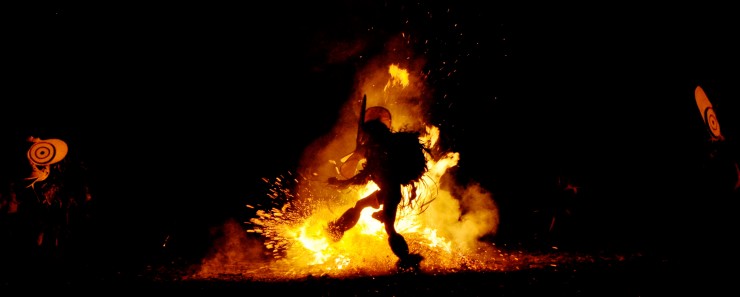 Then there's her "extraordinary event" in the Australian Outback, where she spent a day in an aboriginal compound experiencing…well…stuff she's been sworn never to divulge.
"An intense event happened while I was there," Planett said, choosing her words carefully. "I was in this event to a degree, but I can never tell anyone about it. I made that commitment, and I'm going to honor it."
Assimilating with the local people as she learns their customs and traditions goes to the heart of Planett's travel ethos. "I just try to take one more step into their circle," she said, "while always showing respect for their mores."
She knew from an early age that she wanted to see the world, and she found a way to do it by developing a career in the travel industry. Initially she conducted tours to various locales, then she developed luxury adventure travel trips all over the world. Eventually Planett hooked up with cruise lines, enjoying the past 22 years with
Crystal Cruises
, for which she writes articles that appear in a daily newsletter on the culture and history of destinations.
These days she also produces elegant coffee table books that Crystal Cruises sells during sailings.
"A job in the travel industry is just sanctioned exploration," Planett said. "All of my passions morphed into a career that has brought me more joy than anyone can imagine."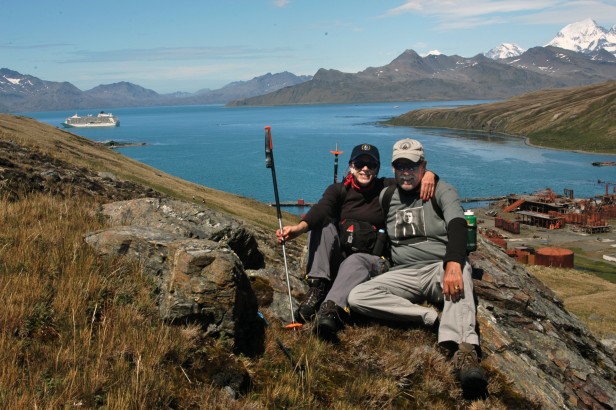 So strong is her travel bug that Planett and Thompson now live in an apartment on a residential ship called
The World
, which allows them to sail full time or take side trips and then catch up with their home ship as it perpetually circles the globe.
"I feel like I've been so amazingly lucky," Planett said. "I had parents who understood my wanderlust, and a husband who understood it, too."
Thompson's work as worldwide creative director for an ad agency gave him the flexibility to join Planett on many of her travels. Now that he's retired, the two can truly say that life is a journey. The Canary Islands and Australia topped their New Year's to-do list, with the Sea of Okhotsk and Mongolia also on the horizon.
They map out itineraries, but they also leave room for happenstance.
"Some things you plan, while others you stumble upon," Planett said. "Some things you run to and others you run from. But each day's another adventure, and it all started at Chapman."
Planett enjoyed two voyages on Semester at Sea, and says the experience "put my feet in the blocks and I just took off."
During one of those semesters, she accompanied a blind student on excursions.
"I saw the world through unsighted eyes," she said. "Now when I give advice about travel writing, I say close your eyes and pretend the person reading your writing is blind."
In 2011, she and Thompson mentored students during a Semester at Sea sailing, with Planett teaching travel writing and photography. "I saw myself in their faces," she said.
And as Planett continues to sharpen her own writing skills, amazingly there are still places she has never visited. She'd love to explore the interior of Africa, likewise Tibet and Bhutan. Heck, she's never been to Yellowstone.
"All of these magical experiences," she said with a hint of wistfulness in her voice, "and just a trillion more yet to do."
Photos by Karyn Planett '70.