Internet computing iconoclast Theodor "Ted" Nelson, Ph.D., will have his life's work honored at Chapman University on Thursday, April 24, in honor of the 40th anniversary of the publication of his book Computer Lib.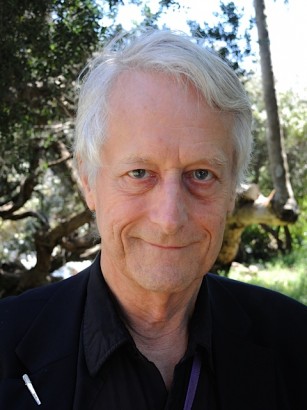 In a conference titled "Intertwingled," Nelson's more than 50 years of influence in the world of personal and academic computing will be celebrated in talks by a dozen of today's leaders in technology and creativity. The event is open to the public.
It is not well known that Nelson invented movie editing by computer and realistic computer graphics, for which he filed early patent applications.  Among Nelson's more legendary contributions throughout the advancement of the computer age are coining the terms "hypertext" and "hypermedia" among others, authoring several books such as Computer Lib, Literary Machines, Geeks Bearing Gifts and Possiplex. He has spent more than 50 years working on his vision of a connected document world called Xanadu. Nelson was a Distinguished Visiting Professor at Chapman University during fall 2013, when he taught the honors course Cinema of the Mind.
"Ted is a very unique individual—he formulated his ideas before the world was ready to understand them, but that has not deterred him from continuing to believe in a different future for the world of computing," said Chancellor Daniele Struppa. "Irreverent, and yet tender, he is the modern high-tech version of Don Quixote, and I say this with the greatest admiration for the immortal creation of Cervantes."
Participants in the conference include notables in the tech world, including Turing Award winner (equivalent to a Nobel Prize in Computer Science) Alan Kay, creator of the Smalltalk programming language – the inspiration for today's window-based systems and the scientist who coined the phrase, "The best way to predict the future is to invent it."
Also participating is Dame Wendy Hall, former president of the Association for Computing Machinery and one of the first computer scientists to undertake serious research in multimedia, hypermedia and digital libraries.
"The book being celebrated, Computer Lib, made the outrageous claim in 1974 that personal computing, computer graphics, interaction and hypertext would fuse into an oncoming wave that would revolutionize the world—absurd, most people thought," said Nelson." After 40 years of Computer Lib being very right, here we are in a soup of resulting super-problems. Now they're listening to me again," Nelson said.
The son of show business parents – his mother was an Oscar winning actress and his father an Emmy winning director – Nelson initially was a filmmaker, actor, and author of a rock musical and numerous plays and periodicals. As early as 1960, he envisioned a world in which all media would be connected and interacting with one another on a vast system of computers. Nelson coined the term intertwingled to express the philosophical complexity of the world and the difficulty of representing it.
Nelson's book Computer Lib had a considerable influence on the personal computing world in its infancy. Nelson's effect on the development of hypertext systems has led the Association for Computing Machinery's Hypertext Conference to award the annual "Ted Nelson Newcomer Award." More about Ted Nelson's work can be found at his website hyperland.com.