This story originally appeared in the spring 2013 issue of
Chapman Magazine
.
Even in an academic community full of classical passions, there's something about guitar love.
For
Daniel de Arakal '10
, memory conjures a string of heartfelt attachments. First was Veronica, a bass that boldly welcomed him to a new adventure. Later came Irene, a steel-string with a rich, melodious nature; followed by Charlotte – ah, yes, Charlotte – a Fender Stratocaster packing sonorous power. And who can forget Carmen, a Cordoba acoustic with a Spanish cedar neck, silky to the touch?
In the grand arc of a career, we were all special, but ultimately each was little more than a dalliance. None compares with the cedar top classical built by Robert Vincent that de Arakal first held in April 2009, when it practically sprang from the wall at Trilogy Guitars in Playa del Rey and landed squarely in the lap of his life.
"Lights went on and the heavens opened up," de Arakal remembers of the moment. "It was like the words were written: It shall be mine."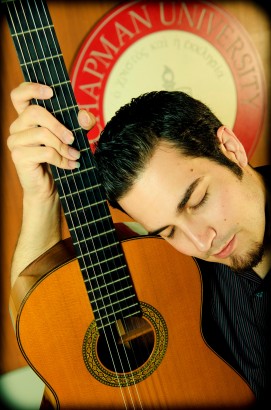 As it was written, so it shall be. For as is known by anyone who becomes passionate about the guitar, there's no fighting a love that flows clean and pure, from headstock to soundboard, tugging at your heartstrings every fret of the way.
It's certainly true that all serious musicians develop an attachment to their instruments, whether stringed, brass, woodwind or didgeridoo. However, there seems to be something more profound, more enduring about guitar love. B.B. King felt so strongly that in 1949, he ran into a burning building to rescue his first Lucille, a $30 Gibson. Willie Nelson did the same for his Martin N-20 Classical – the one he named Trigger, after Roy Rogers' horse.
"It's now part of me," Nelson has said of the iconic instrument, all battered and tatty from four decades of use, the wood actually worn through in one place.
De Arakal, a classical guitarist and adjunct faculty member at Chapman University, understands the sentiment, but he would never let his Vincent fall into such disrepair.
"I refuse to let anyone I don't think is qualified to play it," he said. "I protect it, I baby it. Because it is my baby."
After playing pop and folk in his teen-age years, de Arakal crossed over to classical guitar at Chapman, where he played in ensembles that won awards in competition. The Chapman guitar program succeeds, even though like de Arakal many students arrive without classical experience.
How did de Arakal make the transition? Passion, discipline, and "a fair amount of butt-kicking by Professor Cogan," he said.
Jeff Cogan
is director of guitar studies and music technology at Chapman's William D. Hall and Marybelle and Sebastian P. Musco Conservatory of Music. He has performed throughout the U.S. and Europe, including for the Spanish master Andres Segovia. In addition, he has adjudicated compeitions in Austria and France and directed the Guitar Foundation of America (GFA) international competition.
But his first influence was The Beatles, and when he started playing at age 11 it was a black-bodied electric he ambitiously converted to a 12-string with help from his dad.
"I loved that (12-string) sound but couldn't afford a new guitar," he said. "We got it working, though it didn't last. I was so sorry to see it go. I wish I still had it."
Cogan still has 13 guitars, which represent his evolution as an artist. Among them may be his best example of guitar love – his classical acoustic made in Madrid by luthier Jose Ramirez, featuring Indian rosewood with a cedar soundboard and extra long strings.
"With this style, I think you can build a deeper, more penetrating sound," Cogan said. "I immediately loved that guitar."
Then in 2003, he heard a Daniel Friederich guitar, played by the winner of a GFA competition. His head was truned, and his ear had wandered. "I loved that sound," he said. "I had no idea how legendary Friederich was."
He found out when he got on the list to acquire a Friederich. Sometimes it takes as long as five years to get an instrument made by the French luthier, now in his 80s and only making a few a year. In 2005, Cogan got his new performance guitar, with Indian rosewood sides and back, but a spruce top. "The same spruce they use to box Camembert cheese," Cogan said with a smile.
It wasn't a case of mad love at first strum.
"At first, it was kind of a thin love," Cogan said. "You don't know what a guitar is capable of until you play it. A new guitar can teach you things about yourself as an artist. There's a period of discovery, of questions. You try things. Does this sound better? How about this?"
So began a period of courtship.
"Sometimes you may be enthralled at first, and after a while you might not be as sure," he said. "Other times, it changes to love over time as you relate to the instrument. If you've spent a lot of money, you can get impatient: "What did I do? What did I commit to?"
Over the years, Cogan's Friederich "has aged quite nicely," he said. And so has the love.
"Ultimately, I had to find my voice in this guitar," he sad. "It sounds very good when you learn to coax out it's depth."
Now you might have noticed that guitarists use a different naming protocol when they talk about their classical instruments. Once de Arakal became a classical musician, he stopped naming guitars after women and started to refer to them by their maker. So it's now "my Vincent," or in Cogan's case, "my Friedrich."
There are differences, of course. You hear far fewer pop guitarists talk about "the timbral and dynamic possibilities" of their instrument. But there is also plenty of overlap. When they talk about their guitars, both popular and classical players use words like obesssion, elegance, allure, grace, power, and yes, love.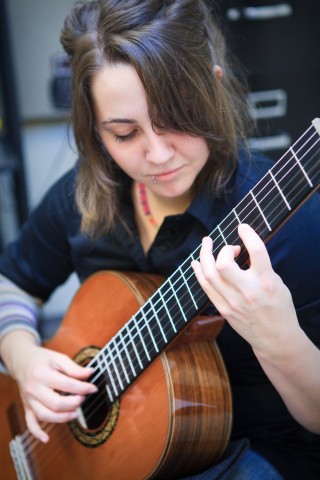 And lest you think that this guitar love thing is just a male affectation, we asked guitar performance graduate Kira Roden '12 to talk about "her Burguet," made by Spanish luthier Amalio Burguet.
"It felt right as soon as I picked it up," said Roden, who started as a psychology major at Chapman and then went on to win awards performing in guitar duos, trios, and quartets. "I baby it, I polish it, because I want it to look its best. And when it gets bumped, it's a horrible sound. It feels like you hurt you or someone close to you."
No apology necessary. Because as in life, guitar love means never having to say you're sorry.