This story originally appeared in the winter 2012
Chapman Magazine
.
When I first came to Chapman University in fall 2010, I was burned-out and unemployed. I was an Operation Iraqi Freedom disabled U.S. Marine veteran who, after five years working as a security contractor and consultant, was desperately looking for a new direction in life.At the time, my father, Philip E. Quigley, was an adjunct professor at Chapman, teaching in the Argyros School of Business and Economics. He told me the students at Chapman were hard-working and goal-oriented, so he thought that I would blend in well.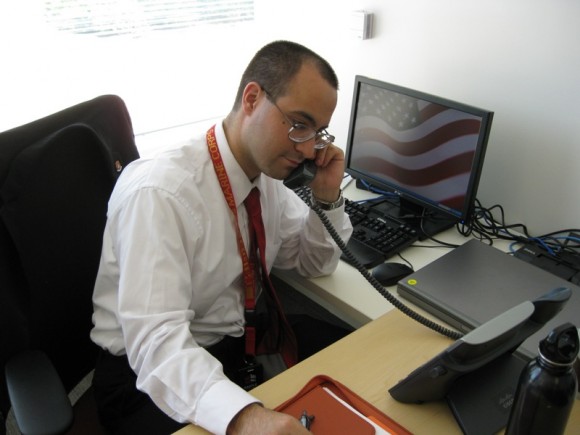 My first semester at Chapman was difficult. I did well academically, but I had a hard time adjusting due to my age and work history, and because I was a veteran. It was difficult relating to other students, who saw me as stubborn and opinionated. My professors in the Wilkinson College of Humanities and Social Sciences quickly recognized that I was different from other students because of my life experiences. They taught me to use those experiences to better absorb my academic ones. I slowly learned to focus on what I shared with my fellow Chapman students and not our differences.
It wasn't until I took Russian Politics with Professor Igor Kokarev, a former Soviet-era legal dissident and liberal turned history, film and political science professor, that I really learned to value my life experiences. One day I was having coffee with him at Jazzman's Café, discussing what had brought me to Chapman, when Professor Kokarev asked me what I had learned as a combat veteran and political science student. I told him, "It is easier to kill people than to live with them." He sat back in his chair, gave a learned look and, in his Russian accent, said, "That is a difficult life lesson to have already learned so young." He believed that because I had already acquired such knowledge, I could do great work helping to prevent conflicts versus participating in them, and that if I focused myself I would be a great asset for any government agency. Conversations such as this one helped provide me the direction I needed.
Another critical step was to seek guidance from my academic adviser, Professor Don Will, associate dean of Wilkinson College, and from Ilyana Marks, internship program specialist at the Career Development Center. They helped me to turn my experiences into a resumé I would later use to obtain merit-based scholarships and grants to further my education. In 2011 and 2012, thanks to professors such as Kokarev, Bojan Petrovic, and David Shafie, I thrived in summer internships with the Department of Defense and the Department of Veterans Affairs in Washington, D.C.
Now I know what I want — to help shape American policies on threat management and emergency preparedness — and it was the relationships I formed at Chapman that helped me find my path along the way. I am grateful for my experiences and will never forget the lessons I learned at Chapman.
My new path will have more than its share of hurdles, but I have learned that it's the hard roads that lead to the best outcomes.
Philip A. Quigley '13, a political science major and sociology minor, is a former Marine and Wounded Warrior Project alumnus. He is a member of Pi Sigma Alpha, Alpha Kappa Delta and is one of the 150 Faces of Chapman. In 2012, he was a guest panelist at the Notre Dame Student Peace Conference, and he co-founded the Student Veterans of Chapman.