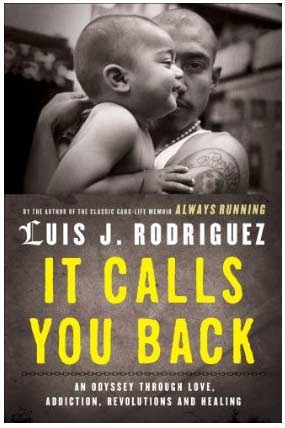 Continuing its summer series – which in June drew visitors from Orange, Los Angeles and Riverside counties – Librería Martínez de Chapman University presents three more free author talks and book-signings this summer in the famed Santa Ana bookstore founded by Orange County cultural and literacy activist Ruebén Martínez.

Librería Martínez de Chapman University is located at 216 N. Broadway in Santa Ana (
map and parking
). The authors' books will be available for purchase at the store.  Seating is limited and reservations by phone or online are required by calling 714-973-7900 or emailing
libreriamartinez@chapman.edu.


Visiting authors include:
SATURDAY, JULY 6 at 6 p.m. – Luis J. Rodriguez. Rodriguez is an award-winning author of 15 books in poetry, children's literature, novels, short stories, nonfiction and memoir. He is perhaps best known for his international best-seller Always Running: La Vida Loca, Gang Days in L.A, a memoir about a young Chicano gang member struggling to survive the dangerous streets of East Los Angeles and his quest to free himself from this seemingly all-encompassing gang culture. "Richly literary and poetic, yet urgent and politically explosive at the same time…A permanent testament to human courage and transcendence," said Jonathan Kozol, author of Savage Inequalities.  Rodriguez's latest book, It Calls You Back: An Odyssey through Love, Addiction, Revolutions and Healing, is a sequel to Always Running.  In it, Rodriguez takes a hard look at his post-gang life and the strange way in which his past—the crimes, the drugs, the things he's seen and done—has a way of calling him back.

SATURDAY, JULY 13  at 6 p.m. – Roberto Cintli Rodriguez.  Dr. Cintli is an assistant professor in the University of Arizona's Mexican American and Raza Studies Department.  He is a longtime award-winning journalist and columnist, with many awards for his work in the defense of the First Amendment as well as human rights. His current field of study is the examination of maiz (maize), culture, migration and the role of stories and oral traditions among indigenous peoples, including Mexican and Central American peoples.

SATURDAY, AUG. 10 at 2 p.m. — El Sol Science and Arts Academy Study Poetry Book Launch. Celebrate the release of Journey Work of Stars, the latest collection of poetry written by the student poets of El Sol Academy in Santa Ana and edited by Sue Cronmiller. Activities will include guest speakers, readings, a book signing and a casual, fun poetry-writing workshop for the whole family.
THURSDAY, AUG. 22 at 6:30 p.m. – Alfredo Corchado with CNN reporter and journalist Ruben Navarrete. Alfredo Corchado, Mexico bureau chief for the Dallas Morning News, is a noted expert on immigration, drug violence and foreign policy between the U.S. and Mexico. He has reported on everything from the disappearance of women in Juarez to the exodus of Mexico's middle class to the United States. Over the years, Corchado has exposed government corruption and the reach of Mexican drug traffickers into U.S. communities, receiving numerous death threats – including a threat to kill an "American journalist" within 24 hours. He thought he was the target of this timed threat and instead of fleeing the country, Corchado went deep into the Mexican countryside to investigate.  Midnight in Mexico is the story of his quest to report the truth of his country—as he raced to save his own life.  CNN reporter and journalist Ruben Navarrete will interview Corchado following the presentation on Midnight in Mexico. Navarrete is the most widely read Latino columnist in the country, with a nationally syndicated twice-per-week column that appears in nearly 150 newspapers.

Librería Martínez de Chapman University is a nonprofit community educational initiative in partnership with the university's College of Educational Studies. Programming includes literacy and academic counseling programs, reading clubs, monthly book discussions, author signings and more.  Ruebén Martínez is a Distinguished Presidential Fellow at Chapman University and a winner of the
MacArthur Foundation
Fellow.