Walking through Nordstrom at South Coast Plaza, most guys might be oblivious to the Calvin Klein and Armani men's underwear ads, paying little attention to this often overlooked article in a man's wardrobe. Anthony Ferraro '13 usually was. Then one day he saw opportunity and had a vision of a stronger brand of men's under apparel – something the modern day guy could relate to.

"I was walking past a Victoria's Secret when I got the idea: a Victoria's Secret for men," said Ferraro, an economics major in Argyros School of Business and Economics.

Ferraro wanted to do for men what Victoria's Secret had done for women — transform America's perception of shopping for underwear into a fashion experience.

"I wanted to take this model  and create a brand that guys could relate to. Something that's comfortable and functional, a high-quality product that fits guys with an active lifestyle," Ferraro said.

The company: SWAV. But it didn't always have that name. When Ferraro first got his idea while a freshman at Chapman University, he called it Tony Walters. But he met co-founder Jeri Luhtanen '14, and the two decided to name the brand SWAV, reflecting a lifestyle rather than a man's name.




With steadfast dedication, the young entrepreneurs took the brand from "fan favorite" at
Tech Coast Venture Network's Survivor 7 fast-pitch competition
to first place at both
Chapman University's internal business plan
competition and then the
Whitman Entrepreneurial idea award at Syracuse University
.

After the wins, the brand started prepping for a real launch. SWAV was offered as a first release to Chapman students – just in time for the bi-annual Undie Run. As students were ready to strip down and take a break from finals week, SWAV set up a table in Attallah Piazza and sold pairs of its Luxury Performance 1.0, the lead product, a boxer brief with a pocket for a cell phone. They call it the "SWAV slip pocket."

And it's just what the wearer needs, nothing more, nothing less. "I wanted to be different from the other brands," Ferraro said. There are other brands that offer pockets in their underwear, but the SWAV slip pocket was designed for functionality: just one pocket to keep a cell phone securely fastened to the right side of the waistline.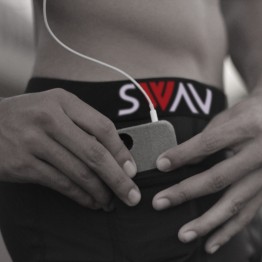 "I'd play football and all the guys were trying to keep our phones in our compression shorts. But it wasn't really working," Ferraro added.

In addition to the functionality of a pocket, the SWAV boxer briefs are meant to suit the wearer's needs, whether it's at the gym, in class or in the office. Its anti-microbial fabric is the "Mercedes of fabrics," Ferraro said. "We went through nearly a dozen manufacturers to develop the fabric of this boxer brief. We wanted to get it just right."

In charge of product production is Navin Khetarpal, a student at Brandman University. In charge of product development is Colton Dowling '13, a Chapman business major with a minor in Germanic studies.

SWAV will be available soon at
www.swavapparel.com
. The brand is also looking to expand to flash sales sites such as
Jack Threads
, and select boutique retailers. SWAV plans to launch its video on
KickStarter
in the coming weeks as well. Kickstarter is a new way to help creative teams fund their projects, with everything from films, games, music, art, technology — and boxer briefs. Word on the street has it that SWAV has already developed its next Luxury Performance product, which will be featured on KickStarter.

The retail price of the SWAV Luxury Performance 1.0 is $24.90, but will be offered as a promotional special of $20 upon full launch. Be sure to
follow the brand on Facebook
to see what's next for SWAV.