In 2009 Katie Murphy '15 was in a race for her life as she launched into a seven-month treatment to battle stage III Hodgkin's lymphoma. Today she is a cancer survivor and studying studio art at Chapman University. But now Murphy is in another race.
As a nominee for the Leukemia & Lymphoma Society's Woman of the Year, Murphy is working to raise as much money as possible by May 15 to benefit the society's mission of blood cancer research. Murphy embraced the fund-raising challenge that comes with the nomination, saying that her heart is truly pegged to the cause behind the contest.
"They fund $78 million a year for blood cancer research. They basically funded the research that cured me," she says.
Murphy caught the society's attention because she was already busy helping to improve the lives of cancer patients by adding a touch of fashion to a clunky bit of medical hardware cancer patients know as their "PICC line." Murphy was a junior in high school when she was diagnosed with cancer. Soon a whole host of "musts" and "have to-do-this" tasks filled her days. She had to schedule medical appointments around classes, endure treatment side effects, find a comfortable wig when hair loss kicked in, check into the hospital when she caught a cold and even slog through freeway congestion as her family drove 75 miles from their Petaluma home to the Lucile Packard Children's Hospital at Stanford University in Palo Alto.
But there was one seemingly small thing Murphy would not tolerate, and she literally socked it out of her treatment regimen. That was the hospital-issued cotton mesh that covered the surgically implanted peripherally inserted central catheter, or PICC line, into her upper arm for the delivery of chemotherapy drugs. It was uncomfortable, seemed like a signpost to the world that she was sick and, worst of all, people stared at it.
"It was already hard enough being uncomfortable in a new wig and not having hair and feeling iffy about myself," she says.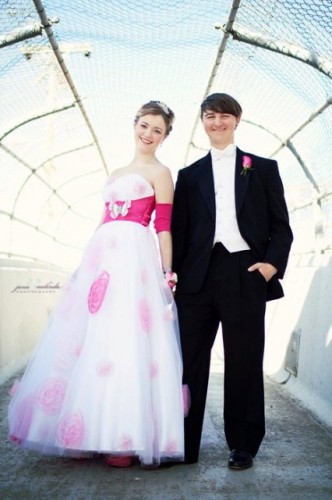 So she hauled out the colorful women's socks she wore under her riding boots, took scissors in hand and fashioned her own covers.
"I just wanted to bring normality into my own life and I'm an art major and I love artistic expression and I love fashion," Murphy says.
Today her spark of imagination has grown into the PICColina Foundation, which she and her mother founded to help make the colorful covers available to children's hospitals. For now, they are machine sewn by Murphy and her mother, Allison Murphy, and together they are working to meet the needs of the Lucile Packard Children's Hospital. They purchase fabric but also continue to use the brightly-patterned riding socks.
Once their application for non-profit status is approved, they will expand the manufacturing of their trademarked PICColinas and, they hope, deliver them to far more cancer treatment centers. In addition, they plan to eventually offer art workshops at which patients could create fabric designs for customized PICColinas.
A lot of fuss over what amounts to a little arm sock? Not at all, says Murphy. A PICC line has to be covered to avoid infection and damage, and making covers that are more comfortable and personal can lift a patient's outlook, offering a bright spot in the long haul of a cancer treatment plan. She recounts the story of a young cancer patient who has Asperger's syndrome and was unnerved by the texture of the hospital-style PICC line cover. He received a PICColina and is so delighted, he never wants to take if off.
"Just to think that I can help somebody in such a little way like that, that's huge," she says.
More information about Murphy's campaign is available at her Leukemia & Lymphoma Society profile page.