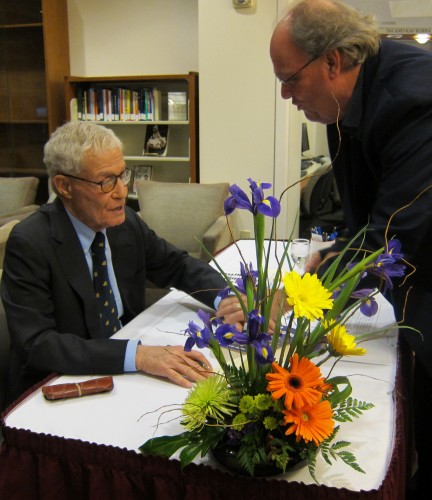 He's been tossed into jail, thrown out of a Soviet premier's cocktail reception, roughed up by bodyguards, mauled by wild dogs and caught in a minefield on the Israeli-Egyptian border.
And those are just a few of the predicaments faced by veteran journalist and Chapman University Trustee David C. Henley in his 60-year career and chronicled in his new book, From Moscow to Beirut: The Adventures of a Foreign Correspondent. Henley recounted many of his journalistic adventures during a book signing and reception Wednesday, Feb. 13, at Leatherby Libraries.
Henley captivated his audience of students, faculty and university friends with a sweeping summary of his career, beginning with his earliest success at photojournalism. At 12 he traveled with his parents to China when the country was on the cusp of Mao Zedong's Communist takeover. A photo he snapped of Chinese fishermen won him first place in a national youth magazine contest and a $5 award.
Since then, Henley has been constantly on the move, traveling to more than 100 nations while working for the Los Angeles Examiner, Hearst Newspapers, the Christian Science Monitor, Ridder (now Knight-Ridder) Newspapers, Swift Newspapers, the Far Eastern Economic Review, Associated Press, and his own group of daily and weekly newspapers in northern Nevada, among other newsgathering organizations.
He usually got his story, but confessed to listeners Wednesday that there was one scoop that eluded him – the search for the famous hermaphrodite pigs in the Pacific Island nation of Vanuatu.
"Life isn't fair," he joked.
But he's not giving up his search for the next story anytime soon. During his Wednesday talk Henley announced that this summer he plans to travel to Israel with Julye Bidmead, Ph.D., assistant professor, one of the supervising researchers with The Megiddo Expedition. Sounds like the new book may already have a sequel in the works.