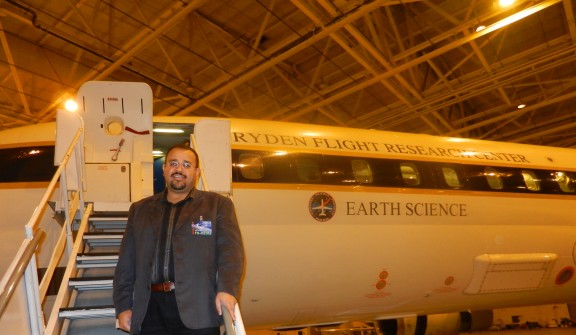 Hesham El-Askary, Ph.D., associate professor and director of the Hazards, Global and Environmental Change and Computational Science MS Programs in the Schmid College of Science and Technology, attended a special briefing by
NASA
scientists that focused on NASA's three major Earth science missions. The event took place Jan. 25 at both the Dryden Aircraft Operations Facility in Palmdale, Calif., and Dryden's main campus on Edwards Air Force Base.

NASA scientists shared updates about three projects particularly relevant to El-Askary's atmospheric studies at Chapman's
Center of Excellence in Earth System's Modeling and Observations
. They included:
The multi-year DISCOVER-AQ mission, which will fly NASA's P3B and B200 King Air planes over California's San Joaquin Valley to measure air pollution this winter. The mission seeks to improve the monitoring of pollution from satellites so that scientists can produce better air-quality forecasts and more accurately identify pollution sources.

The Airborne Tropical Tropopause Experiment, which focuses on the region of the upper atmosphere where pollutants and other gases enter the stratosphere and potentially influence our climate. A key focus of the mission is water vapor, which can significantly impact Earth's energy budget, ozone layer and climate.

The Polarimeter Definition Experiment, which will fly several of a new breed of instruments that scientists plan to use in space one day to improve measurements of aerosols and clouds. Aerosols, tiny particles produced across the world from many different sources, influence Earth's climate and can affect human health. Two of NASA's high altitude aircraft – the unmanned Global Hawk and the ER-2 — are among the planes that fly these missions.


Data collected by Global Hawk are useful in addressing events like Hurricane Sandy. El-Askary and his graduate student Andrew T. Fontenot are thinking cautiously of a possible link between Hurricane Sandy's massive size and dust activity that came off the West African coast around Oct. 10. El-Askary hopes to discover whether or not the dust event changed the pressure system over the North Atlantic region.

JPL scientist Olga Kalashnikova as well as NASA and Goddard Space Flight Center scientist Charles Ichoku are collaborating with El-Askary and looking at this potential connection between the dust development a few days prior to
Hurricane Sandy
. They will address scientific results from large Earth science datasets and analysis of big data for atmospheric aerosol research in their convened sessions at the
Interface2013
conference on
big data
and analytics to be hosted by Chapman University on April 4-6 and co-chaired by El-Askary.