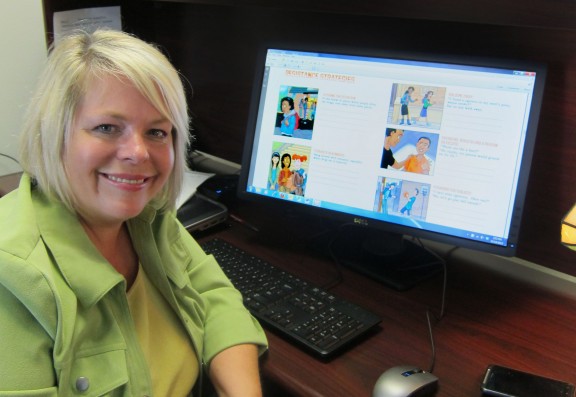 Drug abuse prevention campaigns were once fodder for parodies and spoofs. Remember the public service announcement with the egg  frying  in a pan? And the "Just Say No" campaign with its pep rally-like student assemblies?
Now educators are taking a fresh tack, and they're being helped by a curriculum created by Chapman University Professor Michelle Miller-Day, Ph.D.
Miller-Day and a colleague from Penn State wrote "keepin' it REAL," a program recently adopted by the 30-year-old international D.A.R.E. educational program. This school year D.A.R.E. introduced a modified version of "keepin' it REAL" for use in fifth and sixth grades. The emphasis for the younger students is less on drugs, and more about coping tools, which are life skills that will serve children well in many ways and are building blocks for the "keepin' it REAL" middle school course, Miller-Day says.
"Drugs aren't the most salient things in kids' lives at that point," says Miller-Day, a professor in the Department of Communication Studies. "The idea with the fifth-graders is much more about healthy decision-making."
For example, the elementary school program uses what Miller-Day describes as "gentle starters." At the heart of it are comic books and a series of videos following the same fictional characters as they navigate a variety of moderate dilemmas – reacting to a friend who wants you to blow off homework and go to the mall, for example.  Students practice, role play and write about strategies that play off the acronym REAL– refuse, explain, avoid, leave – through a 10-week series of lessons. Adaptations for rural and multicultural groups have also been developed.
Irvine police officer Michael Predney, who's now in his sixth year as an Irvine D.A.R.E. officer and serves as president of the California D.A.R.E. Officers Association, is one of the first to work with the program in California. He says students are especially enjoying the videos and story lines, but he appreciates the introductory lessons on pressure and anxiety.
"Stress wasn't there (in the curriculum) before, and believe it or not in fifth grade and sixth grade these kids are already feeling stress," Predney says.
Typically, though, youngsters don't realize that those butterflies in the belly represent their body's response to difficult situations, he says. Recognizing those feelings can help students to slow down and avoid rash decisions.
"They really were just kind of, 'Oh, I don't really know why I'm feeling this way,'" he says. "These lessons help with that."
Although new to the D.A.R.E. organization, "keepin' it REAL" was originally developed for classroom teachers more than 20 years ago by Miller-Day and her colleague using evidence-based research. And the concept sparked even earlier for Miller-Day, who as a graduate student was interested in "the power of performance" and storytelling as a teaching method. Since then "keepin' it REAL" has been used throughout the United States and earned its stripes as a program that has proved to reduce adolescents' use of alcohol, tobacco and marijuana. It's been endorsed by the National Registry of Evidence-Based Programs and Practices, named a Model Program by the Center for Substance Abuse Programs (CSAP) and honored by the federal
Substance Abuse and Mental Health Services Administration.
Miller-Day says she and her co-author tweaked the original program a bit for D.A.R.E., which is primarily taught by police officers or sheriff's departments rather than classroom teachers, but that the heart of the program is still there. That it's been adopted by D.A.R.E., which is in use throughout the United States and in 43 countries, puts the educator's program into thousands of classrooms, impacting countless youth.
"It kind of boggles the mind, actually," she says.