The Orange County Youth Symphony Orchestra
(OCYSO), under conductor and music director Daniel Alfred Wachs, assistant professor in the Conservatory of Music, has been named winner of the 2012 American Prize in Orchestral Performance – Youth Orchestra Division.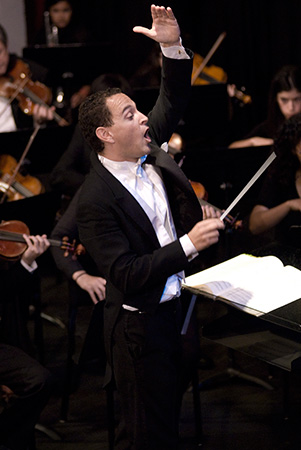 The American Prize
is a series of new, non-profit, competitions unique in scope and structure, designed to recognize and reward the very best performing artists and ensembles in the United States based on recorded performances. The American Prize was founded in 2009 and is awarded annually in many areas of the performing arts.

The Orange County Youth Symphony Orchestra, now in its 43
rd
season, is the official youth orchestra of Orange County. The non-profit OCYSO provides the highest level of pre-professional orchestral training for young musicians in Southern California.  Under Wach's direction, OCYSO's mission is to introduce great music into the lives of young people, is fulfilled in part through its highly acclaimed "Concerts for Fifth Graders," in the Renée and Henry Segerstrom Concert Hall at Segerstrom Center for the Arts. This series, presented by the Philharmonic Society of Orange County, has provided music education for more than 500,000 students. Additionally, OCYSO presents a concert series in the historic Memorial Auditorium at Chapman University.

During its distinguished history, OCYSO has performed at major music conferences throughout the United States and has toured Europe and Asia. Performances in Austria, Italy, Germany, Switzerland, Hong Kong, the People's Republic of China, Japan and at the United Nations and Carnegie Hall have been lauded by critics and audiences alike. In summer 2013, OCYSO will travel to the United Kingdom.

Winners of The American Prize receive cash prizes, professional adjudication and regional, national and international recognition based on submitted recordings. In addition to monetary rewards and written evaluations from judges, winners are profiled on The American Prize website, where links will lead to video and audio excerpts of winning performances.

A complete list of finalists, may be found at
The American Prize blog
.