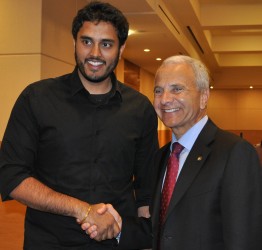 Harpreet Singh '12, a double major in biology and biochemistry and a rigorous student researcher who maintained a 4.0 GPA, has been awarded Chapman University's 2012 Cheverton Award, the highest honor for a graduating senior.

"I'm still in shock. I can't believe I got it," Singh said at the Campus Leadership Awards held Friday, May 4, where the university's top academic and leadership awards were announced.

Singh, a Presidential Scholar from Anaheim, amassed an impressive roster of academic, leadership and volunteer work at Chapman, while managing to complete his double major requirements in three years. He co-authored three research papers, including two related to the bone mineral density research conducted at Schmid College of Science and Technology.

His advisor, Michael Griffin, Ph.D., a professor of chemistry in the Crean School of Health and Life Sciences in Schmid College of Science and Technology, said Singh exemplifies all that the Cheverton stands for.

"A student that graduates with a double major in three years and with a 4.0 GPA is obviously a gifted student.  The fact that he will be a first author on a published research paper speaks to his scholarship.  Although these accomplishments are inspiring, they do not tell the whole story.  What is not easily quantified is his gentle soul and servant heart.  Harpreet is an excellent choice for the Cheverton Award," Dr. Griffin said.

Singh also served as finance chair of Global Medical Brigade and vice president of the campus chapter of the American Chemical Society. He's been active in the biological honor society Tri-Beta, the American Medical Student Association and the honor society Gamma Beta Phi. He works as a supplemental instruction leader and office assistant and volunteers at Children's Hospital of Orange County. Singh says his immediate plans are to prepare his applications for medical school.

One of the oldest awards presented by Chapman, the Cheverton Award was established in 1929. The original bronze cup awarded to recipients was a gift of the Class of 1929 and remains on exhibit in Argyros Forum on campus, along with its successor, a silver bowl. Upon the trophies are engraved the names of all Cheverton awardees since 1929.

In addition to academic accomplishments, awardees must demonstrate a "high moral character" and "represent the spirit of Chapman University." The award is named for Cecil F. Cheverton, Chapman's sixth president, who served from 1929 to 1941.