On April 26, Chapman University welcomed former Secretary of State Condoleezza Rice to campus. Rice spoke to students, faculty and board members during separate events, culminating in the unveiling of a new bust of Rice that will be displayed on Chapman's Orange campus.
Rice served as secretary of state from 2005 to 2009, the first African American woman to hold that position. An expert in Soviet affairs, she began her career in the State Department under Jimmy Carter and later went on to become provost of Stanford University from 1993 to 1999. In 1999, she joined the administration of President George W. Bush. Currently, she serves as director of the Hoover Institution at Stanford University, a public policy research center.
"Dr. Rice is a consequential American policymaker, not only for the time she served in the White House but for breaking important barriers as a woman of color," said Professor Lori Cox Han, director of the presidential studies program and holder of the Doy B. Henley Endowed Chair in American Presidential Studies. "She has an important and inspirational message for students regarding public service and how they should pursue their passion in life."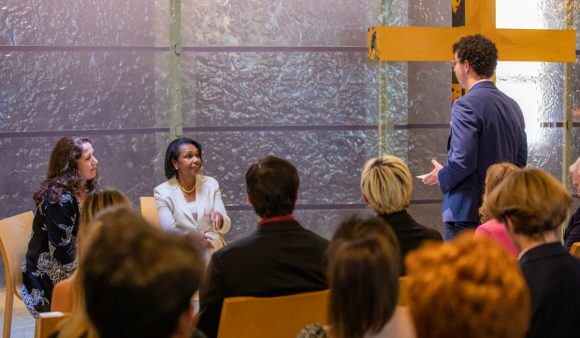 During her visit, Rice spoke with a group of students from a variety of majors in a question-and-answer session before joining board members and other special guests for dinner and a discussion with professors Cox Han and Luke Nichter, who holds the James H. Cavanaugh Endowed Chair in Presidential Studies. Rice answered questions about politics, international affairs, the events of 9/11 and other topics.
"The students were terrific, as I expected at Chapman. Really terrific," said Rice.
"I was highly impressed with how attentive Ms. Rice was to each and every question, not shying away from controversial topics," said junior screenwriting student Nick De Lucca '24. "[When] I was able to speak to her, I learned about the mentors who impacted her throughout her early years, which was impactful considering the audience of students."
After the discussion, Chapman University President Daniele C. Struppa unveiled a bust of Rice that will join the Chapman University Collection of Historical Figures, a series of nearly 40 busts that are displayed throughout campus. The bust was a gift from trustee Mark Chapin Johnson '05 and features a quote from Rice that reads, "We need to move beyond the idea that girls can be leaders and create the expectation that girls should be leaders."
"Secretary Rice is an extraordinary American. That's the simplest way to put it. I'm so glad that she could share an evening with the Chapman community and that our students got to interact with her up close," Nichter said.
Chapman's Presidential Studies Program was established in 2021, with the goal of advancing studies in the history, influence and global impact of the presidency.