A room full of Chapman University students got to hear a Nobel-winning economist hold forth on his modest Kansas roots, economic and social policy, and getting his pioneering work published.
Professor and George L. Argyros Endowed Chair in Finance and Economics Vernon Smith answered a range of questions following the ceremony honoring him with the first Doti-Spogli Free Enterprise Award. The prize will be given annually to a faculty member who best promotes free enterprise and was created as part of the Doti-Spogli Endowed Chair of Free Enterprise.
The prize and chair, which were unveiled in 2022, are named for Chapman President Emeritus Jim Doti and former U.S. Ambassador Ron Spogli.
"I feel very good about the honor," said Smith, who wore a Western bolo tie. "And I also feel that all the socialists I grew up with in the '30s and '40s would be very surprised."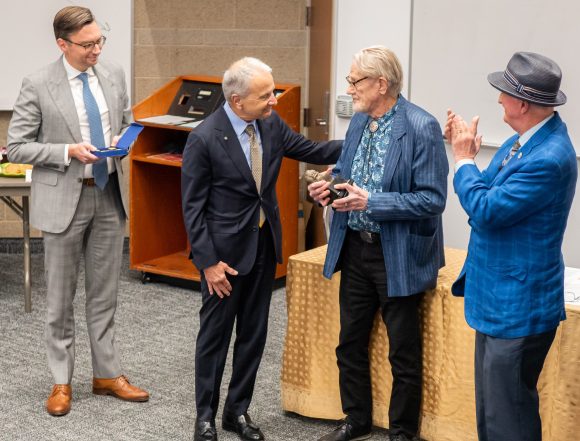 Smith, who has joint appointments in Chapman's Argyros School of Business and Economics and Fowler School of Law, received a share of the Nobel Prize in 2002 for his work in inventing experimental economics. He created Chapman's Economic Science Institute when he arrived at the university 15 years ago.
Doti called Smith his hero when giving him the award.
"Ordinarily when you receive something like the Nobel Prize it's the culmination of a career and you ride off into the sunset. Not the case for Vernon Smith," Doti said. "In terms of bringing the institute together, he also really embodies the mission of Chapman University. And a major part of that is to get students and faculty working together."
Presidential Fellow and Doti-Spogli Chair Mark Skousen read a letter from Spogli, who couldn't attend.
"Both Jim and Mark have described to me your pioneering scholarship over the decades," wrote Spogli, co-founder of private equity firm Freeman Spogli & Co. "We are delighted to recognize your work and thank you for setting the bar high for future honorees."
After the award presentation, Skousen asked Smith 20 questions in the classroom filled with students. Smith, 96, mixed personal observations with thoughts on philosopher and economist Adam Smith and the federal deficit, among other topics.
Skousen asked if Vernon Smith's mother, a member of the socialist party, forgave him for abandoning socialist thought.
"She trusted me a lot and she loved me a lot. That more than anything accounts for my success," said Smith, who grew up in Wichita, Kansas, during the Great Depression.
Responding to the most important lesson he's learned in life, Smith said, "It really has to begin where I began. And that's to be born in a free country. Because if you're not born in a free country, it's likely to be tough."
Smith, who called himself an "incurable optimist," said he and the people he grew up with were never raised with the idea that they were limited because of the modesty of their circumstances.
"They prospered and that's of course the reason why the whole country prospered, because people are prospering," he said.
Skousen asked Smith about the first paper he submitted to a prominent journal on his "double auction" experiment, which would later win him the Nobel Prize. The paper initially got two negative peer reports, which Smith rebutted.
"The editor sent it out for two more referee reports. And they were negative," he said.
The editor asked Smith what he thought about the negative reviews, and Smith told him.
"They didn't know what they were talking about," Smith said. "Because we're about experiments – that wasn't part of economics. In fact, that was an argument against the paper … The important thing about that paper and the fact that other people could replicate it is not some kind of a miracle. It was very easy."
After this year, the Doti-Spogli prize committee will consider honoring people outside Chapman.
Additionally, the Doti-Spogli chair will recognize a student who writes the best paper promoting free enterprise. This year's paper topic is "California Dreaming: What can be done to bring back business to the Golden State?"