Taco Bell PR executive and Chapman Professor Matt Prince challenged his students to get a million views on the video-sharing app TikTok to have their final exam canceled. Sylvie Bastardo '25 rose to the occasion and her views surpassed everyone's expectations.
Since then, Prince's Influencer Marketing course at Chapman has made national headlines. The cause? Bastardo's viral TikTok.
"The first class began with a short slideshow, where he mentioned we would be doing a TikTok challenge," she said. Bastardo made her video that same day.
Bastardo's famous six-second clip briefly shows viewers the slide from class explaining the challenge, followed by a friend's reaction. "I took a video of my friend and the screen, then I chose audio that was trending on my For You page. The sound was random, but it was getting attention." The For You Page is the first page that TikTokers land on when they open the app. It uses an algorithm to suggest content based on the user's history and what's trending.
The audio worked in her favor, and the video gained more than one million views in less than 48 hours. "The build up was really crazy," Bastardo said. "I was watching it grow and I thought, 'oh my God, I might actually do this.'" Currently, Bastardo's viral TikTok has five million views and counting.
Prince stitched the viral TikTok (a tool that allows users to combine another TikTok with their own) where he gave her props for completing the challenge. However, Prince did not plan for the challenge to unfold so quickly. "I was totally and pleasantly surprised," he said. "I was hoping it would evolve over the course of the semester and that we could work on things together that would help support the creation of content. I thought it would progress as the students learn how to eventually grow their content."
As a result of the media attention on her viral video, Bastardo gained a whopping 8,000 followers, which prompted her to continue making videos. "I've been posting more 'day in my life' content. I don't have any set plans for a social media career, but I like making videos."
With trending guest speakers, interactive lessons and the occasional free Taco Bell lunch, Prince's class left a big impact on Bastardo. "I'm considering switching my major from business to communications because I love this class; it's been great!" She exclaimed.
As successful as Bastardo's TikTok is, Prince doesn't want it to take away from the lesson behind the challenge. "One of the reasons for this challenge was to show the democratization of social media," he began. "You don't have to be a celebrity anymore to drive big, viral moments." Prince plans to try this challenge again in the future, with some changes to hit educational points along the way.
Prince's course consists of lessons regarding branding and how to utilize social media to build brand personality and awareness – specifically through influencers whose content and online persona reflects the brand you're building. Guest speakers play a key role in sharing their viral experiences, showing the class that anyone can do it with the right knowledge of how the algorithm works.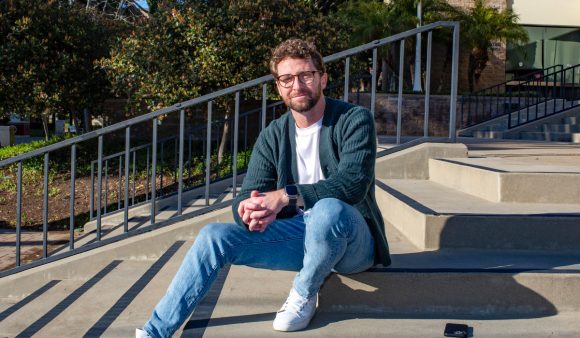 Prince foresees colleges continuing to add social media courses into their curriculum. "I think it's certainly in the best interest of universities if they want to continue to grow these areas of study," he said. "The amount of careers and opportunities these lessons will shape are pretty large. We can't rely on a curriculum that was built from 5 to 10 years ago, as technology is constantly evolving. We need to evolve with it, follow the pace of culture, and I think students will respond favorably to that."
The old ways of online advertising are becoming stagnant in results. Prince believes that it's due to younger millennials and Gen Z relying on social media such as TikTok for news and honest brand reviews. "The consumer is really smart and knows when something is being advertised to them. Gen Z specifically doesn't want to be advertised to." Prince went on to note that younger generations want to make decisions for themselves "that are reflective of who they are and the communities they associate themselves with."
He drives this point home by adding, "You don't get that through brands necessarily; you get that through people in those communities– influencers and creators." As technology continues to grow with the awareness of consumers, Prince doesn't see influencers going away anytime soon.