Longtime teacher and Chapman University supporter Beverly Weatherill '50 passed away Feb. 14. She was 95.
"I would just like to be remembered with love," she said in an April 2020 interview on StoryCorps.
The Rev. Nancy Brink, Chapman's director of church relations, said Weatherill "breathed Chapman."
"She told wonderful stories from her days on the original Los Angeles campus, making it come alive," Brink said.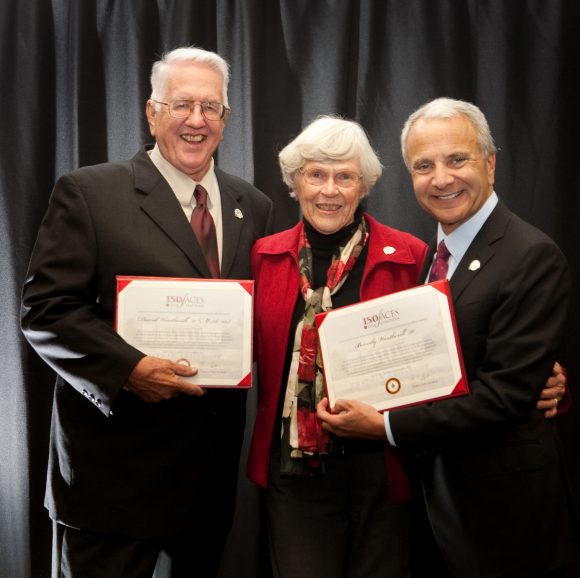 Weatherill, who grew up in Bloomington, Calif., made friends at Chapman that she stayed in contact with for decades. Every summer, she and other Chapman students worked on Catalina Island.
Weatherill taught elementary school for 30 years, choosing the profession in part because of the influence of those who taught her. . A self-described introvert, she applied her fifth-grade teacher's advice throughout her life – if you're shy, try to think about making the other person comfortable and introduce yourself.
"She was genuinely interested in people and making connections with people," said Essraa Nawar, Chapman Leatherby Libraries diversity and development librarian who became good friends with Weatherill after meeting her through library and alumni events.
After Weatherill began teaching, she went back to school for her master's degree at UCLA.
"That was a good experience to prove that the education I got at a small school like Chapman was as good as going to a big, big school like UCLA," she said.
Weatherill and her family moved from Los Angeles County to Orange because Chapman moved its campus there and a lot of schools were being built. She and her first husband, with whom she had four children, divorced after 12 years of marriage.
She continued teaching, and in the late 1960s the Fullerton School District asked her to write their health curriculum for middle school students. She and a school nurse wrote it, and Weatherill taught the curriculum for 27 years. It was still being used decades later, she said in the StoryCorps interview.
"Very few districts have a health and family life class for a full semester," she said. "I would go back and teach it now."
Some of her grandchildren followed her into teaching.
"No matter if you're a teacher or not, somebody will remember what you said," she said in the StoryCorps interview. "You never know how what you say will influence a person's life later on."
For 34 years after her divorce, she didn't date. In 1989 David Weatherill '51 (MA '66), a recent widower with three children from Bev's group of college friends, asked her to dinner.
Dave proposed at the end of their first date, and they married six weeks later.
"We had 29 years together and they were wonderful," Bev said.
The Weatherills were featured in the "150 Faces of Chapman University," which commemorated the school's 150th anniversary.
Dave, known as "Mr. Chapman", was a three-sport athlete, basketball coach, faculty member and administrator. He was inducted into the university's Athletics Hall of Fame and passed away in 2018.
"Even since David passed, Bev rarely missed an invite or opportunity to come to a Panther football or basketball game and we loved visiting with her," said Associate Director of Athletics Doug Aiken. "Bev loved to share with our current cheerleaders how she once waved her pom poms on the sidelines of Chapman games as a student cheerleader."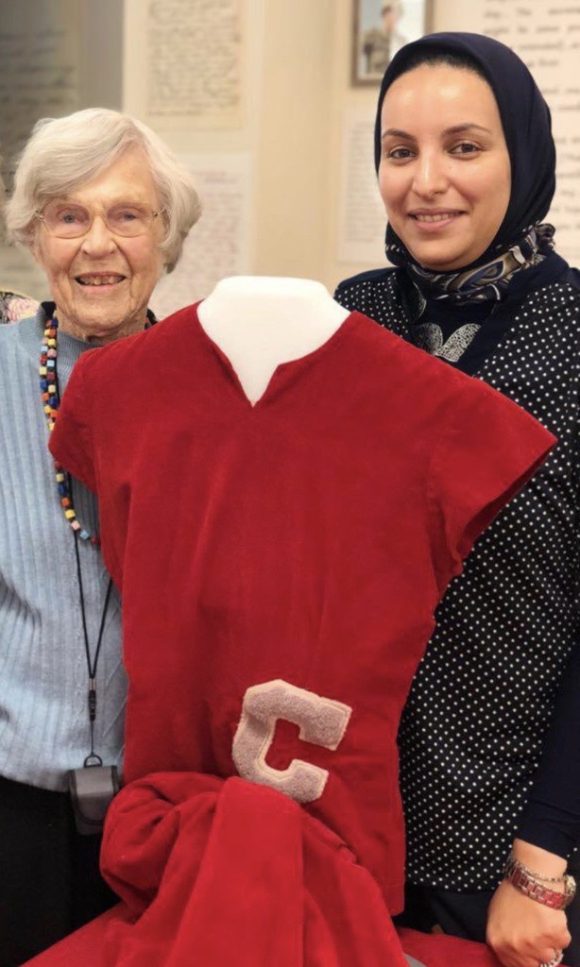 Former Director of Athletics Dave Currey knew the Weatherills well and said their "friendship and loyalty will always be remembered and appreciated."
Bev Weatherill – who was also active in Town & Gown and interfaith events – had a knack for both, Nawar said. Though they were from different generations, they bonded and began having lunch about once every six weeks around 10 years ago.
"I'd get a text from her checking on me," said Nawar, who called Weatherill a "Chapman icon." "Every time she was on campus, she'd text me … she always took the initiative. If she wanted to be involved in someone's life, she just made it happen."
Weatherill extended that interest to Nawar's whole family – the work of her husband, Chapman Professor Hesham El-Askary, and their children's lives. During the pandemic, Weatherill asked Nawar if she could stop by her assisted living facility while she was visiting another alumnus.
"I said, 'I can't get into the facility,'" Nawar said. "She said, 'l'll sneak out.'"
She did, and the two women visited outside, wearing masks.
"It shows you her spirit… also her caring and really genuinely wanting to see everyone was doing well," Nawar said.
Weatherill is survived by her children, Christopher, Mark, Lisa and Andrea; many grandchildren, including Lauren Kamp '08 and Kevin Kamp '14; and great-grandchildren.