Dave Weatherill '51 (M.A. '66), a member of the Chapman University Athletics Hall of Fame,  passed away June 7. He was 90.
Over the years, Weatherill made an impact at Chapman as an athlete, coach, faculty member and administrator.
"David Weatherill was 'Mr. Chapman,'" said Doug Aiken, associate director of athletics. "He was regarded as the patriarch of Chapman athletics and our Hall of Fame. He was actively involved and one of our most dedicated supporters. He will be greatly missed."
A three-sport star in basketball, baseball and track and field for Chapman in the late 1940s and early 1950s, when the campus was in Los Angeles, Weatherill earned most valuable player awards in all three sports his senior year. He also set what was then a school record in the 440-yard dash, or quarter-mile.
After coaching basketball at Bonita High School 1956-66, Weatherill followed Chapman to Orange. He earned a master's degree in physical education before becoming the Panthers' basketball coach for seven years, beginning in 1967.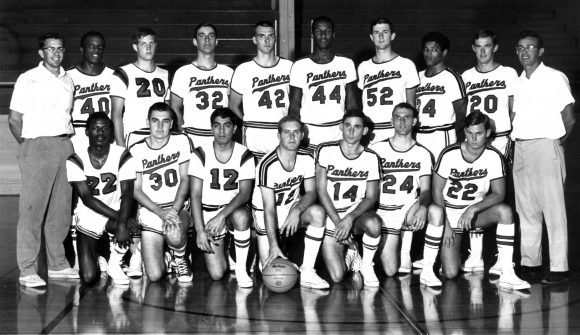 Athletics Hall of Famer Dave Weatherill '51 (M.A. '66), left, played three sports at Chapman, where he also coached basketball for seven years, beginning in 1967. In addition, Weatherill was a faculty member, administrator and booster during a lifetime of support that earned him the nickname "Mr. Chapman." (Photo courtesy of the Frank Mt. Pleasant Library of Special Collections and Archives)
Weatherill remained on the faculty as an assistant and associate professor until 1993, holding leadership roles in the Department of Health and Physical Education as well as the Department of Cooperative Education. He also served for a time as interim director of athletics, and was awarded the title of associate professor emeritus on his retirement. Weatherill's involvement with the University was far from over, however. He took on a host of projects, including collecting various teams' pictures dating to the 1920s and framing them for display in Hutton Sports Center, as well as compiling a book of athletes' names and game results that Chapman still uses as a reference.
In 2011, Weatherill was featured along with his wife, Beverly, a 1950 graduate, among the 150 Faces of Chapman University selected in commemoration of the school's 150th anniversary.
In addition to Bev, Weatherill is survived by three children from his marriage to his first wife, Greta, who died in 1989: Linda Lee Low '74, Teri Lynn Califf '81 and Ronald "Scott" Weatherill '81. He also is survived by Bev's four children: Christopher Wayne Kamp, Mark W. Kamp, Lisa N. Newmeyer and Andrea R.
Pressley. The couple's blended family includes 17 grandchildren – Chapman alumni Lauren Kamp '08 and Kevin Kamp '14 among them – and 14 great-grandchildren.
Among the many family and friends who attended Weatherill's memorial service in June were men who had played for him at Bonita High more than a half-century ago, some of whom also had joined him for his 90th birthday celebration. The program for the service included excerpts from an interview conducted by his grandson Ryan, drawing on Weatherill's life wisdom: "It is important to work hard, have a ready smile and a good sense of humor – those help in dealing with people," Weatherill said.
Memorial donations may be made to Chapman's Disciples on Campus scholarships through the University's Office of Church Relations.