Music students from Santa Ana and Garey high schools recently visited Chapman University, where they were able to work with clinicians and prepare for the college application process.
The two-day Chapman Strings Festival was organized by Tammy Yi, professor of music education in Chapman's Hall-Musco Conservatory of Music and the founding director of the university's Mariachi Panteras ensemble, with the goal of addressing structural inequities in local low-socio-economic communities. The festival was funded by a $15,000 Diversity and Inclusion grant from the university.
"Our amazing K-12 teachers are producing really great musicians in their classrooms. It's just that there's so many barriers to navigate this whole application process of how to audition for college as a music major," says Yi.
According to Yi, wealthy K-12 districts can send music students to festivals, where they gain invaluable college audition training, along with opportunities for professional development, networking, scouting and recruitment. Low-socio-economic-status students lack access to festivals, and are therefore structurally kept out of college music programs, regardless of talent.
"Usually these conferences that have these types of resources cost $3,000 to $5,000 per kid, but we made it completely free for these kids," says Yi, who was a finalist for the 2022 Grammy Music Educator Award.
As a first-generation college student herself, she knows how difficult it can be to understand the college audition process.
"My parents didn't speak any English, so auditioning for music school was always a mystery – let alone college. I never got a chance to have this type of experience growing up, so when I became a high school orchestra teacher, I was committed to creating equitable learning opportunities and college readiness programs for my students, especially for those with language and socioeconomic barriers. Now, creating this festival together with my college students, who would be music teachers someday, was healing for me," says Yi.
High School Music Students Prepare for College Auditions
The first day of the Chapman festival was focused on solo performers, with about 30 high school students participating in college readiness workshops, master classes and headshots. The students also collaborated with pianists from the department of piano collaborative studies to produce a high-quality audition video – an essential part of the college audition process that can cost hundreds of dollars to produce. Assistant professor So Jin Kim, Henri Temianka Endowed Professor in Music, Violin, acted as a clinician during the video recording sessions, while Chapman music education and string performance majors helped the visiting students prepare beforehand.
"It's just been so rewarding and such a beautiful collaboration," says Yi, adding that many of her Latinx students in particular identified with the high schoolers, and were moved by the experience.
"The whole concept of this festival really excited me; since we're so well-resourced at the university it's our responsibility to be doing as much as we can for our under-resourced communities," says Jessica Tonai '24, a music education and vocal performance double major. "Not only did these young musicians sound great, but they were all so committed and professional too."
The second day of the festival brought ensembles to campus – about 150 students in all from Santa Ana High School and Garey High School. The groups rehearsed with their music teachers and were mentored by Chapman music faculty So Jin Kim, Yoshida Masuka and Jotaro Nakano on stage at Musco Center for the Arts. The day also included campus tours, workshops about how to audition and apply to college, and activities with Chapman music education majors who plan to be music teachers. The day concluded with a concert at Musco, where family and friends were invited to watch their high schoolers perform on stage.
"We at CoPA love to see younger performers be given a chance to learn and to nurture their love of the arts. This festival was particularly important to us because, thanks to Professor Yi, we were able to connect with students who are not always given these opportunities," says Guilo M. Ongaro, dean of the College of Performing Arts.
Yi hopes that the program will secure funding to continue in the future, part of a permanent pathway program that will encourage talented high school music students to attend college. At least eight of the festival participants have already decided to apply to Chapman, and those students have been partnered with members of the strings faculty for further coaching on their application.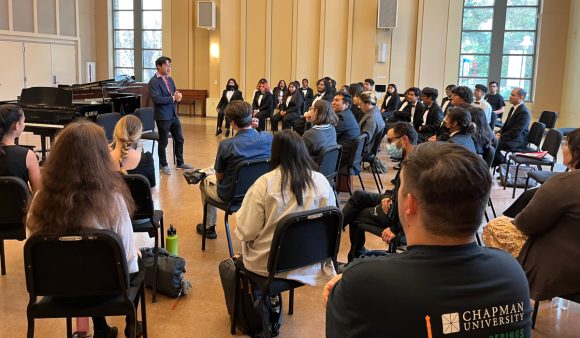 "We want to encourage prospective Latinx students interested in all majors, especially the arts, to seriously consider Chapman University as their first choice," says Gabriela Castaneda, director of Latinx Achievement. "As we move from Emerging Hispanic Serving Institution (eHSI) towards a Hispanic Serving Institution (HSI), the Chapman Strings Festival is an incredible effort to contribute to college outreach initiatives and strengthens our Latinx community here at Chapman University through music."
"The talent is there," says Yi. "We just need to provide access and resources."
Learn more about the Hall-Musco Conservatory of Music in the College of Performing Arts.