In October 2021, California's State Assembly passed AB 101, a law requiring every student at a public high school to take an ethnic studies course as part of their core curriculum.
In June 2020, more than a year before the state bill was passed, the SAUSD school board voted unanimously in favor of establishing an ethnic studies requirement. It is the first district in Orange County to do so, and one of the first in the country to build an ethnic studies program not only as a high school requirement, but embedded throughout the K-12 curriculum.
While school districts have several years to determine how to implement this new requirement, Chapman University invited representatives from the Santa Ana Unified School District (SAUSD) to address the topic and provide insight about how ethnic studies can be incorporated into school curriculum.
The Chapman event, "Reclaiming Our Voices: The Ethnic Studies Movement in Santa Ana Unified School District," included Carolyn Torres, vice president of the SAUSD board; Jerry Almendarez, superintendent of SAUSD schools; Bertha Benavides, principal of Willard Intermediate School; and Linn Lee, history/social science curriculum specialist at SAUSD.
The panel was presented as part of the annual Engaging the World series, organized by Wilkinson College of Arts, Humanities, and Social Sciences. The topic of this year's series, Leading the Conversation on Ethnic Studies, explores race, ethnicity and indigeneity with a focus on the diverse histories, cultures, perspectives and community work of people of color within and beyond the United States. The panel was moderated by Dr. Cathery Yeh, assistant professor of STEM education and Asian American studies at the University of Texas at Austin.
The panelists addressed questions about the importance of the importance of ethnic studies to children, the status of ethnic studies in Santa Ana schools today, and the obstacles and challenges faced during the implementation of an ethnic studies program.
Importance of Ethnic Studies in K-12 Education
"I've been part of this ethnic studies movement for a long time," said Torres. "We all have different stories, but our experience with ethnic studies is similar. A lot of us did not get to learn about our cultures and our histories until we got to college, when we took our first ethnic studies class. We know that not everybody gets to college, or they may not get to college right away."
Student knowledge about ethnic studies is dependent on what seeds a K-12 teacher might incorporate into their lesson plans, creating pockets of knowledge that some students never benefit from, said Torres.
"Ethnic studies is a way to counter the negative messaging that you have growing up," said Torres, describing experiences that can leave children feeling like their families "suck."
Ethnic studies allows children to look at their families through a new lens.
"You start realizing that their stories are deep in there, but you don't know what to ask because nobody told you that your family stories matter."
"It is important because we need to learn about ourselves. We need to be proud of ourselves," said Benavides, who got teary eyed speaking about her students. "Being the leader in a school in a district with Latinos who aren't loved for who they are, hurts. To bring a program like ethnic studies into life and to allow your kids to love themselves, love their history, love their heritage, be proud of their grandparents. Be proud of the immigration stories they have which are so painful," she said.
"That's why it's so critical that our kids learn about others. It's that they learn about our brothers and sisters who are Asian or Black or Native American because they need to learn that we are all suffering and we suffered. And we all have to come together to learn and love each other. To make this world a better world. Ethnic studies does that," said Benavides.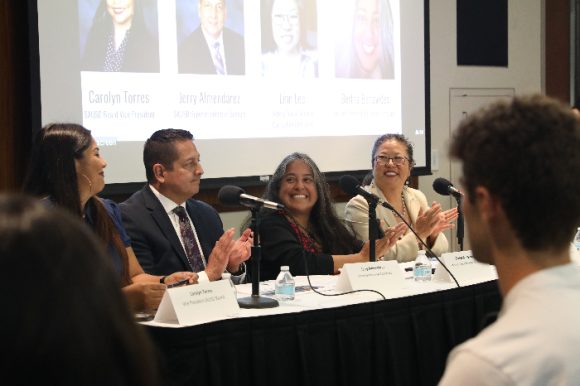 Challenges of Implementing an Ethnic Studies Requirement
When discussing the challenges of implementing a district-wide ethnic studies curriculum, Almendarez emphasized the importance of resources, specifically teachers who are properly trained in teaching ethnic studies.
"We have adults that may not be of the same mindset, but they're trying to instill their values on kids of color, or kids who don't look like them," said Almendarez.
"I can't tell you how many times I come across families or students who either dropped out or want to change classes because of the way the teachers make them feel, the comments that the teachers are saying in the classroom," he said, citing things like mispronounced names or comments that are more disrespectful than funny, that lead students to disengage with the class or even start skipping altogether.
"People are creating their own narrative and coming up with their own definition of what ethnic studies is, creating something that's not changing the narrative," he said, adding a plea to the Chapman students in the audience, "We need you guys to be teachers. We need more open-minded individuals … to come into our public school system to be the champions for change."
Mobilizing for Change
While the city of Santa Ana has been supportive of the SAUSD's efforts to implement ethnic studies in schools, they are aware that the same won't be true across the county or state, a point highlighted by a question from a Chapman first-year student.
"Rather than being one of the first to implement ethnic studies, my school district was … the first in Orange County to ban critical race theory," she said. "So my question is, what advice would you give to people on school boards who are opposed to implementing ethnic studies curriculum … What can they do to get past their opposition and actually develop those programs?"
The panelists responded with the need to educate reluctant board members first.
"You have to figure out which of your elected [officials] understand ethnic studies but are not supportive philosophically, and which ones are … falling into some of the anti rhetoric," said Lee.
She then offered a reminder that board members are elected and accountable to the community, pointing out that it took years of mobilizing both the school board and city officials in Santa Ana to reach this outcome.
Almendarez added, "It is also clear that the unknown is fearful to a lot of people. I think my biggest challenge is, how do you change somebody's values? And that's really what I see myself dealing with when I come into these contentious meetings, trying to explain what ethnic studies is, what critical race theory is, but then also the feeling that they're getting that I'm trying to change their values. And that is something that's very difficult to overcome."
The SAUSD ethnic studies program launched this year with over 2,000 high school freshmen enrolled in ethnic studies courses, including classes in language arts, theater and visual arts that fulfill the ethnic studies requirement. Watch a recording of the Reclaiming Our Voices panel.
Learn more about Wilkinson College's Ethnic Studies program.