Matt Kanne '12 just wanted to play basketball.
A long-time fan and player of the sport, he joined the basketball team when he came to Chapman, but even those regular practices weren't enough to satisfy his craving to get out on the court.
"I was always frustrated with a lack of open gym space to work on my game, get shots up, play pickup basketball, all of that," says Kanne, who was studying business administration at the Argyros School of Business and Economics. So in 2009, while he was still in his first year at Chapman, he decided to write a business plan for an open gym, one where anyone who played basketball could go to work on their skills and find other players to compete against.
Today, the company envisioned in that first business plan, Open Gym Premier, serves over 50,000 young athletes nationally, earns annual revenues of $8 million a year and is aiming to become the leading youth sports company in the country.
"Our mission is all about helping young players and teams," says Kanne.
The company offers training, teams, tournaments and camps for players, along with sophisticated technology that allows youth players to create an online profile where they can track stats and post photos and awards, "just like professional athletes have on ESPN.com," he says.
Since its launch, the company has expanded to include volleyball and has aspirations of expanding to other sports. In addition to its original location in Anaheim, this year has seen new facilities in Oakland and Ladera Ranch. Open Gym boasts national partnerships with brands such as adidas, Ballislife and LiveBarn, and is one of 15 Jr. NBA Flagship programs.
The gym has even provided court time for basketball celebrities such as the late Kobe Bryant and Portland Trail Blazers player Damian Lillard.
Despite the 365-days-a-year commitment for 14 years, Kanne finds his business incredibly rewarding.
"Love, love my career. Love, love the company building, our team, our culture," he says.
The company was recently named as one of the top eight workplaces in Orange County by the Orange County Business Journal.
"It never feels like work," he says.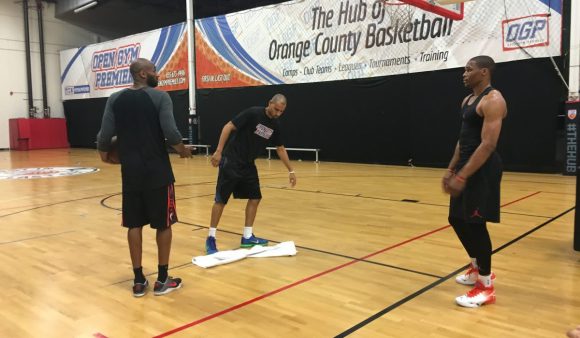 Building on Chapman Connections
While at Chapman, Kanne took advantage of university resources to develop his business plan, crediting the Leatherby Center for Entrepreneurship and Business Ethics and Professor Richard Sudek for providing knowledge and guidance. In 2010, his plan won a student business plan competition, and he launched the business the following year, offering programming through Orange County community centers and high school gyms. While his fervor for the business meant ultimately dropping out of basketball himself, in 2011 he won Chapman's Entrepreneur Award.
The university continues to have a strong impact on the company, with several key positions filled by Chapman alumni. Miguel Bennett, president of the company, and Max Piner, vice president, were both basketball players and business students at Chapman.
"Miguel and Max have been instrumental in helping to build the company," says Kanne.
Kanne's first hire with the company was a Chapman student, as well. In 2009, Ben Webb was a graphic design student who Kanne tapped to design Open Gym Premier's first logo and website. He went on to become the company's Chief Technology Officer and helped build the technology platform, Passport. Sadly, Webb passed away from cancer in February 2022.
"That was a devastating part of our journey," says Kanne, "but he really helped to build this technology piece for our company."
Beyond support from faculty and hiring Chapman alumni, Kanne thinks the greatest benefits were more intangible.
"I was able to leverage Chapman at different points, and Chapman being central to the Orange County business community has definitely helped me," he says.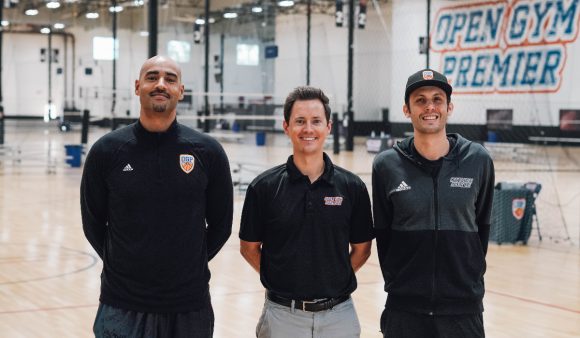 Kanne to Mentor Chapman Student Entrepreneurs
This year, Kanne will return to Chapman to lend his experience and expertise to future entrepreneurs at the university.
"We are delighted to have truly remarkable Chapman alumni such as Matt Kanne, who launched Open Gym Premier shortly after the economic meltdown of the first decade of the millennium, return to the Leatherby Center to mentor and encourage a new generation of student and alumni entrepreneurs," says Mario Leone, director of the center.
"No stranger to managing challenges, he kept his entrepreneurial dream alive over the past decade, traversing the difficult period of the global pandemic and changing real estate realities in Orange County that nearly put an end to his growing business. Now it is a flourishing business reality that is expanding to more than half a dozen states, bringing the joy of his love for basketball and volleyball to tens of thousands of young people and employment to hundreds of community hires.
"His passion, determination and innovative spirit are values that he is extending to all of us here at the Chapman Leatherby Center for Entrepreneurship and Business Ethics," says Leone.