Five students from Chapman University's fledgling Master of Science in Real Estate program bested the University of California, Irvine in a competition held by a national commercial real estate association.
The Real Estate Challenge was held in Orange County for the first time by NAIOP, which has pitted USC against UCLA in a Los Angeles contest for 25 years.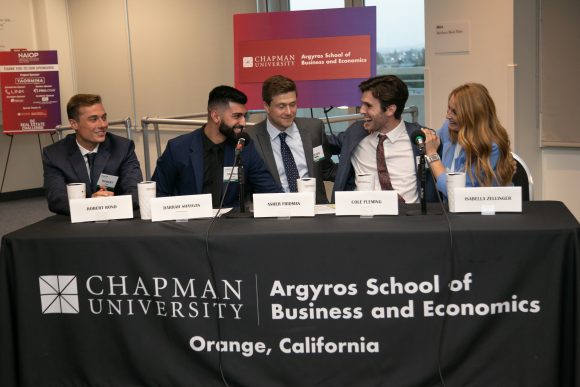 "Taking the 'Orange Cup' was a great signature accomplishment for the program," said Chris Lowe, director of real estate programs at the George L. Argyros School of Business & Economics.
The Chapman team – Isabella Zelinger, Darrah Shaygan, Robert Bond, Cole Fleming and Asher Friedman – is part of the second cohort in the history of the new program at Argyros.
"It was an honor to be able to represent Chapman and show what the MSRE program is all about," said Shaygan, who graduated from Chapman with a finance degree in 2021.
Zelinger, the team captain who got her business degree from Chapman in 2017, said the students had much less time to put together the comprehensive project than a team of paid consultants.
"I think that's what we're most proud of as students," said Zelinger, who works full time as a broker for commercial real estate firm Cresa.
She and her team had a month to design a plan for a 6.9-acre, multi-use parcel in north Anaheim, and presented it to the property owner, a panel of judges who work in real estate and an audience at Beckman Hall on April 28.
She said the Taormina family who owns the parcel was motivated by emotional ties and culture, which is unique in an industry driven by highest and best land use.
"Our team worked on the project every day from the moment we toured the property. We met with architects, developers, planners, contractors, brokers, consultants, constituents, the city of Anaheim and many more," Shaygan said. "This project tested us and we grew closer together because of it."
The team came up with Pearson Village, which took into account the history of the parcel and area.
"Knowing the project was celebrated by the professional judges and landowners made it even more worth it," Zelinger said.
The victory was a relief, she said.
"We spent so much time and effort and really poured our hearts and souls into this, and no matter what we're going to walk away better at real estate than we started, better at development than we started," she said.
Bond said the competition "introduced me to many different real estate professionals and helped me learn in detail the real estate development process."
Chapman's 30-credit, one-year MS in Real Estate program prepares students for a career in real estate development, finance and/or investment. Zelinger said the program is her differentiator, particularly as a female broker.
"Through this program, strategies I'd learn in 10 years, I was exposed to in one year," she said. "The guest lecturers and professors, the wealth of knowledge that came through was unbelievable."
Shaygan said the program provides the foundation for anyone to be successful in real estate. 
"The faculty is second to none and they connect the cohort with the most respected and knowledgeable industry leaders. I feel well-equipped to begin my career because of the skills I learned and the relationships I made through this program," he said.
Bond, a residential real estate agent, said he decided to pursue an MS in real estate so he could work with a homebuilding or development firm.
"This program has helped me learn so many different things about real estate and has helped me meet many people in the industry," he said.
Lowe said many students in the program work full time, and there is a strong, diverse cohort this year.
"Our students have been really strong, and I would put our program up against any program," he said.
Team advisors included lowe, Perry Schonfeld and Alex Hayden. Jolene Haley and Jim Dusserre were team administrators. Real estate professional and Chapman alumna Christine Carpenter was NAIOP's team liaison.