For only the second time in the state's history, California voters will decide whether a sitting governor will stay in office or be removed before his official end of term. The Sept. 14 California Gubernatorial Recall Election will decide Gov. Gavin Newsom's fate by asking eligible voters only two questions: Should the governor be recalled from office? And, if recalled, who should replace him?
With less than two weeks to go until the recall election, get-out-the-vote efforts are in high gear at Chapman University. For the third time since the 2020 primary election, the university will be home to one of the more than 60 vote centers across Orange County where voters will be able to cast their ballot.
The Chapman vote center in Argyros Forum 119 will be open Saturday, Sept. 11, through Tuesday, Sept. 14, from 8 a.m. to 8 p.m. The center will serve as a one-stop location for in-person voting, ballot drop-off, voter registration and a variety of related services.
Director of Student Engagement Justin Koppelman, Ph.D., says the presence of a vote center on campus means an added layer of accessibility, convenience and security for all voters, but especially for first-time voters.
"For those who may be unfamiliar with registration requirements, resources like vote centers offer the kind of in-person support that can help first-time voters cast their ballot successfully and give them the impetus to start building a habit of continued engagement in elections," Koppelman said.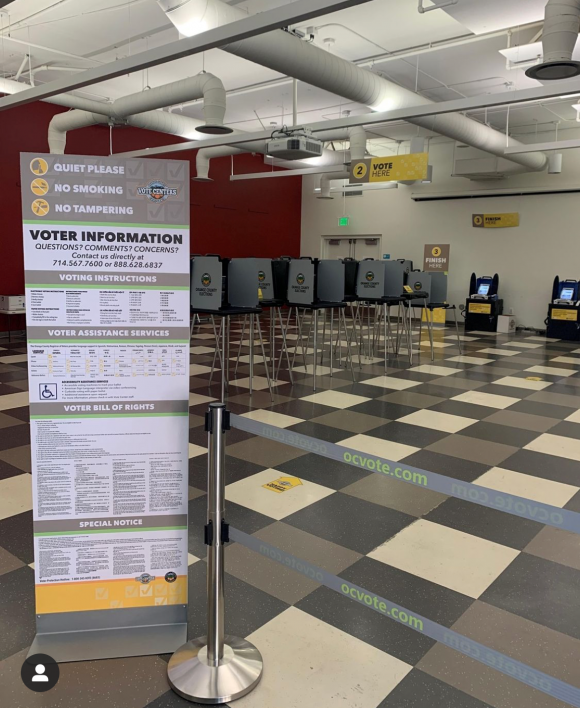 The vote center builds on Chapman's longstanding tradition of political and civic engagement that continues to garner national attention. For the third consecutive election cycle, Chapman has been named a "Voter-Friendly Campus" by the nonpartisan organizations Campus Vote Project (CVP) and NASPA – Student Affairs Administrators in Higher Education. It is the only university in Orange County and one of only five universities in California to receive this designation. The feat is the result of major campus-wide civic initiatives that have included classroom lightning talks designed to promote ​​nonpartisan democratic engagement and President Daniele C. Struppa's signing of the Higher Education Presidents' Commitment to Full Student Voter Participation as part of the ALL IN Campus Democracy Challenge.
"Being designated a Voter-Friendly Campus for the third time reflects the ongoing commitment we have as an institution to this sort of work," said Koppelman. "Our goal is to help make the Chapman student experience one that inherently involves participation in our democracy."
All eligible members of the Chapman community and the broader Orange County community are encouraged to stop by the vote center and make their voices heard. To learn more about the vote centers, visit www.ocvote.com.