The Los Angeles Times, in its first Best of the Southland – Orange County Awards, honored two of Chapman University's favorite cultural jewels. The Hilbert Museum of California Art and the Musco Center for Arts were each selected as "Most Popular" in their respective categories, Best Museum and Best Place to See a Concert.
Chapman was the only Orange County university to have both a campus-based museum and performance hall honored, reflecting the university's growing role in the county's arts and culture community, says Mary Platt, director of the Hilbert Museum.
Making Its Mark on the Arts Scene
"It's really a terrific tribute – and speaks to the reputation and strength of the arts at Chapman University – that our two major public-facing artistic institutions, the Hilbert Museum and Musco Center, were both chosen as top attractions in the Southland by the LA Times," Platt said.
For a young museum, the honor was especially gratifying, said museum founder Mark Hilbert.
"I could hardly believe it when I saw the results," Hilbert said. "The museum is only five years old – we're the new kid on the block in Southern California – so I'm very proud that we were selected in this prestigious poll."
At Musco Center, such recognition is especially satisfying because alongside its educational mission, community engagement has been a companion goal since its opening in 2016, said Richard T. Bryant, Musco Center executive director.
"We are pleased to be recognized with this honor and grateful to our loyal patrons who voted for Musco Center for the Arts. Musco's success stems from its collaborative model of serving an educational mission while also engaging the community," Bryant said. "This recognition validates those achievements and the visionary leaders and supporters who made the dream of a world-class performing arts center become a reality at Chapman University."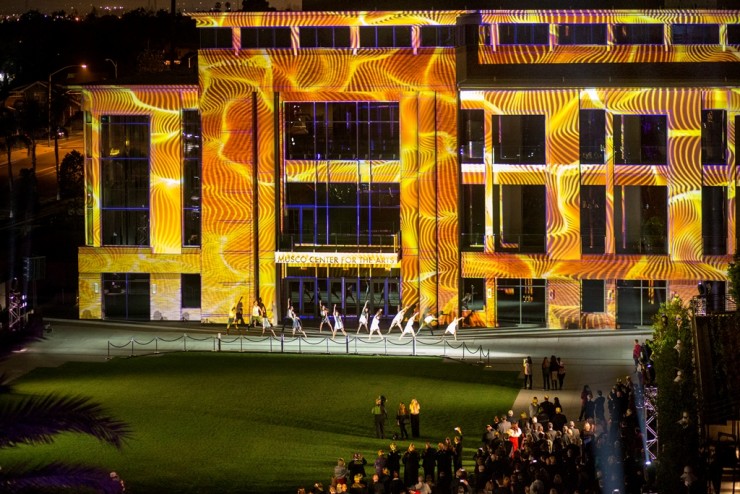 The selection process began in spring with nominations in five regions: Orange County, South Bay/Long Beach/South Los Angeles, San Fernando Valley/Ventura, San Gabriel Valley/Inland Empire and Westside/Downtown. Reader voting determined the final honorees.
The awards arrive just as each venue is embarking on new endeavors. Hilbert Museum is developing plans for an expansion to further its mission of collecting and celebrating the unique genre of California Scene Painting. Among the highlights is a proposal for a redesigned front entry to display a historic Millard Sheets mosaic.
Additionally, Hilbert recently opened several new exhibitions, including "Henrietta Berk: In Living Color," a retrospective of the California artist admired for her color-drenched mid-century paintings, and "Our Golden State: Landscape Paintings from the Hilbert Collection."
Serving Students and the Community
At Musco, a new season will return live performances to campus as well as a mix of outdoor concerts planned on the center's Bette and Wylie Aitken Arts Plaza. Among the highlights:
Afro-Latin rhythms, reggae, hip hop, rock and cumbia collide in the musical fusion created by high-energy, socially conscious bands Ozomatli and La Misa Negra on Saturday, Sept. 25, at 4:30 p.m. outdoors on the Aitken Arts Plaza.
Acclaimed dancer and choreographer Micaela Taylor and the TL Collective dance company will premiere her bold new works "Drift" and "'90Sugar" on Friday, September 24 at 7 p.m.
Internationally revered violinist, singer-songwriter and artist activist Kishi Bashi returns to the Musco stage on Saturday, Oct. 23, at 7:30 p.m.
In addition, Musco continues supplemental virtual programming for two streaming series – @THE MUSCO–Online and Virtual Field Trips, the latter offered free to schools throughout Orange County.