Ricky Franco earned high grades in high school. He also worked hard in community college on his journey to transfer and get a degree from a four-year university. His plan nearly stalled, though. Without academic counseling and support, he couldn't pinpoint what coursework was needed to make the move.
Fed up, he got in his car one day, drove down the freeway to Chapman and walked into the Office of Admissions with no appointment but lots of questions. By the time he left, he had a plan and guidance. Before long, he was ready and applied as a transfer student but doubted he'd enroll because of financial need.
He needn't have worried. Along with his acceptance came a scholarship that made his dream of a Chapman education come true. The first-gen college student will always remember the moment he heard the news.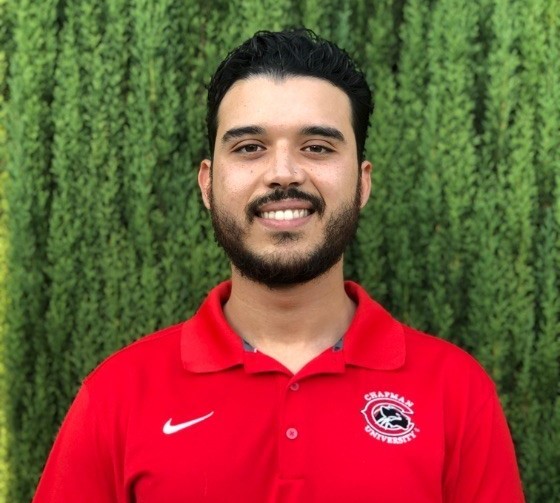 "I got the chills and I jumped up and down a little," he recalls. "I just felt so confident knowing that Chapman really had my back."
Thanks to that scholarship and guidance, Franco '21 will soon graduate with a degree in business administration and a minor in leadership studies.
Investing in Student Success
Such opportunities are possible for thousands of Chapman students thanks to multiple sources of donor support, including the university's annual Giving Day, on Tuesday, April 27 this year.
The 24-hour giving event offers the entire Chapman community an opportunity to come together in support of our students and faculty through a gift to the Chapman Fund. Gifts donated on Giving Day will provide funding for student scholarships and programs throughout the university. Last year's Giving Day raised more than $1 million because of the generosity of hundreds of alumni, parents, staff, faculty, friends and community members.
On April 27th participants can engage with campus leaders on Facebook Live, hear inspiring student stories, and join Chapman virtually as we rise to solve the challenges we face. Now more than ever, the Chapman Fund is proving to be a lifeline for many students and their families that continue to experience pandemic-related hardships even as the crisis begins to ease.
Student Needs on the Rise
"While we are all happy to move forward, we cannot forget that there is much work still to be done," says Chapman President Daniele C. Struppa. "Families are still facing the effects of job loss, illness and reduced income, creating a continued need for increased scholarship and financial aid assistance."
In addition to helping with students' pressing needs for food, books, housing assistance and other necessities, the university is also investing in infrastructure essential to a safe return to in-person instruction. Classroom modifications and reduced occupancy in student housing to support social distancing are just part of that.
Among the new operating expenses are:
Masks, personal protection equipment and hand sanitizer
Continuous disinfection and cleaning of campus facilities
Testing, temperature screening and contact tracing
Enhanced mental health and wellness support services
The new infrastructure is vital to all students and the entire campus community, says Jerry Price, Ph.D., vice president for student affairs and dean of students.
"We have encouraged students to think of these not so much as rules but as public health imperatives," Price says. "It is a partnership: the students' role is to respect these imperatives, and ours is to have the resources and infrastructure in place to help them be successful. Together, we can work to create and sustain the Chapman campus experience we value so much."
Learn More
To keep up with all things Giving Day, from Facebook live activities to Instagram stories, visit givingday.chapman.edu.