Norma Bouchard, an internationally recognized scholar and innovator with extensive experience leading diverse academic programs, has been selected as the new provost at Chapman University.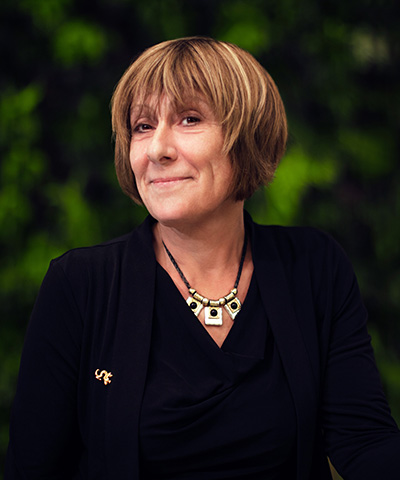 The announcement by Chapman President Daniele C. Struppa follows a nationwide search to replace Glenn Pfeiffer, who is retiring in July after five highly effective years as provost. Following a sabbatical, Pfeiffer will return to his previous position as a professor of accounting in Argyros School of Business and Economics.
Bouchard, Ph.D., will begin July 28, taking on the role of Chapman's chief academic officer after serving most recently as dean of the College of Arts and Sciences at Drexel University in Philadelphia. She will join in 2021 Commencement at Chapman when degrees are handed out during the second week of August.
A Global Perspective That Bridges Disciplines
"Dr. Bouchard is uniquely prepared to lead our academic community into the next phase of Chapman's forward momentum," Struppa said. "She brings a global perspective as well as an impressive depth of experience as a researcher, scholar and leader who shares our belief in the importance of a collaborative culture that includes a wide range of diverse voices."
At Drexel, Bouchard led a college that is home to 13 academic departments covering disciplines that range from biodiversity to justice studies, philosophy to mathematics, communications to neuroscience.
"Her experience positions her extraordinarily well to help us build on our interdisciplinary approach as well as foster an exceptional and diverse faculty and student body," said Janeen Hill, Ph.D., dean of Chapman's Crean College of Health and Behavioral Sciences and leader of the search committee.
Prepared to Lead a Nimble Academic Community
In addition, Bouchard "is acutely aware of the issues facing universities today, including what needs to be done to embrace what we are learning from the pandemic," Hill added. "She will help us rethink how we operate so we are even more nimble and better able to realize the full potential of Chapman."
In addition to her role as dean at Drexel, Bouchard was Distinguished Professor of Global Studies at the university. Before moving to Drexel in 2019, Bouchard was dean of the College of Arts and Letters at San Diego State University.
A native of Italy who has also held faculty positions at the University of Puerto Rico and the University of Connecticut-Storrs, Bouchard has overseen a number of research centers and institutes as well as a variety of undergraduate and graduate programs.
The author of more than 10 books and 60 articles, Bouchard holds a laurea in French and German literatures from the University of Turin, Italy, as well as a master's and Ph.D. in comparative literature from Indiana University-Bloomington.
"She is very well known as a scholar and researcher," Hill added. "We're excited that she will help Chapman continue its rise as a research institution."