After four weeks in her new role as provost of Chapman University, Norma Bouchard happily reported that her first impressions had been confirmed. 
"The more I meet with new colleagues, the more I understand that there's great pride in this institution," said Bouchard, Ph.D., speaking the day after she delivered the "Aims of Education" address at Opening Convocation, launching the 2021-22 academic year. 
"Last night, I spoke with a mother who is third-generation Chapman. It's clear that pride is embedded deep in the university and deep in the region, while at the same time there's also a global perspective. I would call it 'glocal,' where the global and local come together."
Bouchard joins Chapman as an internationally recognized scholar and innovator with extensive experience leading diverse academic programs. Her selection culminated a nationwide search to replace Glenn Pfeiffer, who retired in July after five highly effective years as provost. Following a sabbatical, Pfeiffer will return to his position as a professor of accounting in the Argyros School of Business and Economics. 
Bouchard served most recently as dean of the College of Arts and Sciences at Drexel University in Philadelphia.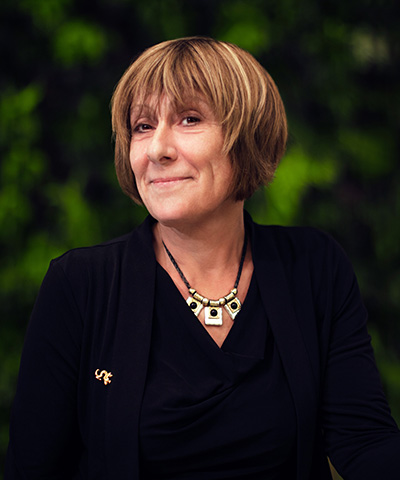 A Global Perspective That Bridges Disciplines
"Dr. Bouchard is uniquely prepared to lead our academic community into the next phase of Chapman's forward momentum," said Chapman President Daniele C. Struppa. "She brings a global perspective as well as an impressive depth of experience as a researcher, scholar and leader who shares our belief in the importance of a collaborative culture that includes a wide range of diverse voices."
At Drexel, Bouchard led a college that is home to 13 academic departments covering disciplines that range from biodiversity to justice studies, philosophy to mathematics, communications to neuroscience.
"Her experience positions her extraordinarily well to help us build on our interdisciplinary approach as well as foster an exceptional and diverse faculty and student body," said Janeen Hill, Ph.D., dean of Chapman's Crean College of Health and Behavioral Sciences and leader of the search committee.
Prepared to Lead a Nimble Academic Community
In addition, Bouchard "is acutely aware of the issues facing universities today, including what needs to be done to embrace what we are learning from the pandemic," Hill added. "She will help us rethink how we operate so we are even more nimble and better able to realize the full potential of Chapman."
Before moving to Drexel in 2019, Bouchard was dean of the College of Arts and Letters at San Diego State University. A native of Italy who has also held faculty positions at the University of Puerto Rico and the University of Connecticut, Bouchard has overseen a number of research centers and institutes.  
Along the way, she has adopted a model of leadership that invites collaboration.
"One of the greatest privileges of working at an institution like Chapman is that you have an incredible talent pool," she said. "As we imagine the post-pandemic university, I think it's so important to tap into this collective expertise."
In her short time at Chapman, she has already found that "we have a lot of problem solvers on the faculty and staff," she said. "I think Chapman is very well positioned to continue to thrive."