Continuing growth in research, adaptations during the COVID-19 pandemic, faculty awards and the substantial impact of sponsor support were among the areas of focus when Chapman University held its Fourth Annual State of Research and Creative Activity on Nov. 17.
Tom Piechota, Ph.D., vice president for research, hosted the event — held virtually this year — highlighting the innovative pursuits of Chapman faculty and students at the university's Orange campus and at the Rinker Health Science Campus in Irvine.
Patent Applications Reflect Research Expansion
In the past year, Chapman benefited from approximately $20 million in research expenditures by external sponsors such as the National Institute of Health, National Science Foundation, Department of Defense and the National Endowment for the Arts.
Chapman continues to expand its research portfolio, adding 10 invention disclosures from Chapman faculty and five patent applications in areas such as biosensors to detect pathogenic bacteria and new materials that may be used for room-temperature superconductors.
Four CU Faculty Members Join Million Dollar Club
This year Chapman added four new members to the prestigious Million Dollar Club, bringing its total membership to 42 faculty members who have earned $1 million or more in external funding. This year's inductees are: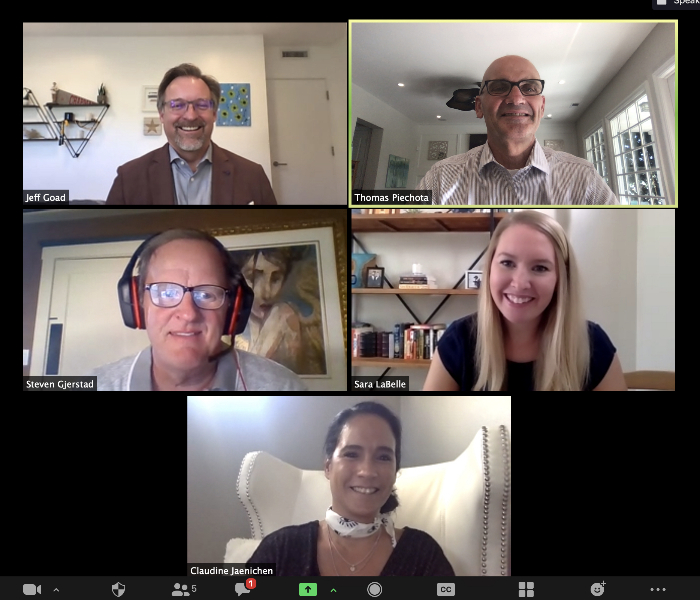 Restarting Research During COVID-19 Pandemic
2020 has presented many challenges, but the Chapman community continues to pursue important research and scholarship, including on the critical issue of COVID-19. The poignant work has been spotlighted in the most recent Ask the Experts Town Hall series, which has featured more than 50 faculty and community partners.
Participants have discussed important topics such as COVID-19, climate change, the future of real estate, struggles of the middle class, mental health and the 2020 election. These programs have attracted more than 4,000 attendees.
Recognizing the Transformative Impact of Sponsors
The State of Research and Creative Activity event recognized four sponsors whose support has had a transformative impact on Chapman faculty and students. The event honored:
---
Learn More: