New therapeutics for breast cancer patients. Treatments for blood clotting conditions. Improved vaccine delivery systems. Those are just some of the pharmaceutical and health products that Chapman University School of Pharmacy alumnus Hung Do has helped bring to fruition.
It's rewarding work made possible by his training at Chapman, says Do ('16) MS Pharmaceutical Sciences, now a drug safety officer with the FDA.
"My Chapman experience gave me the opportunity to understand the global pharmaceutical regulation and healthcare administrative aspects in order to deliver the most cost-effective care for patients. The university provided an environment where I learned and networked locally with health care and industry leaders," says Do, who came to Chapman after earning a chemistry degree from University of Arizona.
Now Do is especially excited to serve as an Industry Partners Council Board Member, providing career mentorship to Chapman pharmacy students who will soon enter the university's two new master programs geared specifically for students eager to work in the areas of regulatory affairs and patient safety.
He shared his insights about the field of regulatory affairs and the rewards of this work in a recent interview.
What attracted you to Chapman University School of Pharmacy?
"I saw that Chapman would allow me to be creative with my program. They want you to be very independent and that fits with my style of learning. The biopharmaceutical and regulatory classes were foundational, but you also learn how to problem solve and be a critical thinker, which is essential in this industry."
What is most rewarding about this work?
"You're promoting patient safety. We all have friends and family members who need safe medications, and we want them to have the best possible care. Knowing regulatory science and health policy allows us to make better choices and create good decisions on complex issues. Therefore, we help improve patient outcomes."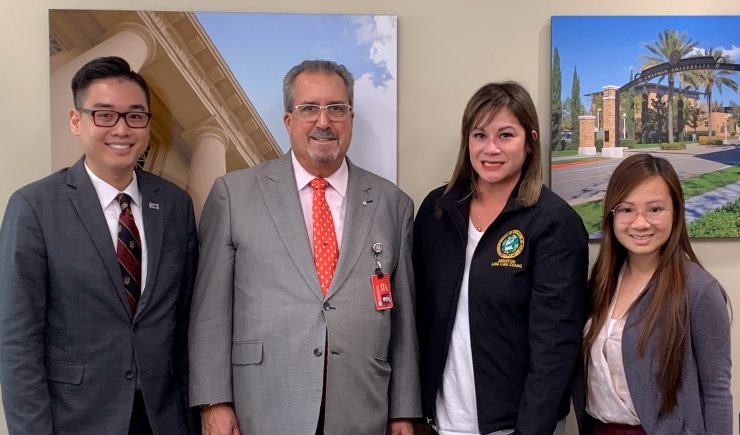 You've been active in alumni activities and as an industry mentor for students at the School of Pharmacy. Why is that important to you?
"I've had the privilege of meeting incredible people who are passionate about Chapman. I am so grateful for their perspective as we seek out new opportunities to build and support the next generation of scientists and pharmacists in the healthcare community. As a result, I want to help students thrive with their health care careers. Back when I was a grad student, I was fortunate to have various industry mentors who visited Chapman and I got to know them on a personal level. Those experiences are invaluable. I want to create that environment for today's student, too."
Describe a course that still serves you in your day-to-day work.
"Quality Systems for Development and Manufacturing Drugs. This course was a stepping-stone for me to pursue a career in regulatory and health policy because I learned the importance of creating a quality system of programs, policies, processes and facilities that prevent pharmaceutical errors and medical defects."
It sounds like this is a hybrid field combining scientific and regulatory knowledge along with people skills.
"It is. In this job, I use a lot of my soft skills – public speaking, presentations – as well as analytics and research. You must know regulatory law and understand when you're applying it appropriately. The industry changes often and you have to learn to adapt and problem solve in a crisis and challenge."
---
Learn More
Learn more about School of Pharmacy grad programs: