Over the summer, faculty and staff at Chapman University's Schmid College of Science and Technology worked hard to create a plan to deliver the Chapman experience during this time of remote learning. One area specifically that the college did not want to sacrifice is the hands-on research laboratory experience students receive from day one.
"To provide our students with an exceptional online experience during the fall semester, we [will] build the microbiology lab around the central concept that microbes are everywhere. Our goal is to ensure that microbiology labs at Chapman University come to life and spark interest and curiosity in each of our students," said Cassandra Zalman, Ph.D.,biological sciences program director.
At-Home Lab Kits
For Microbiology 317, Zalman proposed to deliver online modules supplementing the learning experience by sending each student the materials needed to complete four laboratories at home.
The labs that students will conduct from home will include a handwashing lab to look at microbial growth after various handwashing techniques, a lab testing microbial growth on different surfaces and objects, a lab constructing and monitoring Winogradsky columns to observe the growth of different types of organisms and a lab to evaluate the effectiveness of disinfectants and antiseptics on yeast cells.
Students were pleasantly surprised by the deliveries.
"This goes beyond my expectations for a remote lab, and I'm really looking forward to class!" – Megan Shieh '23

For students enrolled in general chemistry, kits will include plastic beakers, graduated cylinders, transfer pipets, test tubes, pH strips, light diffraction strips and a limestone sample that the students will analyze in various experiments throughout the semester. Students will use this equipment kit along with some everyday household items such as vinegar and table salt.
To ensure that the labs chosen are safe for our students, faculty are working closely with Chapman Environmental Safety. Each student has to sign a "Safety Rules and Procedures" form to confirm they will follow safety guidelines, wear the proper laboratory attire, and follow faculty instructions when using equipment and materials, just as they would if they were on campus.
Going the Extra Mile for Students
Getting all these laboratory kits to students is no easy task. Schmid College instructional lab manager Ashley Whelpley noted these efforts would not have been possible without the support and guidance from Sukbae Kim and his team in the University Services Office. A similar effort delivered a variety of support and supplies to students in programs across campus, including engineering students in Fowler School of Engineering.
At Schmid, approximately 600 lab kits were sent to students, with 300 alone are for students enrolled in General Chemistry. Schmid College laboratory staff and faculty worked tirelessly to package and send out materials before the start of the semester.
Most of the equipment sent home will be for the students to keep, but for Analytical Chemistry, the equipment required is more advanced. The kits include various Vernier probes and instrumentation such as a Drop Counter, Spectrometer, pH meter, conductivity probe, electronic stir/hotplate, and digital balance. This equipment will be on loan for the semester and students will need to return it. Due to the delicacy of these items, Associate Professor of Chemistry Dr. Matthew Gartner, Ph.D., will drive around Orange County, delivering these items himself to students' homes with the proper physical distancing and PPE. Luckily, the class size is relatively small, and most of the students live close to campus.
"The efforts to bring hands-on science to students in their homes has been phenomenal with coordinated efforts between faculty, laboratory staff, and administrative staff. The creativity, the pedagogical innovation, and the spirit of finding ways to give our students a deeper, richer online experience cannot be understated," said Elaine Schwartz, Ph.D., assistant dean of External Affairs for Schmid College.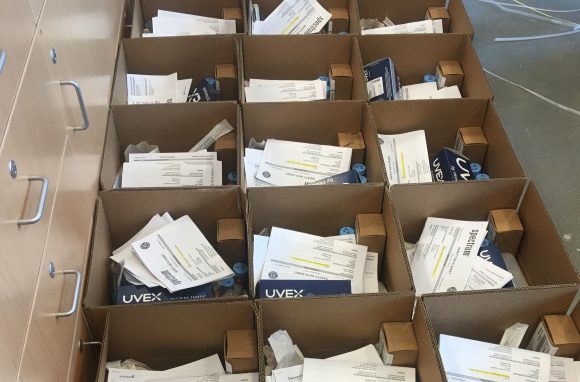 Graduating Students Approved to Finish Capstone Research
Seniors and graduate students who are completing their time-sensitive research projects have been approved by the Provost to be on campus, an accommodation to ensure that they graduate on time.
Teaching laboratories in the Keck Center for Science and Engineering that will not be occupied by regular laboratory courses will be used to allow appropriate social distancing practices for students to conduct research.
Schmid College is committed to providing the highest quality of personalized education via online instruction. While this semester will look different, we are confident these at-home laboratory kits and opportunities for students to return to the Keck Center research laboratories will provide the hands-on science experience our students deserve.
---
Learn More
To learn more about ways the university is supporting students and providing resources they need for a meaningful educational experience, visit the CU Safely Back Fund page.