By Dawn Bonker and Dennis Arp
Ramsey Halim (D.Pharm. '20) was deeply focused on his work when the terrible news arrived.
In addition to his studies as a Chapman School of Pharmacy student, Halim was pouring himself into a clinical rotation at a pharmaceutical compounding lab in Irvine, doing exacting work for patients with serious conditions. Suddenly the term "serious" had new immediacy. His parents had been diagnosed with the novel coronavirus, and now came the news that both were getting worse. "Dad can't get out of bed," his younger brother reported. Within hours, his mother and father both were hospitalized.
Halim dove into the task of shutting down the family-run pharmacy his parents launched 30 years ago. Days later, he worked through the weekend to prepare for its reopening, with new safety precautions in place. He hired a supervising pharmacist —  Halim's licensure is not yet complete — and kept tabs on his parents' treatment as well as the condition of a brother who had also tested positive for COVID-19.
"I never thought it would hit my family that hard," Halim says.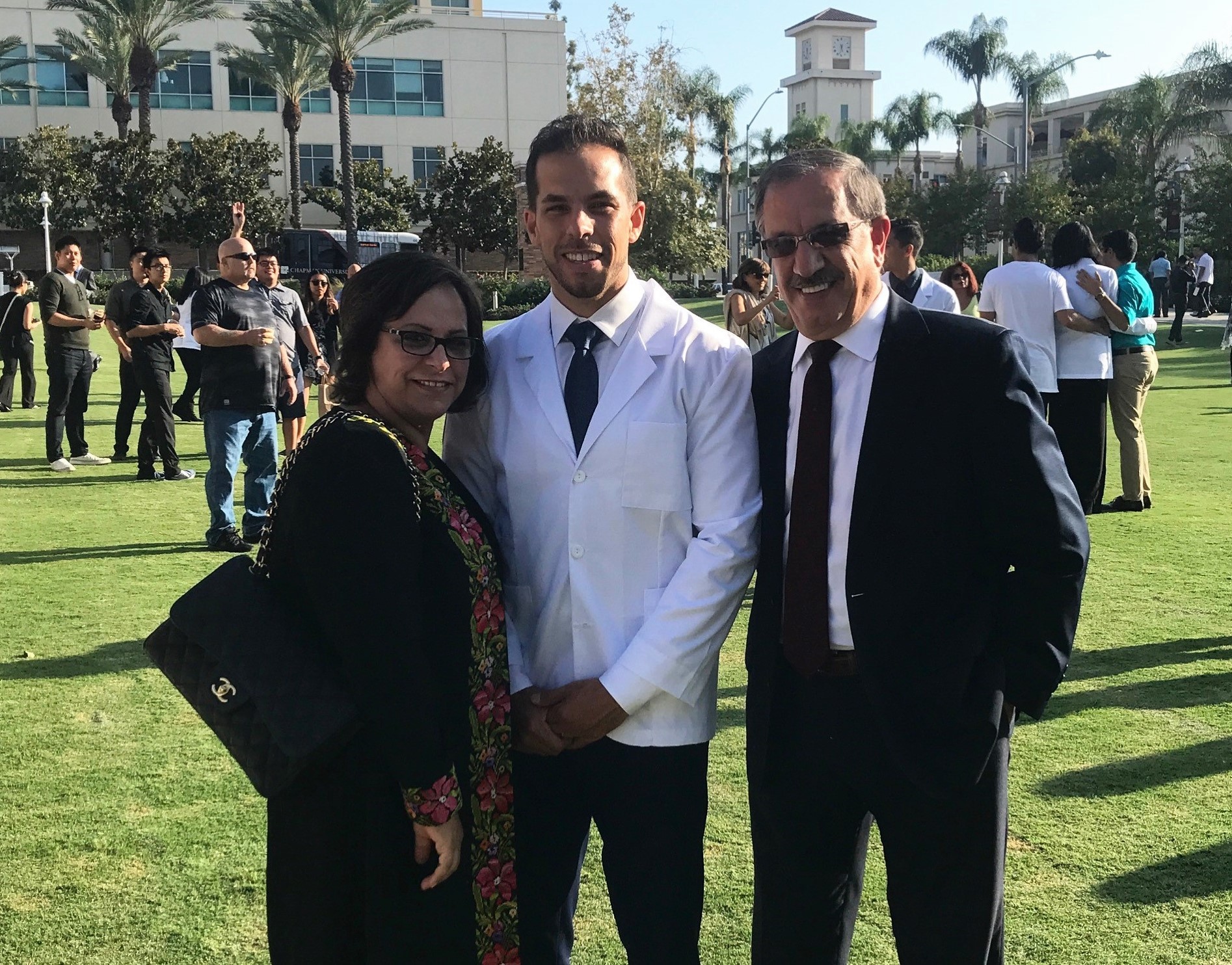 Our Worlds Turned Upside Down
Who of us saw the ferocity of this moment coming? It seemed that one day this novel coronavirus was a regional epidemic half-a-world away, and the next it was a global pandemic bringing unseen dangers to our doorstep, turning our worlds upside down.
For the Chapman University academic community, it was more like "Three Weeks That Shook Our World." In mid-February, the virus was thought to be largely confined to Asia and parts of Europe. Still, a university response team was meeting regularly to develop contingency plans based on the counsel of health officials and research about the potential spread. By March 1, students studying abroad in China, South Korea and Italy had been contacted by Chapman's Center for Global Education to advise them of risk levels and to offer assistance if they chose to return home. But both the Orange campus and Rinker Health Science campus in Irvine remained open, with the risk of infection in Orange County still listed as "low" by health officials.
Then on March 11, the World Health Organization declared COVID-19 a pandemic, highlighting the sustained risk of further spread. With rates of infection rising in California, it was determined that strong distancing steps were needed to "flatten the curve." To protect the health of Chapman students, faculty and staff, the university transitioned all classes to remote learning, with non-essential staff members also shifting to work-from-home schedules.
"We will go back to the Chapman Experience we are all used to as soon as it is safe to do so," President Daniele C. Struppa said in a message to the Chapman community.
As of mid-July, it was still unclear when the Orange and Rinker campuses would reopen and in-person classes resume. A comprehensive plan called CU Safely Back has been developed, but there are many uncertainties related to the pandemic and possible restrictions by state and other officials
No matter our circumstance, we all share hopes for safe return – to work, to the classroom, to the lab, to normality. But even in these times of distancing and uncertainty, resilient fibers knit us together. Throughout this extraordinary time, we have seen the strength of the Chapman spirit revealed time and again. Chapman people find ways to unite, even while we're far apart; ways to lift up, even when it takes virtual tools to bring possibility within reach.
Examples of adjustment and response abound – too many to bring all of the stories to these pages. So here we shed light on just some who give of themselves to help others, who adapt to new realities with poise and creativity, who pivot in their research to seek answers amid this fast-evolving crises, who teach and learn in this moment, spreading knowledge that will reshape lives even after the pandemic passes.
"Through this tumultuous time that has forced us to re-create almost every aspect of our daily lives, it has really crystalized for me the importance of the personalized experience we pride ourselves on at Chapman," Struppa said on April 14.
"It is because of the importance of that experience that we are doing everything we can to bring the community back together as soon as it's safe to do so."
School of Pharmacy on the Front Lines of Battle
Ramsey Halim is one of nearly 200 student interns and dozens of faculty members from the Chapman School of Pharmacy who've quickly stepped to the front lines in the coronavirus battle. They're playing key roles on medical teams across Southern California racing to find effective treatments against COVID-19. Across the country, some 200 Chapman pharmacy alumni are also working, from community health clinics to hospitals, dealing with the patient surge.
The pandemic has proven pharmacists more important than ever in healthcare delivery, whether serving in hospitals or running community pharmacies where they are now authorized to perform COVID-19 testing, says Ron Jordan, founding dean of the nationally ranked pharmacy school. Pharmacy students will be deployed in the serology testing soon to be widely in place. Moreover, once a vaccine is ready, pharmacists will be essential to the planning and delivery of the massive immunization effort to follow.
The pandemic and the unknown factors in treating COVID-19 offer unique teachable moments.
"The students are getting a crash course in dealing with a big unknown, when a disease is not well understood," says Gary Fong, a Chapman assistant professor of pharmacy practice.
As a clinical supervisor, Fong pushes students to take their foundational educations to the next level. "When there's a question about a medication, there may be four different answers and you have to make a decision on what's best for your patient."
Community-practice pharmacists collaborate similarly with specialists and family physicians, says Karl Hess, associate professor and director of Community Pharmacy. But given their store-like operations, the challenge in this moment has been to install distancing barriers for customer and employee safety.
"It is kind of scary. But it's what we do. Medications have to be dispensed. We're part of the healthcare team that doesn't get shut down or taken away," he says.  "It's really our time to step up."
Halim will step into that world, soon. His parents are rebuilding their strength and he is wrapping up his degree, aiming to take over the family pharmacy in Lakewood, California. He also has a business degree, so he has entrepreneurial ideas, too. First things first, though.
As Halim says, "My dad's counting the days for me to graduate and get to work."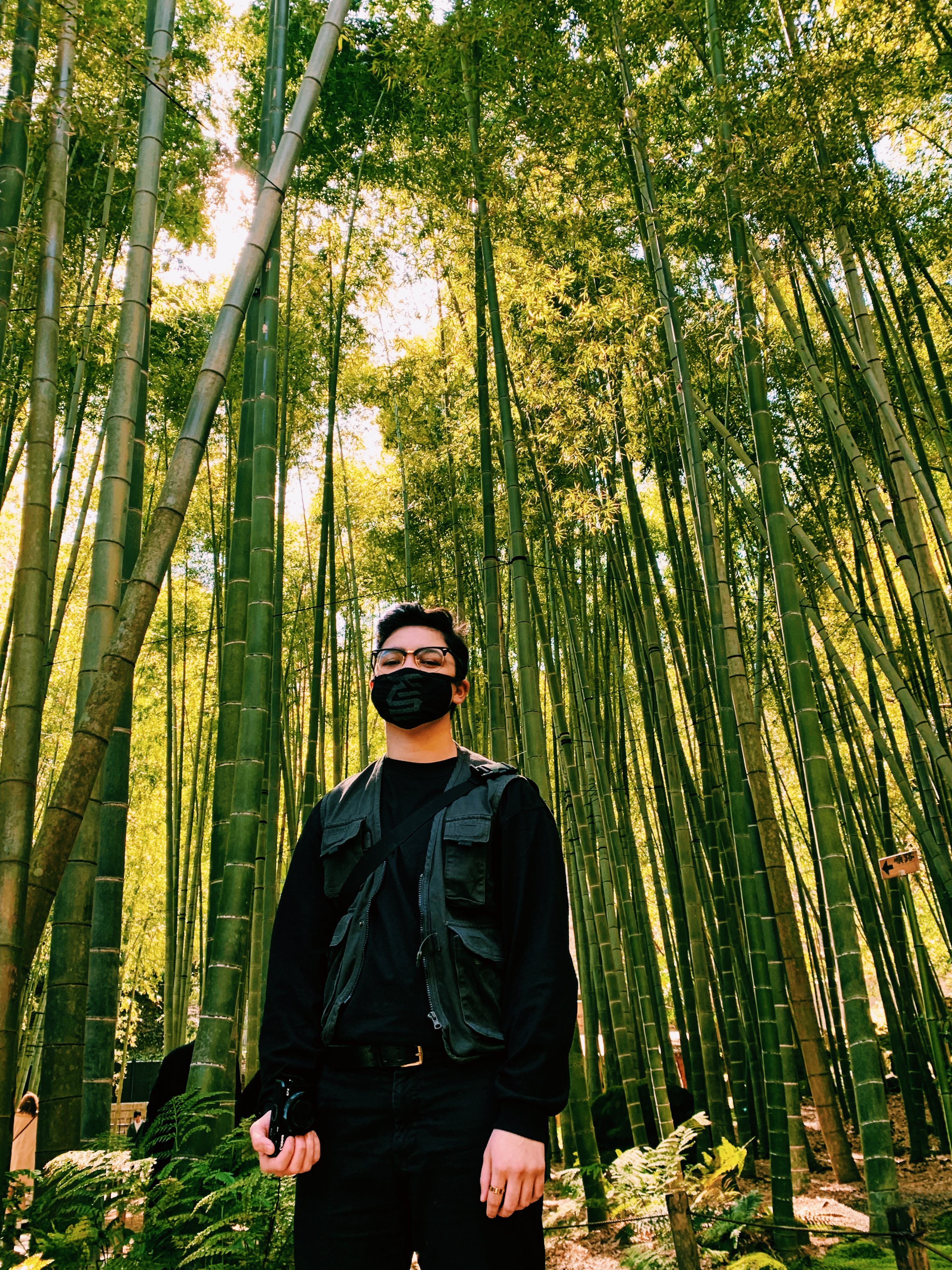 Studying in Tokyo: 'So Many Tough Decisions'
Since he was 8 years old, Morgan Hennessy-Shea '22 had dreamed of visiting Japan. So when coronavirus concerns started ramping up in March, he was reluctant to leave his dream study-abroad experience in Tokyo and return home to Laguna Beach.
"I've never made so many tough decisions in my life," says Hennessy-Shea, a first-generation student majoring in strategic and corporate communication.
By mid-March, those decisions were only getting tougher. He went to bed one night thinking he would stick it out in Japan, then he woke in the morning to emails from Chapman's Office of Global Education that convinced him it was time to go home.
"I was constantly in contact with Chapman – they were super supportive," Hennessy-Shea says. "Chapman talking with me was keeping me sane. My peers didn't have a school like Chapman – I was the one giving them information."
The Center for Global Education helped him secure a flight home, and on March 20 he was one of about 15 passengers on a plane headed for Orange County.
"When I look back, I'll know I didn't take anything for granted," he says of his eventful semester. "I'm grateful for the experience and I'll be better prepared for the next time."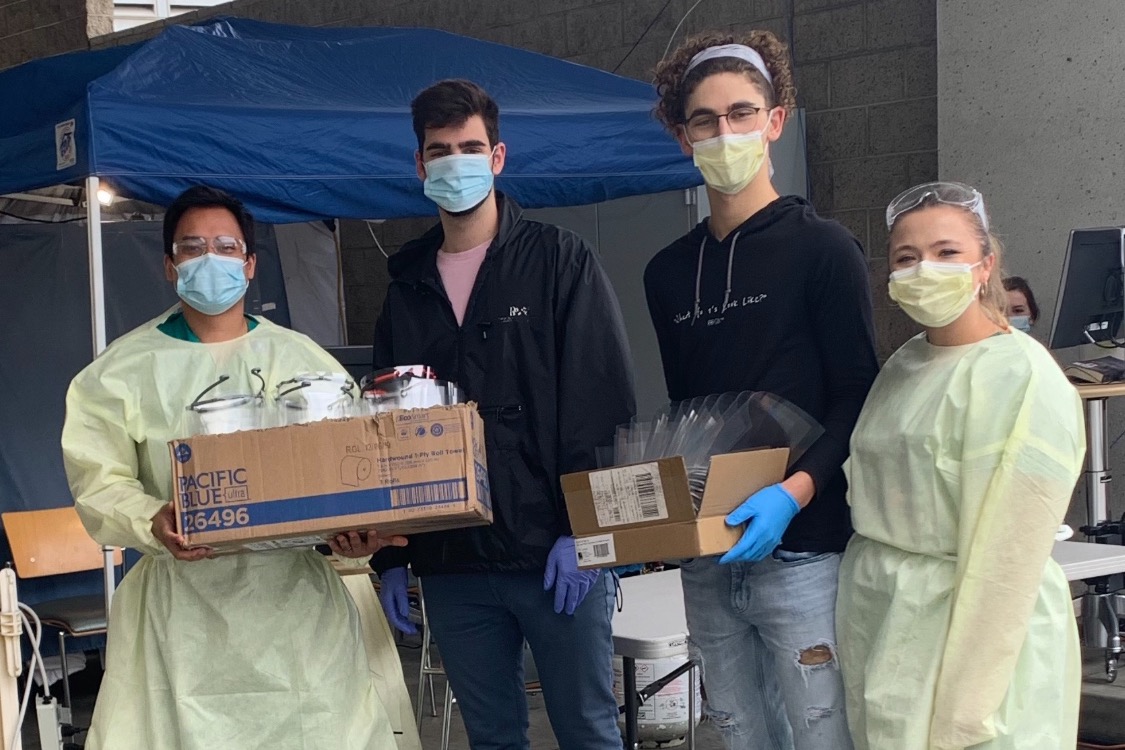 3D-Printed Face Shields: 4,000 and Counting
By Sarah Buckley '14
Alexandros Drivas '21 and his younger brother, Matt, knew they had to do something to help after hearing stories from their mother, an emergency medicine physician assistant who works long hours at a hospital in Los Angeles County.
"Every day we hear about the battles she and her co-workers face, given COVID-19," Drivas said. "We hear about the scarce levels of equipment her hospital and all other hospitals around the country [are facing]."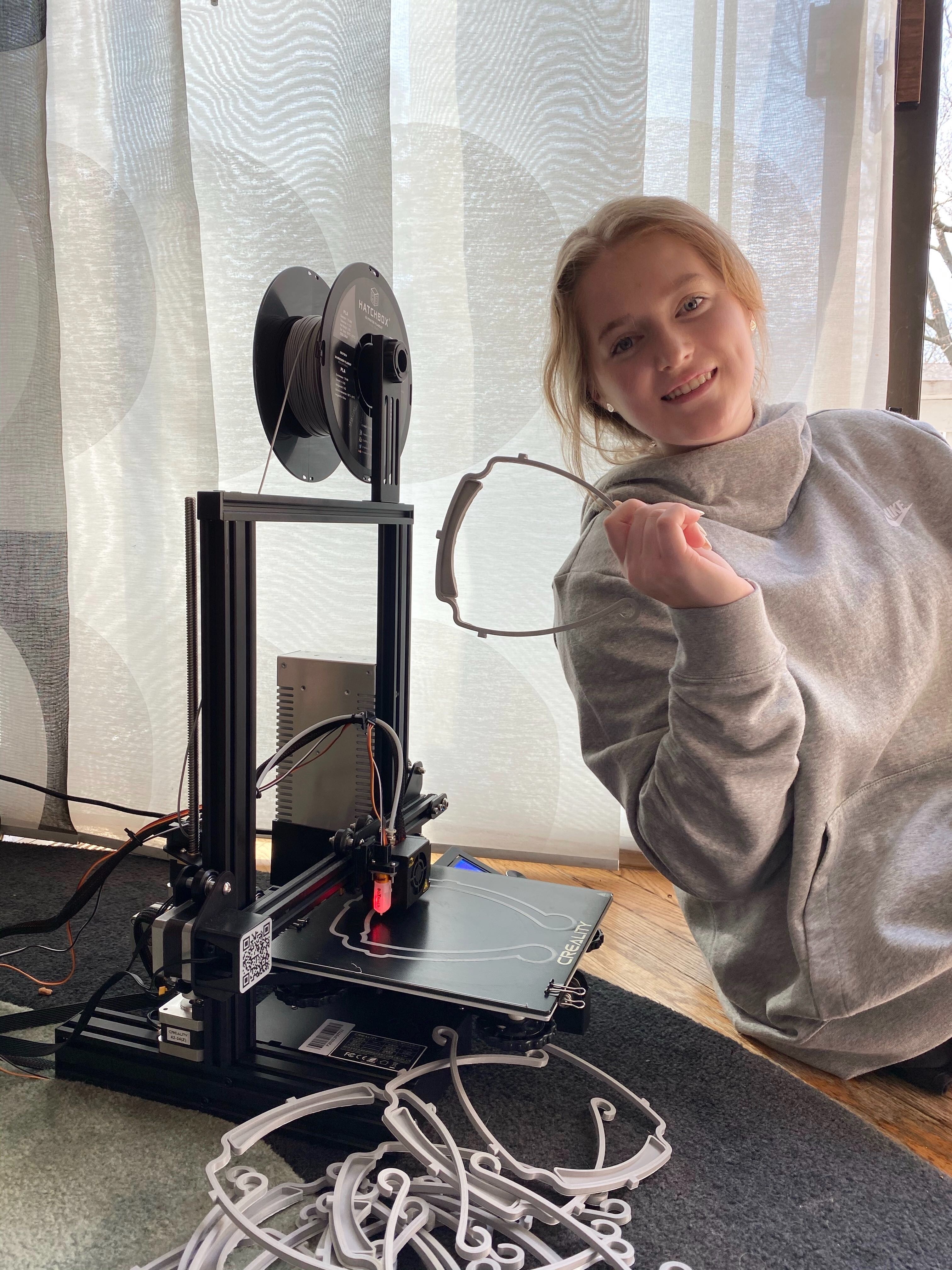 To protect their mom and other healthcare workers, the Drivas brothers started 3D printing face shields and distributing them to local Southern California hospitals. Their efforts are part of a much larger mobilization by Chapman students and faculty.
Using Chapman 3D printers set up in their homes, students and professors are printing several hundred shields per week and have now donated more than 4,000 shields to hospitals in Southern California and around the country. The critical personal protective equipment is produced using open-source designs and following strict guidelines to ensure sterility. The models have been vetted by the National Institutes of Health.
Chapman is collaborating with Orange County-based MatterHackers – which builds and supplies 3D printing equipment – to coordinate distribution to local hospitals.
The project ramped up quickly because students already had the printers and knew how to use them. In essence, the printers are the textbook for the 20 students in a Fowler School of Engineering course called 3D Printing and Modeling.
"Chapman is quite possibly the only university that's been able to do this with a distributed model that engages students from off campus," says Erik Linstead, associate professor and associate dean of academic programs and faculty development for Fowler Engineering.
For Alex Drivas, the work continues, aided by a Go Fund Me campaign that has raised more than $2,000.
"Alex has found a passion for engineering and is not afraid to rally people around a cause," says Gregory Goldsmith, director of the Grand Challenges Initiative. "He embodies the next generation of leaders in science and engineering."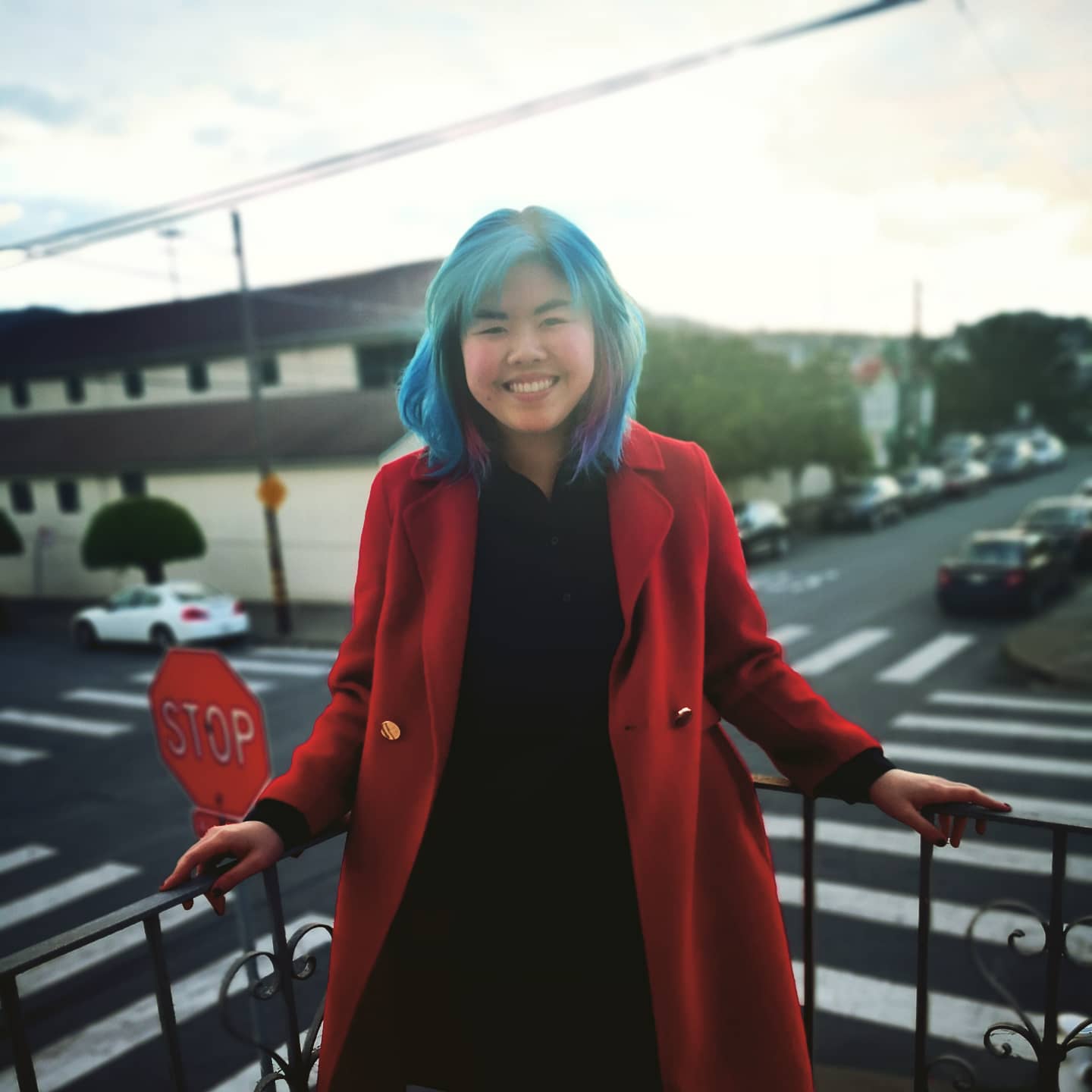 Stepping Out Against Fear and Racism
It was a week not measured in time but in trash bags. So many bundled and carried to the garbage that Ginger Chen '20 lost count.
When she learned that Chapman was moving to remote instruction and essentially closing the campus to protect the health of all involved, Chen quickly found someone to sublet her room, sold her furniture and packed up the most important pieces of the life she had built in Orange County over her four years at Chapman. The rest of her belongings she donated or bagged for disposal.
"I left so much behind," said Chen, a senior screenwriting major.
Now that Chen is back living with her mom in San Francisco, the anxiety she first experienced has shifted, but it hasn't gone away. She feels the sting of anti-Asian hate, which is why she imposed her own stay-at-home order. "I've been feeling a lot of fear stepping outside," she says.
Not far from her home, an Asian American man was harassed in a scary incident caught on video. She has seen her mom get shoved off a bus. Chen herself has been called racial slurs.
Still, she has found ways to fight through the fear, building on the sense of safety she got from spending many rewarding hours in the Cross-Cultural Center at Chapman.
"People are trying to make things better," Chen says.
Count Chen among them as she champions a nonprofit called Baycat, where she has worked as an intern and teaching assistant, fighting racism through storytelling. It's a good fit for Chen, who is a storyteller at heart. She has adapted to remote learning by throwing herself into the second draft of her thesis screenplay, which she's been workshopping thanks to remote-learning tools that unite her with classmates and Professor Paul Wolansky in Dodge College of Film and Media Arts.
"I am part of a community," she says. "I miss being in a physical space with people, but we will get that again."
Helping Students and Families in Crisis
Recognizing the needs of the moment, Chapman's annual Giving Day on April 28 focused on students and families feeling the financial stress of the COVID-19 crisis. Thanks to the generosity of Chapman alumni, parents, faculty, staff, friends and board members, the university completed its most successful Giving Day ever, raising more than $1.1 million. The gifts to the Chapman Fund will provide:
Increased financial aid and scholarships.
Housing, food and basic necessities.
Emergency grants to support academic needs.
Laptops and technological support required for distance learning.
Emergency travel assistance.
Funds to meet unforeseen needs stemming from the current crisis.
"When we focused our Giving Day on the most urgent needs – our students and families in crisis – we knew we could count on the generosity of the entire Chapman Family," said Sheryl Bourgeois, Ph.D., executive vice president of university advancement. "This response was extraordinary, though. I am deeply grateful that so many stepped up to help our students facing very difficult challenges. These Giving Day gifts will make an immediate difference in their lives."
Housing for Quarantined First Responders
Through an agreement with the City of Orange, Chapman is providing apartment-style student housing to first responders who need to self-isolate after confirmed or suspected exposure to COVID-19. The university has prepped 20 units in Panther Village apartments for the cause.
"First responders are putting themselves at risk every day to keep our community safe," President Daniele Struppa said. "As a member of the Orange community, Chapman is honored to do what we can to support them and provide them with housing while they are away from their loved ones."
Free Counseling for Those Coping With Anxiety
For more than 50 years, the Frances Smith Center has offered reduced-cost counseling to the communities Chapman calls home. Now services are free, giving those feeling stress and anxiety during the COVID-19 outbreak a place to turn for individual or group support.
Telehealth sessions are offered over the phone or with videoconferencing, conducted by graduate students of the Marriage and Family Therapy Program in Chapman's Crean College of Health and Behavioral Sciences. Licensed clinical therapists supervise the program.
To access counseling services, call (714) 997-6746 and press 1 for the intake line.

Art in the Time of Stay-at Home Orders
Like museums everywhere, the doors are closed these days at the legendary Getty Center in Los Angeles. But thanks to the work of a Chapman University alumna, its windows are wide open to the world. Virtually, that is.
As the social media lead for the Getty, Sarah Waldorf '12 is helping to manage #BetweenArtandQuarantine, an online project inviting people to have a little diversionary fun by re-creating its artworks with household objects while hunkered down at home.
Apparently, it was just what art lovers, teachers, families and anyone with a pearl earring needed during these house-bound times. The first tweet inviting the public to browse the digital collection and join the project now has 3 million impressions and almost 3 million engagements. And re-created artwork keeps flooding in, from artful interpretations of Van Gogh's "Irises" to parodies staged with kitchen appliances. And cats, of course.
"We have an amazing and engaged audience of online followers. I expected that people would take us up on this creative challenge. … I didn't expect it to go worldwide," says Waldorf, who double-majored at Chapman, earning a degree in art and another in public relations and advertising. "The scale is just unlike anything we've ever seen before."
Waldorf credits Chapman for preparing her to thrive in the creative world. She likens the collaborative work she does now to the brainstorming and critique sessions she enjoyed with fellow art students as they prepped exhibitions for the campus Guggenheim Gallery.
"That was a great primer for this work," says Waldorf.
Voices
 "I was trying to connect with my scene partner when it hit me that I needed to use Zoom as a manifestation my character has to overcome. I thought, 'I need to reach through the computer screen.' After that, I felt much more connected to my scene partner – connected to a person and not a screen. When we come back into classrooms, I think I'll see it as a luxury to have someone right there in front of me."

Bianca Beach '22, theatre performance major, on adapting to remote learning

 "I went to study in Paris this semester, intending to find myself, and Paris did not disappoint. During my time abroad, I spoke barely any English and conversed daily with the locals. I spent my days studying photography, reading French novels in the Jardin du Luxembourg and marinating in the comfortable process of my own self-discovery. Then I woke up in my Colorado bedroom looking out over the snow-covered rooftops of not-Paris. Though it's easy to complain about such an abrupt shift, I must admit that this is exactly the experience I desired. A wise and mature version of myself would say that one can learn valuable life lessons from the comfort of their own home. It's arrogant and futile to try to fight this, so we must find another way to cope. Really, the only things that I or any student in my situation can do is appreciate the experiences already had, embrace the incredible, surprisingly cool people in our families, and ultimately trust that we have exactly the tools we need to take our next step in our lives, whatever that may be."

Fox Helms '22, film production major and Gilman Scholarship recipient
 "Normally the business of editing all the content takes place as Satvi and I sit next to each other in an editing bay [at Marion Knott Studios] from 10 a.m. to 10 p.m. But now we can't do that, so we're sitting on FaceTime, me in the East Bay, in Livermore, and her at her home in India. Even though we're far apart, we're together at heart. It's just that we can't say, 'Do you want to get lunch at Thai Towne or Pizza Press?'"

Kylie Miller '20, talking about her work on Chapman News with co-executive producer Satvi Sunkara '21. During the time of remote learning, students continued to produce the weekly news report, but the class transitioned from a studio newscast to a remote podcast.
"Going remote has taught us much over the last few weeks. For sure, and against the predictions of many, it has reinforced the value of the presence of a faculty in the classroom. If there is anything I have heard loud and clear from students and parents, it is that they want our faculty in the classroom. Those who had thought that online education was soon going to replace professors … well, they will have to wait."

Daniele Struppa, Chapman president, on April 24

"Be skeptical, as I am, of all these articles you're reading that claim nothing will ever be the same. The Spanish Influenza epidemic of 1918 is pretty much forgotten. It was worse [than the current crisis], it's impact was more dramatic, and yet within a few years, people had almost completely forgotten that it ever happened. People have a desire to get back to normal."

Jennifer Keene, professor of history and dean of Wilkinson College of Arts, Humanities, and Social Sciences
 "We have a potential here for an incredible renaissance in knowledge in the coming years. No one wants that at the cost of even one life. These are terrible circumstances. Nevertheless, I hope that what comes of this is some fantastic science and engineering and history and sociology and art that make the world a better place."

Gregory Goldsmith, assistant professor of biology and director of Chapman's Grand Challenges Initiative