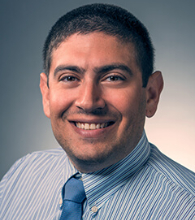 Karl Hess, PharmD, associate professor and director of community pharmacy practice innovations at Chapman University's School of Pharmacy, is the national winner of the American Pharmacists Association (APhA) Immunization Champion Awards for Travel Health.
The travel health award is given to a practitioner or pharmacy that has established, facilitated and/or collaborated within their community to offer travel health services, which include but are not limited to consultations, medications, and comprehensive travel vaccines.
Hess will also be installed as an American Pharmacists Association (APhA) Fellow and will receive both of his awards at the APhA meeting this spring.
The APhA Fellow Award was established to honor APhA members for exemplary achievements in professional pharmacy practice and outstanding service to the profession of pharmacy. Fellows must have a minimum of 10 years exemplary professional experience and achievements in professional practice.
"Moving forward, I aim to help further advance pharmacy-based travel health services in the community pharmacy setting though my work with the International Society of Travel Medicine (ISTM) in my role as Chair-Elect of their Pharmacists Professional Group," says Hess. "I am grateful to be able to work with such a great team here at Chapman University to help me accomplish this and grateful for my mentors."
Hess has worked tirelessly to coordinate six California schools' efforts to transform and sustain community pharmacy practice through his work with the Community Pharmacy Enhanced Services Network (CPESN).