Incoming Chapman University first-year student Luis Avila '24 says he is no stranger to gratitude.
His mother is recovering from cancer treatment. The Santa Ana resident and honors student still has his job at a local supermarket, where his work in an essential business allows him to continue to help his family with household bills and rent.
And this spring his gratitude list grew when he received a full scholarship to Chapman, the school he set his sights on during a campus visit in seventh grade.
"My heart froze. I had goosebumps all over," he says, recalling his reaction upon learning of the scholarship award. "I'm very grateful."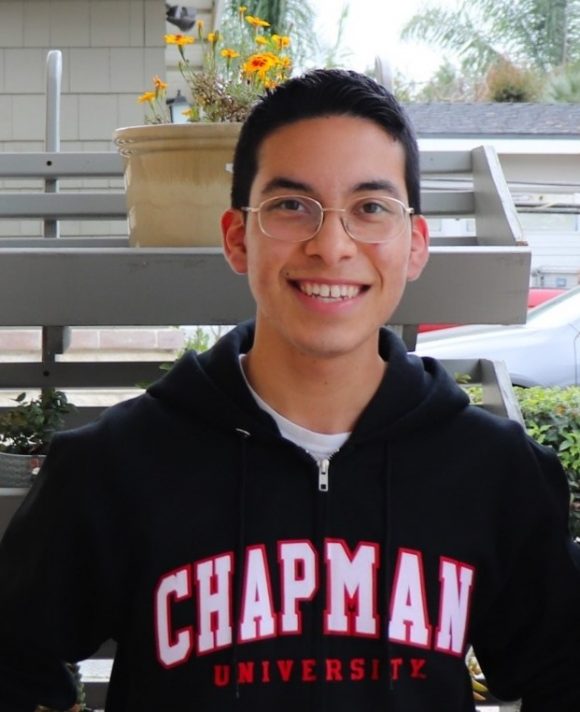 Avila is just one example of the thousands of outstanding students able to attend Chapman because of the financial aid he received through the Chapman Fund. Donations to the Chapman Fund from generous alumni, parents and friends allow the university to meet its most pressing needs particularly through this global pandemic.
Now Chapman is focusing its efforts on CU Safely Back, a plan to reopen the campuses and resume in-person classes in the fall. Donations to the Chapman Fund will help offset the deep financial burdens students and families are facing by providing immediate scholarships and financial aid.
More students than ever need such wide-ranging assistance to help them continue their studies without interruption, says Chapman President Daniele Struppa.
"Our community has proved itself to be caring and generous many times over. I believe this latest challenge will be no different," Struppa said. "The pandemic has changed our world, but not our mission of providing a personalized education. Together, we will grow stronger in our commitment to providing a Chapman Experience."
Among the needs CU Safely Back donations to the Chapman Fund will support are:
Housing, food and other necessities for students and families in need
Class-size reductions to enhance social distancing
Technology improvements to enhance learning and engagement
Protective equipment, testing/tracing/monitoring and other measures to protect the health of the Chapman campus community
Other unforeseen needs stemming from the current crisis
Already, a major challenge gift has driven the fund forward. Last year Lexie and Robert Potamkin made a $1 million gift to the Brain Institute. But when the pandemic hit, the Potamkins wanted to ease the financial fallout they knew would have a deep effect on Chapman and its students. They proposed that their Brain Institute gift be shifted to allow for broader use, addressing the university's most immediate needs and the CU Safely Back plan.
In the midst of the pandemic's challenges, Chapman continues to play a vital role in the community, helping in myriad ways to battle the virus and its spread. Student housing has been offered to first responders who need to quarantine after potential coronavirus exposure. An initiative that put 3D printers into the hands of students in Fowler School of Engineering turned into an opportunity for students who turned the printers to the task of manufacturing face shields for medical workers.
Anyone interested in donating or learning more about the CU Safely Back Fund and other ways to support the university can do so at the CU Safely Back Fund webpage.