Ramsey Halim was deeply focused on his work when the terrible news arrived.
A student at Chapman University's School of Pharmacy, Halim was on a clinical rotation in a pharmaceutical compounding lab in Irvine. It's exacting work, preparing specialized medications and drug therapies for patients with serious conditions. And it had been a stressful trimester. The coronavirus had touched down in Southern California and his parents had recently been diagnosed with it.
But they seemed to be on the mend and so he worked with renewed energy, completing one of the last requirements for his PharmD degree, a milestone that would help him return full time to the family-run pharmacy his pharmacist father had started 30 years ago.
Then came the message from his younger brother – "Dad can't get out of bed." His father's condition had reversed and his mother's symptoms had worsened, too.
Within hours, his mother and father were hospitalized. Another brother who worked with them soon tested positive, but didn't require hospitalization. Halim dove into the task of shutting down the pharmacy and sending staff into quarantine. Later, he worked through the weekend to prepare for its reopening with new safety precautions, hired a supervising pharmacist — Halim's licensure is not yet complete — and kept tabs on his parents recovering at home.
"It was rough," Halim says. "I never thought it would hit my family that hard."
School of Pharmacy on the Front Lines of Coronavirus Battle
He is just one of nearly 200 student interns and dozens of faculty members from the School of Pharmacy who've quickly stepped to the front lines in the coronavirus battle, playing key roles on medical teams across Southern California racing to find effective treatments against COVID-19. Across the country, some 200 Chapman pharmacy alumni are also working, from community health clinics to hospitals, dealing with the patient surge.
The pandemic has proven pharmacists more important than ever in healthcare delivery, whether serving in hospitals or running community pharmacies where they are now authorized to perform COVID-19 testing, says Ron Jordan, founding dean of the nationally ranked pharmacy school. Pharmacy students will be deployed in the serology testing soon to be widely in place. Moreover, once a vaccine is ready, pharmacists will be essential to the planning and delivery of the massive immunization effort to follow.
"In all 50 states and territories, pharmacists can initiate and administer vaccines. In fact, it has been widely acknowledged that pharmacists' immunization delivery efforts were widely seen as one of the reasons that the 2009 H1N1 Flu pandemic was not as bad as it could have been," Jordan says.
Pharmacists' Role Vital in Creating Treatment Plans
As always, pharmacists' unique drug expertise is vital in creating treatment plans. This coronavirus is so new, a pharmacist's role is critical as doctors deploy existing drugs in the battle, says Gary Fong, a Chapman assistant professor of pharmacy practice. Fong also works as a clinical pharmacist on the infectious disease consulting team at Harbor UCLA Medical Center.
"We don't have any set-in-stone, black-and-white protocols we can follow for this coronavirus," Fong says. "But no one knows those drugs better than pharmacists do. And when it gets down to dosing and side effects, we provide insight and guidance. We're involved in that discussion."
The pandemic and the unknown factors in treating COVID-19 offer unique teachable moments, too.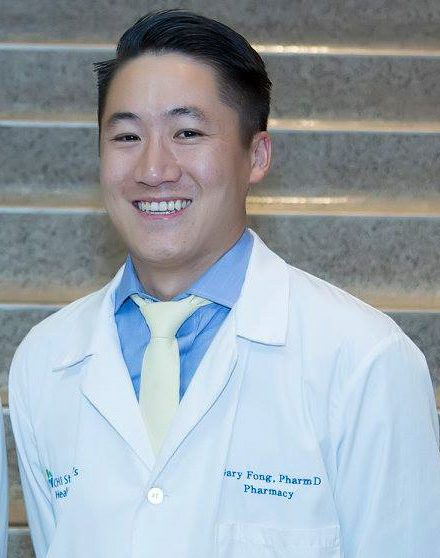 "The students are getting a crash course in dealing with a big unknown, when a disease is not well understood," Fong says. As a clinical supervisor, he pushes students to take their foundational educations to the next level. "When there's a question about a medication, there may be four different answers and you have to make a decision on what's best for your patient."
Community-practice pharmacists collaborate similarly with specialists and family physicians, says Karl Hess, associate professor and director of Community Pharmacy. But given their store-like operations, the challenge in this moment has been to install distancing barriers for customer and employee safety.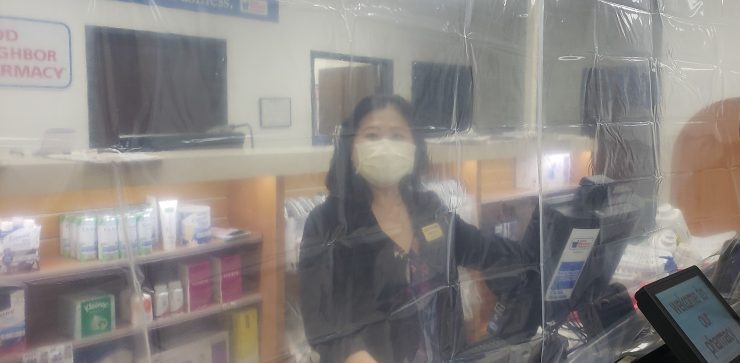 At their Anaheim pharmacy, Hess and his wife mounted a make-do solution for the moment – shower curtains with small cutout windows for patient consultations. They also wear masks and gloves and use lots of hand sanitizer they compound themselves.
'We're Part of the Health Care Team'
"It is kind of scary. But it's what we do. Medications have to be dispensed. We're part of the healthcare team that doesn't get shut down or taken away," he says. "It's really our time to step up."
Halim will step into that world, soon. His parents are rebuilding their strength and he is wrapping up his degree, aiming to take over the family pharmacy in Lakewood, California. He also has a business degree, so he has entrepreneurial ideas, too. First things first, though.
As Halim says, "My dad's counting the days for me to graduate and get to work."