Since Chapman University has moved instruction online, faculty members have gotten even more creative with their class assignments. Among the innovative thinkers is physics professor Stephanie Bailey, who is working to integrate teaching with service.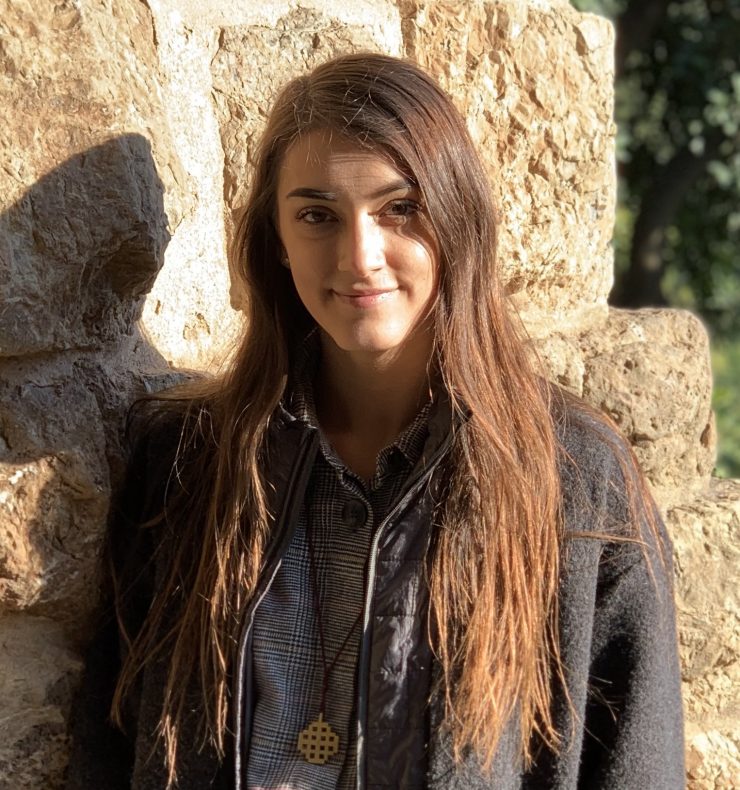 "I want my students to be active participants in their own learning and to understand that the goal of that learning is improving the quality of life for people they interact with on a regular basis," Bailey says. "That's not easy to do in a physics course."
For extra credit, Bailey gave students in her General Physics for the Life Sciences courses the opportunity to write a letter to residents at two local senior-living facilities.
Students share about their lives and studies
"I was expecting the extra-credit assignment to be something related to solving physics problems," junior Izze Billet '21 says. "Never was I expecting the opportunity that I was given. Immediately, it made me smile and appreciate the out-of-the-box thinking Dr. Bailey had when assigning this extra credit."
Twenty-four students participated in the assignment, writing personalized letters with details of their lives and good wishes for health and safety for residents of the senior-living communities. One letter was addressed to "fellow house-bound community members," and many included uplifting messages such as "We are all in this together!"
"I do not worry about this country's future with dedicated young people like you at the helm."
The assignment allowed the students to practice their science communication skills by sharing the difficult concepts they were learning in class. Students also took this opportunity to write how they were feeling about the pandemic and what they missed about being on campus. Many included photos and their email address, inviting residents to connect with them.
"This assignment was a way for my students to share their knowledge to enhance the immediate good," Bailey explained.
The two senior-living communities participating are Oakmont of Orange and Park Plaza, also in Orange. Lynne Talbert, wellness director at Park Plaza, recalls when Bailey initially reached out to her about the assignment. "I loved the idea! I couldn't get back to her fast enough," she said.
A spirit of caring that crosses generations

The residents were overjoyed when they received the student's notes. One of the recipients is Park Plaza resident Beverly Weatherill '50, who graduated from Chapman when it had about 300 students and the campus was in Los Angeles.
Weatherill was thrilled to hear from fellow Panthers. "Very well-written letters," she noted. "It was an unexpected gift to get them."
Reminiscing about her time at Chapman, Weatherill recalled starting classes in the middle of her first term, which made her worry about making friends. She recalls that the other students made sure she was invited to social activities, and she feels that Chapman students of today still embody that inclusivity.
"That kind of spirit of making sure people feel welcome, that was in these letters," Weatherill observed. "That's always been one of Chapman's traditions, that [Chapman makes] people feel welcome."
Another Park Plaza resident also expressed gratitude for the letters. Mrs. Jerry Webb described memories of two previous epidemics — the 1918 flu pandemic and a 1951 polio outbreak.
"I pray a vaccine will save the day, as the Salk vaccine did for polio," Webb writes in her letter of appreciation. "I do not worry about this country's future with dedicated young people like you at the helm."
Breaking down barriers to learning
Professor Bailey joined Schmid College of Science and Technology at Chapman this past fall, and it is no surprise that she is already making an impact. She recently published a book titled "Teaching Physics With Student-Made Art," seeking to make introductory physics more accessible by using visual representations of concepts, using student-made artwork.
With her extra-credit assignment, Bailey achieved benefits not just for local senior-living residents but for her students as well.
"I have learned that it is so easy to forget about giving service to others in my college years, and it is especially easy to forget to do so during a time like this," Billet shared. "This assignment helped me to remember the importance of service, and how easy it can be."