The spirit of the Chapman Family is strong, even in the midst of a world health crisis. At no time has this been more evident than in the past few weeks. As soon as the announcement was made that fees for parking, housing and meal plans would be refunded, the overwhelming response from families, faculty and staff was: "Can I give this back? How can I use those fees to help someone else at Chapman who is in need?"
This compassion and selflessness fueled the decision to move forward with the second annual Giving Day, this time with an increased resolve to support students and families who have been deeply impacted by the financial crisis that swept in with the pandemic.
Emerging Needs Become Emergency Needs
As the coronavirus began to spread throughout the world and closer to Orange County, leadership at Chapman responded quickly by moving all instruction to remote delivery, releasing student employees from their jobs with full pay through the end of the semester and asking residential students to return home. The university also began processing credit adjustments to student accounts for unused housing, board, parking and selected lab and class fees.
Support from the Chapman Fund helped to make these and other actions possible. "Without the commitment of our many donors, parents, alumni, faculty and staff, we couldn't do many of the things we have done in response to COVID-19," says Sheryl Bourgeois, Ph.D., executive vice president of University Advancement.
"We are laser-focused on supporting our most vulnerable students – those most seriously impacted by the pandemic," says Bourgeois. "We want to do as much as we can for them in the form of scholarships and assistance. Giving Day 2020 will help us meet their needs."
Providing Students With Vital Support
Although separated from their students by distance, Chapman faculty have risen to the challenge of finding unique ways to deliver personalized education. Even laboratory experiences are being reinvented.
"I am an Environmental Science & Policy major and was worried about the change of my laboratory classes to online ones. The Chapman Fund helped the university to acquire programs that allowed my lab classes to be moved to an online format that replicates the experiments we would complete in the lab," says first year student Kate Hartshorn.
Chapman Phonathon student worker Vivian Nice '23 says support from the Chapman Fund made Chapman possible for her.
"I benefit from a scholarship from the Chapman Fund, which was a vital reason for me being able to attend this university," said Nice. "By guaranteeing pay for student workers, the university is showing how much it cares about its students and wants them to have a sense of reliability and security. Chapman is also issuing refunds for housing and meal plans, which is lessening my family's stress, too."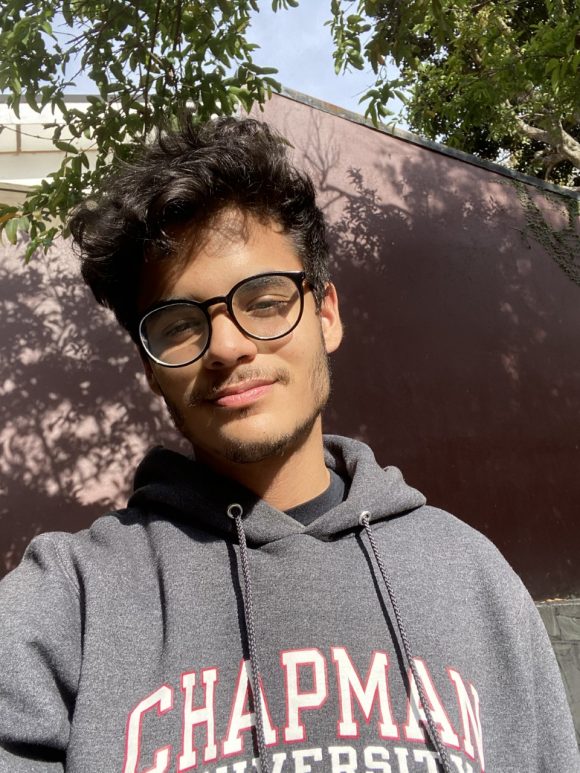 The Chapman Fund also helped Emilio Mejia '21, who had to abandon a campus job when the university asked students to return to their homes.
"I counted on those earned wages to cover my everyday expenses," says Mejia. "I am so grateful that donations to the Chapman Fund allowed me to continue to receive my paychecks, even though I was required to leave campus."
In addition to providing financial support, the Chapman Fund helps students in other ways. Currently, the Student Psychological Counseling Services office staff is available remotely to support students during this especially stressful time. And, the Chapman Fund provides resources to faculty, many of whom are already engaged in researching both the impact of and the potential solutions to COVID-19.
Alumni Feel the Connection, Too
For now, campus classrooms, halls and labs remain quiet. But for Panthers past and present, the Chapman Family spirit still roars.
Paula Yakubik '94 feels a deep sense of connection to the students struggling now.
"In all ways and as much as I can, I try to give back to Chapman. While attending Chapman, I was in need financially and Chapman provided me a scholarship and work program," said Yakubik.  "Now more than ever, these students and this institution needs help. I've provided funds for scholarships, but also I gave to the Chapman Fund, which allows the school to help students in this time of need."
For Mejia, receiving support during this time has been inspiring. "Chapman's efforts have hugely impacted my opinion on this school, which I already loved," he says, "and I will be sure to return the favor both to the institution and the community in the future."